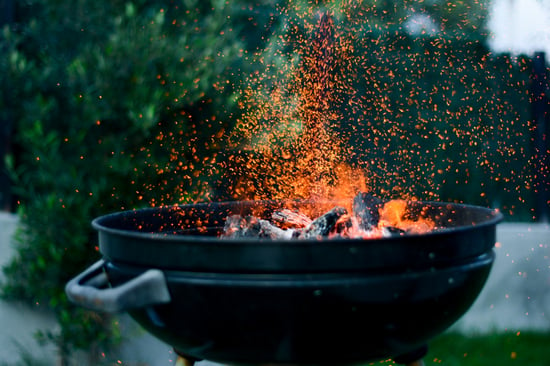 No outdoor living space is complete without a grill, kitchenette, or BBQ space. And with increased popularity in backyard BBQing, homeowners are adding innovative products like DIY 55-gallon drum smokers to their existing outdoor kitchens to set up their ultimate BBQ station.
With some DIY smoker kits featuring integrated spring-assisted hinges, inlet vent, exhaust vents, and even griddle and pizza-oven conversions, creating the ultimate BBQ oasis can be as easy as finding the right kits for your needs.


Creating the Ultimate Outdoor BBQ Station
The ultimate outdoor BBQ station is only as good as its smoker or grill, and when it comes to 55-gallon drum kits, it's important to choose one that has a plethora of features.
Here's our list of must-have kits:
Spring-assisted hinge (single & double)
Latch handle kit
Charcoal basket kit
Charcoal shoot kit
Inlet vent and exhaust vent kit
Grill grate and utensil hook kit
Water pan holder kit
Pizza Oven kit
Pizza peel kit
Griddle kit
It's important to find a kit with high-quality stainless steel hinges that are built to withstand extreme heat.
Heavy-duty drum smoker hinges should feature multi-position spring adjustment that can accommodate a variety of lid weights and opens beyond 90° for full access to the smoker. For fast and relatively mess-free cleanup, make sure your ultimate smoker kit includes a charcoal basket with an integrated handle.
To perfect the cooking temperature or smoke quantity, integrating charcoal chutes can let the user easily add charcoal or wood to their drum smoker without having to open the lid or remove smoker grates and food. These chutes can also act as an additional air inlet to achieve higher temperatures.
While most smoker kits include grilling grates, make sure yours can stand up to grease, flames, and cleaning brushes. We recommend a kit with a heavy-duty grate that is constructed with 1/8" stainless steel and has hand hole cutouts for easy installation and removal.
Some specialized products, like the Smokin' Ugly Drum Smoker Conversion kit lineup, feature air intake sliders that allow the user to choose how much air comes into the smoker. The pinwheel-style exhaust vent mounts seamlessly to the Ugly Drum Smoker lid to regulate airflow and temperature.
When upgrading your outdoor kitchen or bbq setup, it's important to find products that have not only form and function but also the ability to adapt to future use.


Futureproofing Your Outdoor BBQ oasis
Creating the ultimate outdoor BBQ oasis starts with culminating the best smoker kits, like Weber Knapp's Smokin' Ugly Accessories lineup, which allow for innovative applications to standard BBQing equipment.
For instance, the Smokin' Ugly Pizza Oven Kit can turn any standard drum smoker into a pizza oven or flat top griddle that's perfect for cooking flatbread pizza, eggs, bacon, and more. The Smokin' Ugly Pizza Oven Kit features three upgrades to standard 55-gallon drum smokers:
The fuel basket – this piece attaches easily to the smoker's rim and can be filled with wood or charcoal to provide more direct heat to the griddle and flame for wood-fired pizza.
Stainless Steel Cooking Plate – this rests on the fuel basket and is contoured perfectly to the smoker's rim.
Cooking chamber lid – This attaches directly onto the drum smoker lid to provide more heat coverage for your food
When a drum smoker may be too big or bulky, find products like the Chiminea, The Smokin' Ugly's product line's newest innovation. Featuring a tool-free, easy-to-assemble design with an integrated grill and storage compartment for kindling and wood pieces, the chiminea can serve as a focal point for entertainment, or as a grill to cook the perfect wood-fired steak.
It's clear that there are a plethora of products available to create your perfect BBQ oasis and designing the ultimate bbq oasis can get overwhelming. But don't stress. turn to the experts instead.

Designing Your Ultimate Outdoor BBQ-Station: Trust the Experts
Designing your ultimate outdoor bbq station can be challenging. When it comes to creating the perfect outdoor oasis, don't settle for featureless, space-consuming products.
Turn to the experts to integrate space-saving, feature-packed products that will revolutionize your outdoor living spaces.
Weber Knapps has years of experience designing BBQ grill accessories and motion control products and our team of engineers is available to answer all of your motion control-related questions. Contact us today with any questions or click below for more information on the Smokin' Ugly Accessories lineup: