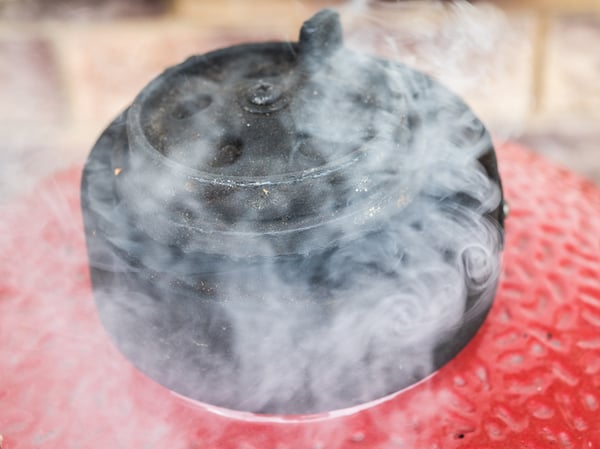 Today's outdoor and backyard living enthusiasts treat grilling almost like a religion. They're not afraid to drop down four-figure amounts on your latest BBQ or smoker grill design idea -- if you can convince them it's worth the price.
So, how can you convince them? Adding the fancy bells and whistles consumers expect from a modern-day outdoor cooker. Including clever and thoughtful features like this will persuade your customer to raise their aspirations and consider a higher-end product.


Customizing Your
Smoker Grill Design Ideas
When it comes to grilling and barbecuing, customization can make or break the user's experience. Integrating useful features makes grilling easier, safer, and ultimately, more fun. Some BBQ smoker design ideas to consider are:
Counterbalance hinges
Drum smoker latches and hinges
Drum smoker accessories
Multiple fuel sources
Unique finishes
Sensor technology for better cooking
Ready to fire up the burners? Let's put on our aprons and get down to business.


1. Counterbalance Hinges
Grill buyers want more grate space, and that inevitably means a heavier lid. A heavy-duty counterbalance hinge design handles weight and torque so anyone can lift the lid, regardless of strength.
You can customize the amount of weight you want the customer to feel, or even create a "floating" hinge grill that stays in place when they let go.
Plus, with the right lid support hinge, soft-close functionality keeps little fingers safe. No need to worry about a heavy gust or butterfingers causing the lid to fall.
Soft-close hinges for heavy lids can be hidden away, impressing customers with clean lines and elegant movement. BBQ smoker and grill lid hinges with smooth moves give off the impression of luxury.


2. Smoker Latches & Hinges
Smokers are a great way to spice up your summer cooking, but sometimes, handling your smoker can be difficult or even dangerous. That's why integrating high-quality hinges and a latch can greatly improve your BBQ experience.
The drum smoker hinge and latch handle is compatible with most drum smokers, and makes your smoker safer and easier to use. The hinge adjusts to hold various smoker lid weights, while the latch is designed for one-handed operation. Both pieces are built to withstand the high heat of outdoor cooking.
If you're comparing specific models, look for a hinge that opens beyond 90° to allow full access to the smoker.


3. Drum Smoker Accessories

It doesn't take a lot to design the perfect drum smoker, but some accessories are essential. Any outdoor grill design should include accessories to enhance the customer's experience:

Latch handle kit

Charcoal basket kit

Charcoal shoot kit

Inlet vent and exhaust vent kit

Grill grate and utensil hook kit

Water pan holder kit

Pizza peel
4. Multiple Fuel Types
Charcoal, gas, pellets, and wood all have their devotees, there's even a market for electric grills. But how about a grill that burns more than one kind of fuel?
Alternating fuel sources can change the taste of food cooked on your design, adding different, distinct flavors. Those who buy a hybrid fire grill can show their neighbor that they're the Grill Master on the block.


5. Unique Finishes
There's nothing wrong with using stainless steel. It won't corrode, especially if it's a marine-grade 316, and it polishes up to a bright shine. But, everyone and their brother has a stainless steel grill; you want style.
To see what's possible, look at kamado grills. These Easter egg-shaped BBQ smokers come in colors ranging from red and green to powder blue.
Plus, you can cover your heavy-duty grill hinge in a UV-resistant polyester or polyurethane powder coating. These finishes won't break down over the course of a long, hot summer.


6. High-Technology Features
BBQ enthusiasts today use Bluetooth temperature probes to cook meat perfectly. But what if these features were built into the grill and you didn't need an accessory?
It's what Coyote does with their high-end pellet grill. Integrated sensor technology times your food perfectly, letting you know exactly when to lift the lid and flip your steak.

Tasting the Best BBQ Smoker Design
A lot of outdoor cooks want to treat themselves to high-end BBQ equipment, and reasonably so. All of these grill and BBQ smoker design ideas are the next level in safety and functionality, especially counterbalances and soft-close hinges.
Our six guidelines for grill and BBQ smoker hinges give you more tips how to enhance look and feel while improving grill lid hinge durability.
Want to design a special grill or smoker with heavy-duty, soft-close lid support or another motion control feature? Ask our engineers what they can do to help meet your cycle life, style, and cost targets.
(Editor's Note: This blog was originally posted in June 2020 and was updated in July 2021.)