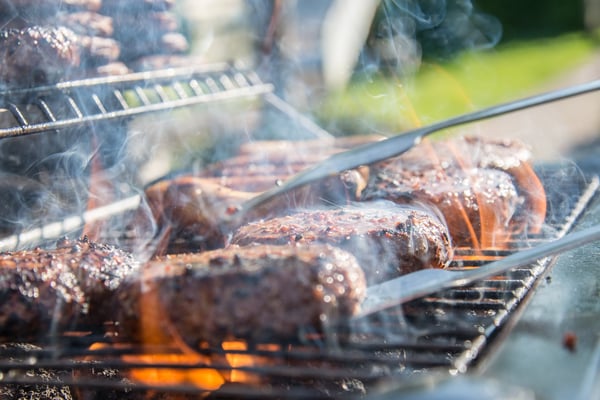 When it comes to manufacturing BBQ smokers, proper hinge design is vital. Smoker lids are often extremely heavy, which can make them a safety hazard.
That's why when you are making hinges for a BBQ smoker, you need to keep high standards throughout the design, testing, and manufacturing process.
Keep reading to learn what hinge manufacturers do to make the best counterbalance lift hinges possible.


How to Make Heavy Duty Hinges for BBQ Smokers
The whole hinge manufacturing process can be boiled down into a few key steps. These phases are often very fluid, and they include:
A conversation with sales
Design
Prototyping
Testing
Manufacturing
Shipping


A Conversation
It all starts with sales. Skilled sales professionals are info-gatherers who get all the details from the customers using a standardized grill hinge specification sheet for reference. These specs often include, among others:
Lid weight
Desired range of motion
Soft close or soft open?
Temperature considerations
Lifestyle
Many customers are already making grills, so they know what they want and need. However, sales pros still need to raise awareness about what counterbalance hinges can do because some customers don't realize how much value and safety counterbalancing can add to a product.
There are all sorts of interactions that occur between customers and sales about feedback and revisions on products. Communication is key during this phase to make sure specifications are on point.


Design
Once a product is settled on, the sales team pulls in the product designer to start the design process. In most cases at Weber Knapp, design services are offered at no charge. Typically, there are regular meetings with the customer to work through the design process and make sure everyone is on the same page about the goals of the end product.
A major part of the design process is the finite element analysis (FEA). The FEA determines if a load-bearing product--like a counterbalance lift hinge--will fail due to stress.
An FEA is a proven way to break up the part being designed into finite elements and analyze each piece for stress. You can determine particular areas of high stress and load/restrain the part in different ways. The team can take the FEA study and run fatigue tests to determine the safety of different elements depending on the application.
Once the studies are complete, the design team will present multiple concepts, then produce prints and a preliminary price estimate. The customer can give a target cost and indicate how close the manufacturer can get to the target cost. Sometimes, the manufacturer can meet the target cost and additional features may be added outside of that range.


Prototyping & Testing
Once there is an agreement on price, prototyping begins. This process is very customer dependent. A proof of principle prototype proves that the part will function, but seeing it in real life might spark new ideas or potential changes, requiring another iteration.
Different levels of testing can also determine whether many iterations of prototypes are needed. Weber Knapp does all of its testing in house, and customers can use that data to compare with their own tests as needed.


Manufacturing
Upon successful testing, manufacturing begins. At Weber Knapp, all manufacturing is done in the US for motion control and counterbalance hinges.
If special tooling is needed, a purchase order for tooling is submitted. Once any custom tooling has been implemented, manufacturing can go into full swing.
Weber Knapp has a range of manufacturing capabilities in-house, which speeds up production and lowers lead time. Some of these capabilities include:
Throughout the manufacturing process, frequent inspections guarantee the quality of the parts.
Manufactured parts are then finished per the customer's instructions, often using powder coating or electroplating.
Once the parts are finished, the product is assembled. Assembly can include riveting or screwing components together. Weber Knapp implements cellular manufacturing for all assembly operations, which gets the part off the shop floor and into customer hands quicker.
After assembly, one more final inspection is conducted to make sure everything is in order.


Shipping
Assembled products can be shipped right to the client or even drop shipped to the client's customers.


Heavy Duty Hinges Made for You
Whether you're looking for counterbalance hinges for your high-end grill or your line of medical centrifuges, production is very similar. No matter the project, counterbalance and motion control engineering can improve product safety and efficiency.
Interested in how your BBQ smoker or grill can benefit from motion control? Visit our new resource page to learn more!