Sunshine and warmer temperatures mean outdoor cooking is on the agenda. However, your backyard might not be up to the task of hosting your coworkers, your group of close friends, or your book club for a nice dinner.
In addition to sun and backyard space to enjoy, there is some must-have outdoor cooking equipment you need to make those nights memorable and less stressful.
12 Must-Haves to Make Outdoor Cooking a Breeze
Portable Outdoor Beverage Dispenser Cabinet
Cold beverages are a must while cooking and enjoying the meal outdoors in the warmer months. For maximum refrigeration of a bigger drink dispenser, spring-assist hinges can be useful for the heavy lid. These reduce the risk of injury to anyone opening the cabinet.


2. Cocktail Bar Station
For those who prefer beverage variety, the Cocktail Bar Station is a good choice. This includes a sink, underbar fridge, and counter space to throw together the trending summer beverage that your guests prefer.


3. Outdoor Sink
Food needs to be rinsed and cookware can need to be cleaned at any time. Having an outdoor sink makes it easier to address spills, drops, or issues that arise unexpectedly, saving time and a trip into the house.


4. Utensil Storage
Running into the house every few minutes for a new spatula or plate is not the best way to get the meal ready. There are many options for utensil storage that fit in well to any outdoor space.
Remember the cabinetry should be weather resistant, and stainless steel is a good option for this task. Stainless steel hinges can withstand the weather and repeated use, while providing flexibility in the way the storage cabinet opens as well.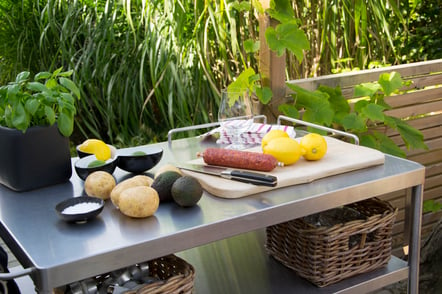 5. Bar Cart
This is another option for storage if mobility and convenience for beverage making is high on your priority list. A bar cart can store both drink accessories and cookware, making it a great option if space is limited and different cooking surfaces are available and not situated close together.


6. Patio Heater
The day can start out warm and end on a cooler note, or the sun can call you outside to find temperatures that don't match. A patio heater can make all the difference between enjoying the day and retreating inside to a warmer location.
If propane/gas isn't your speed, the Chiminea offers an environmentally friendly option for heating your patio using standard wood and doesn't require special fuel to operate. This can be customized as well to fit the aesthetics of your outdoor space.
It doesn't hurt that the Chiminea also can be the place to make the perfect wood-fired steak with the addition of a cooking grate.


7. Bar Pass Through or Lift Gate (ex: breakfast bar to an outside patio)
A counterbalance system for a flip-up bar or counter allows users to access the food prep area more quickly and efficiently.
This reduces strain on the user as well, since the counterbalance hinge does most of the work of lifting that counter section.


8. Smart Tech
Technology is integrated into every part of our lives, and it easily transitions to the backyard just like your cooking talents do.
There are smart-integrated grills/BBQs, which allow you to control the temperature through an app on your phone. There are also wireless thermometers available, so you can check the temperature of the meat and ensure that it has been cooked thoroughly.


9. Adaptable technology
Cooking outside can be innovative, and the technology to facilitate that activity needs to be adaptable to match. There is no guarantee that every time you want to eat outside, a steak on the grill will suffice.
Space-saving is a goal in scenarios where space is limited, and today's backyards are designed to look great and provide room for cooking and seating. Any technologically adaptable cooking equipment that facilitates the enjoyment of the space is enticing to the homeowner.


10. Smoke, Grill or Griddle:
For some summer adventures, a homemade pizza for dinner is the right idea. For others, the use of a smoker means meat cooked the way you like it in your own backyard. A griddle can expand the potential meal options even more and make everyone happy.
Smokin' Ugly accessories kits allow your 55-gallon drum smoker to easily adapt for these nights. Not only can you smoke meat to your preference for an enjoyable dinner for two or a group, but the swap of a few parts can allow for the smoker to become a different tool. The Pizza Oven can be ready to go while the dough is still being made.
Usability is key in the modern era -- Many appliances serve multiple purposes in one kitchen, be it outside or inside. No summer is complete without new BBQ recipes. Download our free cookbook below:
11. Table and Seating
Seating for a meal is important, but comfort can be key for lounging. When choosing outdoor furniture, it's smart to consider how you will be using your outdoor seating arrangements most.
If you want to be able to conserve space for other furniture, a table that can be folded away to save space is important. The picnic table hinge provides just that opportunity. If your backyard also serves as a space for activities or party games, that flexibility will go a long way toward keeping things fun and avoiding injuries.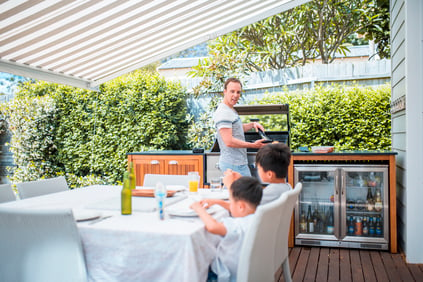 12. Wine Cooler
Wine can be enjoyed with a meal or while watching the sun go down or a movie projected on a screen in your backyard. A wine cooler is essential to keep the wine handy and at the right temperature at the same time. There are options that fit under the counter, conserving space but getting the job done effectively.
Start Planning Your Summer Setup
From storage to varied cooking surfaces or equipment, the time to start setting up the ideal backyard summer cooking venue is now.
For details on the Smokin' Ugly accessories kits, contact a Weber Knapp expert.