I'm sure by now you all know how we feel about Kamado Joe and what our Vectis™ Custom Counterbalance Hinge did to enhance the user experience on their Big Joe and Classic grills. But what you don't know is that quite a few of us loved the grill so much that we just had to have one of our own! It's been a few months since the shiny red grills arrived and we took them home and found the perfect spot to set them up on our back decks, patios, and porches. What we all soon discovered was that we couldn't get enough of grilling on them! We've worked on fine tuning temperatures, getting the perfect amount of charcoal, learned how to vent just the right amount, and best of all, we've learned how to grill some amazing food! And, as much as we've enjoyed these tasty treats we've spent months perfecting, what fun would it be to keep what we've learned to ourselves? So, in the spirit of spreading our love for the Kamado Joe Grills, we're going to share a few of our favorite recipes with you and tell you some of the reasons why we love our Big Joe and Classic grills! Because, after all, it's summer and summers were made for grilling!


Mike F.


To me grilling isn't just about the food, it's the whole experience from start to finish. From buying the meat, to preparing it, to spending time with your family. Its cold drinks on a hot day, making memories with your kids, and having bragging rights when it turns out perfect. The ability to lift a 90lb lid with one finger is more than just that, when you want your 5 year old son to feel like he's helping, you want him to be able to walk over, lift the lid and "check the meat", just like dad does! Those are memories that will never be forgotten, and to me those are what grilling is all about. Without a Weber Knapp hinge there is no way a kid could lift it, or feel safe doing it.


Recipe:


My favorite recipe is warm weather, mixed with cold beer, family, and sprinkled with friends.


What I've Been Grilling: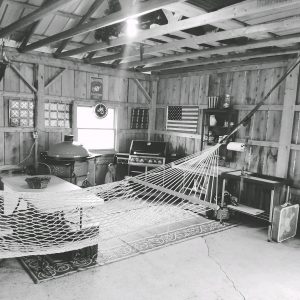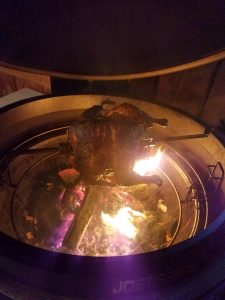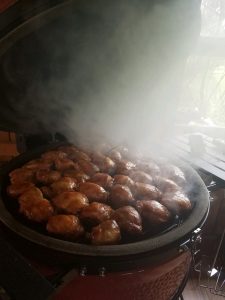 Kory S.


I've made a lot of different things on my KJ. I'm a wild game person so that's what I mostly cook. Below are 3 very different recipes, which highlight one of the main reasons I love my KJ. It is so versatile. I've smoked ribs, turkey and fish, roasted pork loin and venison, seared steaks, grilled veggies, and baked a couple of pizzas. What other cooking appliance do you have at home that can do all of these things, and do them well.

I have a charcoal smoker that I don't even use now. And an electric smoker that I barely use. Because I can do it all in my Kamado Joe. I'm so happy I decided to get one.


Recipe(s):


1. Roasted Venison Backstrap


Coat venison in Olive Oil and preferred seasoning (I used seasoning from my friends brand www.tacticalories.com) and roast at 450 F until an internal temp of 125 F and let rest for 10 minutes.
Smoky Potatoes

Clean and cut potatoes in half (length-wise), coat in olive oil and seasoning of choice. Get KJ to about 400 to 450F and place potatoes directly on grates, cut side down. Cook until fork tender.


2. Smoked Steelhead: Lime Chipotle Style


Ingredients:

• Steelhead Fillet – Skin on

• 2 Cups Brown Sugar

• ½ Cup Kosher Salt

• 1 TBS Firing Lime Chipotle Seasoning


Firing Lime Chipotle Glaze

• Honey

• Lemon or Lime Juice

• Lemon or Lime Zest

• Firing Lime Chipotle Seasoning


Preparation:

1. Rinse off and pat dry the fillet and ensure no bones are present – use tweezers or needle nose pliers if necessary to remove any bones.

2. Combine the Brown Sugar, Kosher Salt, and Seasoning in a bowl and mix with your hands to evenly distribute all parts, this is the dry brine

3. In a glass baking dish put down a layer of the dry brine, set fillet on top, then cover fillet with rest of dry brine

4. Use plastic wrap to keep the air out, put a layer down right on top of the brine mixture and a second layer on top of the container.

5. Let this sit in the refrigerator for 8-10 hours

6. Take out of the refrigerator and remove fillets from brine, much of the moisture from the fillet will be pulled out which is what you want.

7. Thoroughly rinse the fillet under cold water to remove all of the remaining brine

8. Pat dry and let air at room temperature on a rack to dry for around 2 hours – this creates a pellicle, the surface of the fish will have a tacky feel.

9. While the fish is air drying, prep your KJ to get a temperature between 150°F and 175°F, I used apple wood, any mild wood will work, but try to avoid mesquite or hickory for smoking steelhead.

10. When the fish is dried, place on a grill plate, if you don't have a grill plate be sure to use cooking spray on the grates of your smoker.

11. Once the temperature is stabilized on the KJ, place the fish on. It does not take fish long to smoke, about 1.5 to 2 hours, so I recommend a meat thermometer that you can leave in, I use the ThermoPro TP20.

12. While the fish is smoking, mix the ingredients for the citrus honey glaze.

13. When the fish reaches a temperature of 140°F, open the smoker and brush on a nice layer of the Firing Lime Chipotle glaze. Close the smoker and let is smoke for another 30 minutes or so to get to an internal temperature of 160°F.

14. Once it reaches the 160°F internal temperature take it off the smoker. You can eat it just like this or put it on a cracker to make, either way it will be delicious


3. Pork Loin

Coat pork loin in yellow mustard and BBQ seasoning and put a layer of brown sugar on top. Roast at 350-400 for about an hour. Left overs are perfect for BBQ Pork Pizza (in this case, my wife made homemade dough)


What I've Been Grilling: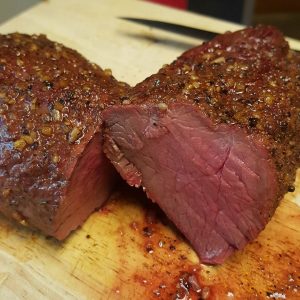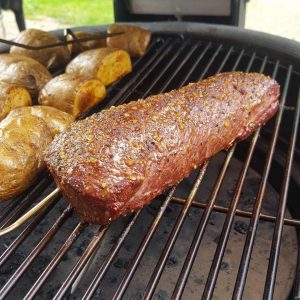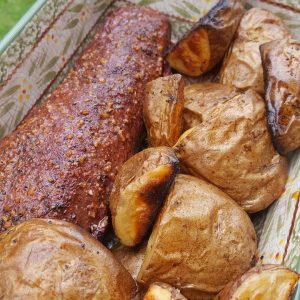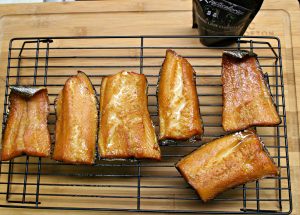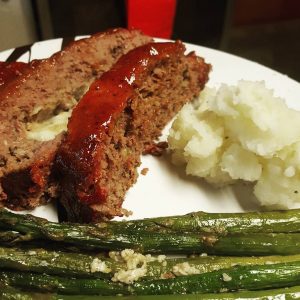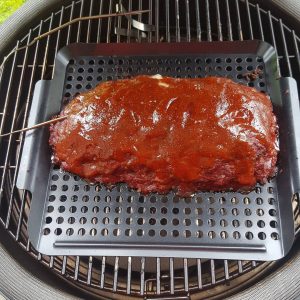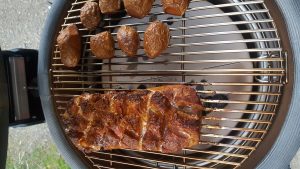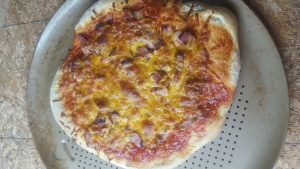 Jody O.


On Kamado Joe's website they have a statement that says: "It's about more than cooking. The fire, the smoke, the times out on our deck with my son or my neighbor. A Kamado isn't just a grill. It's a lifestyle. " I couldn't agree more with this. Whether it is cooking for just myself, my family, or for 15 plus family and friends, this grill is about helping you make memories. The bonding time spent with others around the grill, the satisfaction it brings seeing that food disappear, the excitement on my daughter's face as she "helps" her dad at the grill are all ingredients to an ever-growing perfect recipe. I can't emphasize enough how impressed I am at the quality and versatility of this grill. When you see my 9 year old daughter raise the lid of a 70+ pound ceramic grill effortlessly as if it weighed 7 pounds, you can understand why our Airlift hinge is called a "game changer" by the owner of Kamado Joe. Whether you are smoking a pork shoulder for 12 hours at 250 degrees, baking bread at 350 degrees, or searing a steak at over 600 degrees, this grill can truly do it all.


Recipe:


Jody's Almost Famous Buffalo Chicken


• 3 Boneless Skinless Chicken breasts

• 4 ounces of softened cream cheese

• ½ Cup Blue cheese Crumbles

• ½ cup of hot sauce

• ½ cup minced celery

• 1 C Stove Top Stuffing

• ½ Cup shredded sharp cheddar cheese


Instructions

1. Set up the grill for indirect cooking and preheat to 375 degrees F.

2. Place softened cream cheese in a large bowl and add buffalo wing sauce. Mix until completely blended.

3. Fold in Stove Top Stuffing, celery, cheddar cheese and blue cheese crumbles

4. Lay chicken breasts out on a clean surface, top with a sheet of plastic wrap, and flatten with a meat mallet to desired uniform thickness.

5. Spread stuffing mixture on each chicken breast, top with additional blue cheese crumbles if desired. Place into sprayed shallow baking dish. Repeat for remaining chicken breasts.

6. Bake uncovered for 35-40 minutes, or until an internal temperature of 165 degrees. Remove from the grill and top with additional hot sauce, or favorite wing sauce, if desired.


What I've Been Grilling: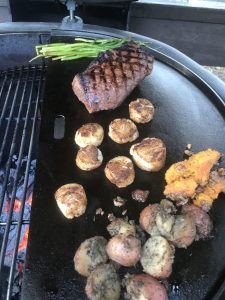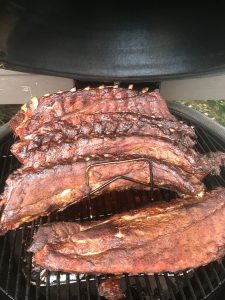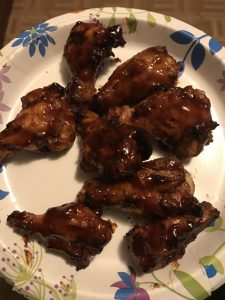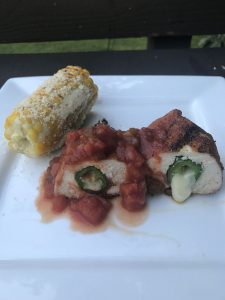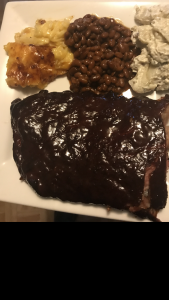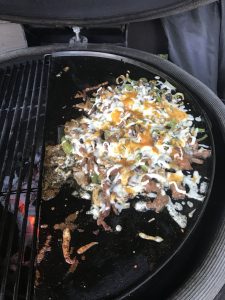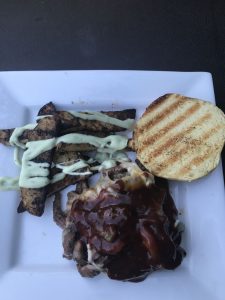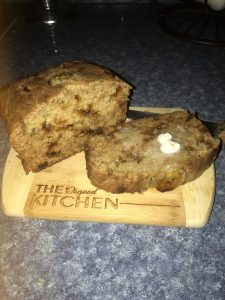 Erik D.


Although we love everything that's been smoked, roasted, or seared on our Kamado Big Joe grill, so far our family favorite has to be wood-fired pizzas. I've never had much success crafting pizzas in our conventional kitchen oven. I've found that in order to bake a chef quality pizza, an oven capable of sustaining temperatures between 525-550 degrees F is required. The Big Joe handles this with ease. Big Joe's perfectly counterbalanced lid also makes sliding pizzas in and out, quick and efficient. It is definitely much more pleasant baking pizzas out on the deck, with family and friends, than in a hot kitchen. Because the cook times are quick, only 5-7 minutes at the proper temperature, we have even held a "craft your own pizza" party. The pizza possibilities are endless. Our current three favorites are, a taco style, a spicy chicken wing, and a white pizza including chicken, spinach, artichoke, mushroom, broccoli, and bacon. Our recipes are not precise. So far they have been more or less experiments on flavor. This keeps things interesting. We have made our own crust, but for simplicity, we typically buy good unbaked pizza dough at our local grocery store's deli. Some pizza shops will also sell fresh, uncooked dough. For best results, we have found that the crust and toppings should all be close to room temperature before baking.


Recipe(s):


Taco Pizza

Refried Bean Sauce. (some canned refried beans, thinned with water)

Taco Meat (cooked)

Chopped Sweet Onions (optional)

Sliced Black Olives (optional)

Shredded Taco Cheese

After Baking Finish with Shredded Lettuce, Sour Cream (optional), and your favorite Taco Sauce.


Spicy Chicken Wing Pizza

For the sauce we blend a quality blue cheese dressing with our personal predetermined tolerance level of hot sauce.

Cooked Shredded Chicken (we use chicken previously roasted on our Big Joe)

Shredded Mozzarella Cheese

After Baking we served with celery sticks.


White Pizza

For the sauce we use our favorite Spinach/Artichoke Dip.

Cooked Shredded Chicken (again we prefer chicken previously roasted on our Big Joe)

Broccoli Florets (Lightly Blanched)

Mushrooms (Fresh Sliced)

Bacon (Cooked and Crumbled)

Shredded Mozzarella Cheese

After baking, be sure to grab your slices fast. This one is very popular.


A couple of final tips...

1.) After getting Big Joe up to temperature, make sure that there isn't a gap between the indirect heat deflectors. This will eliminate hot spots on the pizza stone, and yield an even bake on the crust.

2.) Use corn meal on your pizza peel when stretching out the dough. This makes sliding the pizzas onto the stone a snap.

3.) Everything is optional.


Always Make It Fun!


What I've Been Grilling: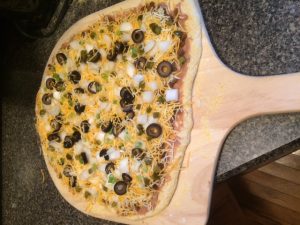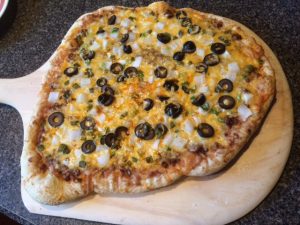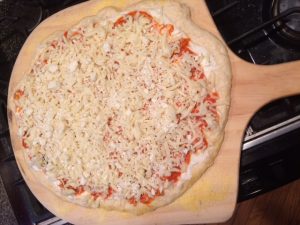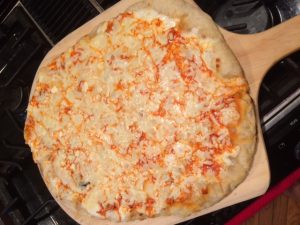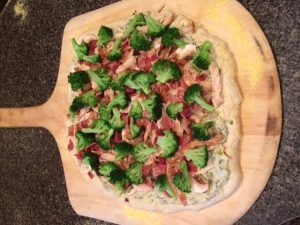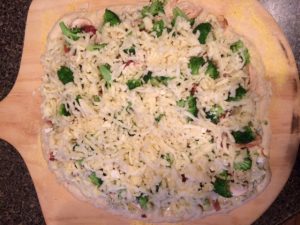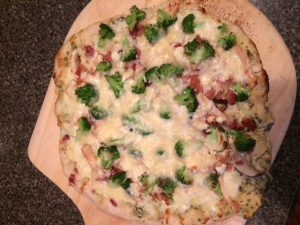 Rhonda J.


I'm not sure that we realized how much grilling/smoking with the KJ would change the way we look at "grilling". It has become quite the event at our home. The entire family gets involved in choosing what we will grill or smoke. We actually plan the day around what we will be cooking. We've had many grills and smokers over the years but not one of them brought us so much enjoyment. Some of the items we've grilled include asparagus, Brussel sprouts, potatoes, T-bones, stuffed meat rolls, pork chops, burgers, hotdogs, pork ribs, and sausage. Everything has turned out so tender and juicy. We look forward to trying pizza and brisket in the smoker this summer.


Recipe(s):


T-bone steaks


Season with KJ steak seasoning and baste with butter. The potatoes (2-baking potatoes and 2- sweet potatoes) are rubbed with butter and rolled in sea salt.


1/2 rack of pork ribs


Season with KJ honey BBQ rub. Smoked at 225 for 3 hours, wrapped in foil with apple juice for 2 hours, and then grilled at a higher temp for the last hour. At that time I basted with BBQ sauce. The asparagus was seasoned with olive oil, garlic, salt, and pepper. In the foil we grilled sliced red potatoes, green onion, and sliced carrots. These were seasoned with butter and KJ vegetable seasoning.


What I've Been Grilling: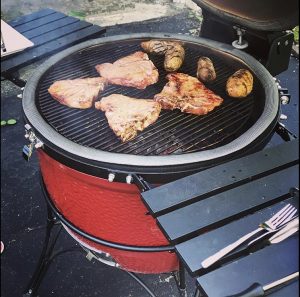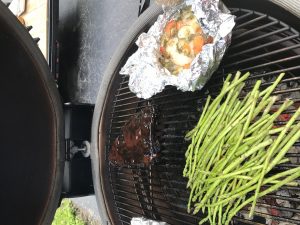 We hope the recipes we've shared have inspired you to try a few new dishes this summer! And, of course, we hope you are considering trading in that old gas grill for a Kamado Joe featuring a Vectis™ Custom counterbalance hinge! But no matter what you're grilling on, we really hope you're having a great time and enjoying your summer as much as we have been!


Leila Bell

Business Development Manager

Weber Knapp Company