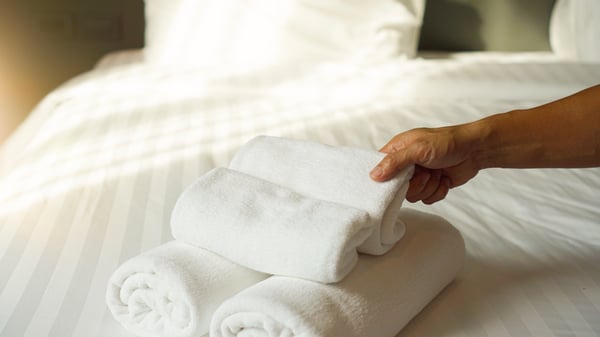 Space is a premium in major cities. Boutique hotel design can demand a tight budget. Today, many hotel room design trends focus on maximizing space for customers through creative approaches.
A few good small hotel room design ideas can benefit both owner and occupant. For guests, space-saving features and multipurpose furniture – like sleeper chairs – give you more for your money. Any high-end hotel room design should involve a little innovation to impress the guest, right?
If you're building or remodeling a hotel, you can streamline your design to include more rooms per hotel and bring in more revenue. Or, if you already own a hotel and just want to upgrade the user experience, you can add unique features that guests will say "wow" at -- something major hotel chains are already doing. Our Top 5 Small Hotel Room Design Ideas
Mechanical motion control is a perfect match for hotel furniture design because it's functional while also feeling luxurious. These are just a few examples of how to improve your hotel's user experience with motion control:
TV poles
TV pop-ups, monitor lifts, & monitor pop-ups
Murphy beds
Sleeper chairs
Other fold-out furniture & appliances


1. TV Poles
A TV pole mount makes it possible for guests to flip their TVs around 180°. This allows guests to watch from different parts of the room, and opens an opportunity to do something cool -- like Windham recently did. Windham added TV pole mounts and treadmills into some of their suites so guests can work out and watch TV at the same time.
With these mounts, you only have to put one TV in the room instead of two, so the investment could be minimal if you were planning a two-TV setup.
You can use a mount that connects to a TV stand, or you can go with a full floor-to-ceiling pole TV mount. The latter is the most common, but a motion control solutions provider can create all sorts of setups, as long as physics allow.


2. TV Pop-Ups, Monitor Lifts, & Monitor Pop-Ups
Not all guests want to watch TV -- so why not install a pop-up TV that gives them options?
If the occupant wants to push the TV down into its stand and use the desk as a workspace, a spring-loaded mechanism can make it possible. The user can easily pop the TV back up as needed.
The same lift-assist technology can apply to computer stations.
The modern hotel guest wants to get work done on the go. If you have a computer in the room or offer a docking station for guest laptops, you can add a monitor built into the desk.
When guests need to work, they can press a button to bring the monitor out of the desk. They can put it away just as easily when work time is over.


3. Murphy Beds
Murphy beds go by many names:
Pull-down beds
Fold-down beds
Wall beds
They all mean the same thing, and we can all agree they're the #1 space-saving feature used in hotels. This is particularly true in rooms with king-size beds.
While the basic technology has been around for decades, a hinge manufacturer can add innovative features beyond the basic Murphy.
One hospitality furniture manufacturer recently developed a pull-down bed with a swiveling tray. The user can sit in bed, pull the tray in front of him, and use it for
Reading
Eating
Working on a laptop
Not only do you save dozens of square feet in the room by putting the bed away, you also add a second feature for comfort and productivity. Customers love a good 2-for-1 deal.


4. Sleeper Chairs
Hotel sleeper chairs are essentially recliners that go flat to make a bed. Think of the chair a new dad passes out in at the maternity ward, only more comfortable.
Families with three or more kids can fold out the sleeper chair instead of asking the hotel to provide a spare cot, which sometimes costs extra. A well-designed sleeper chair should be capable of saving space and adding comfort.


5. Other Fold-Out Furniture or Appliances
This is still an untapped area, but with the increased interested in tiny hotel room designs you can expect to see innovation to match the ambition.
If you're got an idea for pop-up or fold-out furniture or appliances, consult with a motion control design engineer or hospitality casegoods manufacturer. They'll know whether your dream is doable.


Where Else?
Space-saving doesn't have to be confined to guest rooms. Lobbies and other areas are perfect fits for many office ergonomic products:
Adjustable-height desks
Pop-up monitors
Adjustable monitor stands
Your hotel should be customer-first, but that doesn't mean you should ignore comfort and convenience for your employees.


Make Reservations for Innovation
If you partner with the right motion control manufacturer, your space saving ideas can be made into reality. Don't limit yourself by saying, "This probably can't be done efficiently."
Check out this related blog to see how other companies are doing it. Or, you can ask an engineer about your hospitality furniture design below:
(Editors Note: This was originally published in December 2019 and was updated recently to reflect new and accurate information.)