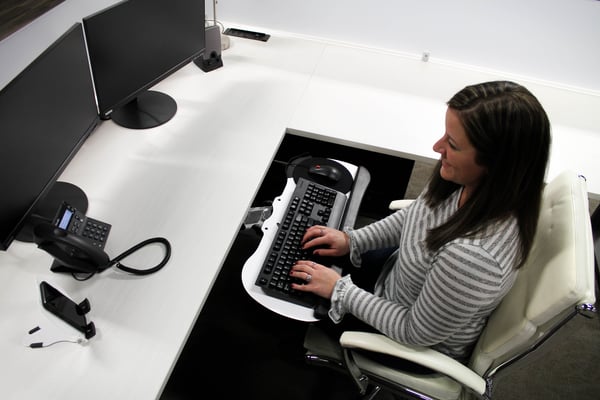 Office ergonomics is all about productivity, both for the workers and the managers trying to maximize staff ROI. Reducing stress and strain by using ergonomic office products helps employees stay focused and perform better and more efficiently. It also improves their mood, reducing tension and conflict.
In other words, it pays to keep employees comfortable on the job.
In the United Kingdom, a report revealed that, of the approximately 600,000 workplace injuries each year, many can be blamed on poorly designed furniture. Meanwhile, ergonomically sound furniture not only reduces long-term injuries, but it also promotes better mental health in the workplace.
Making the switch to an ergonomics-friendly office can seem intimidating at first. The options are seemingly endless. Maybe your office equipment budget is limited. Use the information below to make sound decisions when prioritizing which ergonomic office accessory purchases should come first.


Factors to Weigh in Prioritizing Ergonomic Office Accessories
So which ergonomic office products and accessories will help improve your employees' productivity? It may depend on the type of environment your employees work in and the manner of work they do.
Think about your office environment in these ways:
Duration of use: How long would employees spend using the product each day? Does their job role give them the chance to change posture or stretch their legs every 30 minutes or so?


Frequency of position changes: Is it necessary to sit and stand fairly often throughout the day? Does the person need to alter the height or tilt of a piece of equipment?


Potential negative impact: The first two points impact this one. Given their job roles, would the lack of a certain piece of equipment be a mild inconvenience or a path toward long-term health issues?


Which Ergonomic Office Products Should Be a Priority?
The need for particular ergonomic office accessories and products varies by situation. But some of them should be a part of nearly every workplace.
Here's how we'd generally rank popular ergonomic products from most to least important:


1. Adjustable Keyboard Lift Mechanism
Plopping a keyboard down flat in front of a desktop monitor is not a good use of space and not good for the user. The consequences of a poorly situated keyboard can include:
Shoulder pain
Neck strain
Back strain
Carpal tunnel syndrome and other musculoskeletal disorders
The way to avoid these problems is a keyboard mechanism and tray set that slides out of the way and adjusts to the user's height. Adjustable keyboard trays help users keep their elbows level with or above the wrists and in a relaxed position near the body.
Another helpful feature is a keyboard tray that tilts forward (also called negative tilt).


2. Keyboard Palm Rest
This is more like 1A. It literally goes hand in hand with any good ergonomic keyboard tray station.
You've probably seen office workers with their hands and wrists wrapped in an attempt to treat carpal tunnel syndrome. A keyboard palm rest, in combination with an adjustable keyboard lift mechanism, can go a long way toward preventing this painful and disruptive condition.

3. Monitor Arm Lift
The perfect height and orientation of a computer monitor varies from person to person. Ideally, the user can adjust the monitor's position to prevent eye, neck, and back strain.
A monitor arm lift can hold one monitor or more, depending on the lift's design.


4. Ergonomic Chair
An ergonomic chair not only enhances the effectiveness of an adjustable keyboard but also has benefits of its own. A BIFMA-certified chair can reduce back, shoulder, and neck pain, as well as the energy drain discomfort, can cause.
Ergonomic chairs encourage good posture by supporting the back and head and maintaining optimal height for anyone using them. Find chairs your employees can quickly and easily adjust to their body type.


5. Sit-Stand Desk
Everyone knows it's not healthy to sit all day. That doesn't stop us from doing it.
Just standing up once in a while -- we recommend every 30 minutes -- can help prevent several job-related health problems. A sit-stand desk mechanism makes it easy to alter positions without interrupting workflow.
An example of a good range for a height-adjustable desk is 22" to 46.5" high. This height range covers more than 90% of Americans.
You'll also want to have a load-bearing capacity that meets the needs of your workplace and doesn't damage the lift mechanism.


6. CPU Holder
A CPU holder allows users to hang the units under their desks. This setup provides several benefits, such as:
Mobility with sit-stand desks so the computer moves with the desk, preventing detached cables
More space
Easy accessibility with a swivel function that brings the back of the tower within reach
Damage prevention by keeping the computer off the floor, where it's susceptible to dirt, dust, and perhaps a few kicks when you're getting the pinwheel "loading" icon for too long


7. Tablet, Smartphone, & Document Holders
A tablet holder, as well as smartphone and document holders, optimize space in a workstation. At the same time, they keep essential items within easy reach.
While they perfectly complement an ergonomic workstation, there's not much health benefit to using them. You might want to purchase these last.


The Easiest Way to Keep Workers Happy & Healthy
An ergonomic office is a place where more work gets done and employee satisfaction is high.
Depending on your employees' needs, they may benefit from great ergonomic products that aren't even on this list. See what works best for your team before you make a purchase.
To find out more about ergonomic office accessories and products that boost your team's productivity, check out our free Managers Equipment Guide below:


(Editors Note: This blog was originally published in March 2020 and was updated in March 2022 to reflect updated and relevant information.)