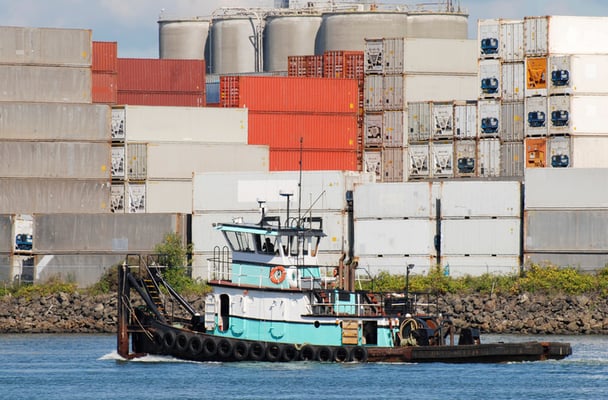 Some elements of motion control require a complex hinge design to meet rigorous industry needs and standards for your product. This is especially true for outdoor applications that endure both harsh weather conditions and repeated use (or, more likely, slamming).
Industrial hinge design considerations must balance convenience with safety, no matter the situation. With that in mind, here are five hinge design guidelines for heavy-duty hatch hinges in the commercial, industrial, and military worlds:


Support for Your Heavy-Duty Hatch Hinges
It's especially critical to get complex hinge design right the first time when your lid is heavy or will be used in a harsh environment. While most of the tips here are useful for any heavy-duty hatch designer, you can also skip directly to one of these specific applications:
Barge hatch hinges
Silo hinges
Military tank hatch hinges
Container tank hinges
Submarine hatch hinges


1. Barges
Giant grain barges travel along the majestic Mississippi, delivering vital food supplies from Midwestern farms to processing plants. Owners store grain in the giant holds of these mammoth vessels, with access supplied through as many as six or more huge hatch covers.
As the crew accesses the hatch to load or unload products, the lid cannot be hinged open because heavy winds can catch them and wreak havoc. The solution is a hinge mechanism design that creates a rolling or sliding hatch.
It stays connected, but as the operator lifts the handle, it unlocks, raises the hatch, and lowers wheels so the hatch lid can be efficiently rolled out of the way. The door is always attached to the barge cover, but the wind will not catch it. A retention mechanism and stop underneath the barge cover lend to a much lower profile than an open hatch.


2. Silos
After harvest, or while waiting for transport, grain is often stored in extremely tall silos. These heavy lids are made from aluminum or steel, and they're pretty awkward to use.
Because of their height, high winds can yank a lid out of place, potentially harming operators or damaging the top of the silo. A rolling lid might not be appropriate because of the silo's contours, so the engineer will want to specify a motion control feature that locks the lid into place. The right counterbalance hinge design can get the job done, even with a heavy lid.


3. Military Tanks
The military has multiple applications for heavy-duty hatch hinges. As you can guess, these components must provide high-impact resistance to protect the safety of the troops, while remaining easy and quick to use.
Heavy-duty lid support requires a hatch hinge design that assures a tight seal, while enabling quick emergency exiting if necessary. Engineers and contractors should stick to hinge suppliers with experience in mil-spec hinges (also known as MIL-STD hinges). They'll have a leg up on suppliers who aren't yet familiar with the high standards and certifications required for military applications.


4. Container Tanks
While not as mission-critical as for military tanks, good mechanical hinge design in container tanks for farms, chemicals, and brewing is still important. (In the case of the latter, some would say very important.)
These weight-bearing hinges are usually formed from stainless steel or other heavy-duty steel. High-end materials can provide tight tolerances (and therefore a tight seal) and ease of operation without rusting or contaminating the product. If the tank will hold dangerous substances, choosing a material with high chemical corrosion resistance is a must.


5. Submarine Lids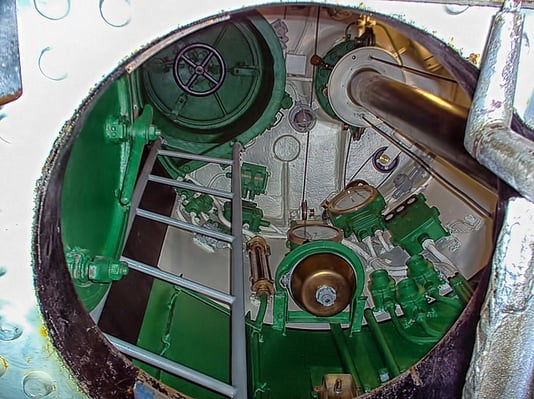 Careful hinge design engineering is critical for external hatches to secure the lives of underwater sailors from the dangers of the sea. In these instances, the use of a marine-grade stainless steel, such as 316 stainless, is the clear solution.
Internal hatches also need to be corrosion-resistant due to the moisture and salt air that infiltrates sub interiors. Don't just slap a nice hinge on your external submarine hatch and call it a day!


Engineering Guidance for Heavy-Duty Hatch Hinges
Whether you're developing for a barge or a beer tank, industrial lid support is best achieved through mechanical counterbalances and spring-assist technology.
That's easier said than done, and it's usually best to rely on a hinge manufacturer with design assistance capabilities. To learn more about hatch hinge designs and all other types of industrial hinges, check out our new resource page!