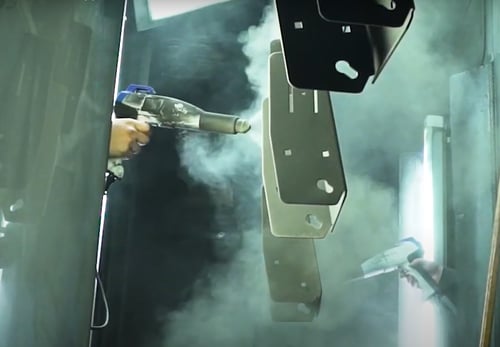 Do not underestimate the power of powder coating!
Hinge finishes might seem like a luxury or an afterthought in the grand scheme of your design. But the benefits of powder coating go beyond just a little added durability.
When you're exploring ways to finish your components, powder coating should be your first stop in most cases. Here's why:
4 Benefits of Powder Coating
Customized hinges deserve customized finishes. There are four main reasons to use powder coating on hinges:
A great look
Corrosion protection
Ecofriendliness
Affordability
1. Appearance
The finish you get through powder coating is:
Available in an assortment of textures
Consistent
Customizable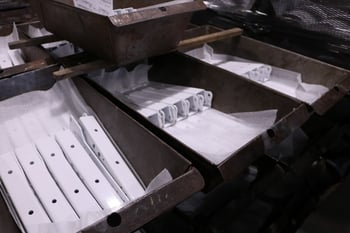 There are many, many color options, just like you see with traditional paint. If you think there's only one shade of orange powder coating available, you're wrong -- the varieties are almost too many to count.
The customizability doesn't stop at colors. You can ask for a finish that's matte, gloss, wrinkled, smooth, and so on.
If you're not using hidden hinges or counterbalances, then aesthetics may be a big deal to your product. For example, refrigerator manufacturers love their traditional finishes -- they don't want a rusty or otherwise ugly surface to grab attention.
You can make the hinges match your company colors, or texturize the hinge to camouflage it, like grill manufacturers often do.
2. Corrosion Resistance
Powder coating is one of the most durable finishes available for hinges, or your product as a whole, for that matter. Manufacturers have found that powder coating is noticeably more resistant to:
Scratching
Fading
Chipping
Saltwater
Solvents
Impact
There's even a UV-resistant powder coating commonly used on grills and other outdoor equipment.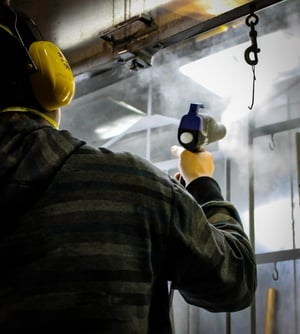 Hinges take a beating in many applications, especially when they're exposed. The last thing you want failing is your hinge or counterbalance, and corrosion will accelerate the failure rate of hinges. That's why we almost always recommend powder coating for hinges we design for our clients.
You can ask for a finish that's thick or thin, depending on the level of protection you need.
3. Environmental Friendliness
The materials used and the process of applying powder coating are environmentally friendly. Powder coats are free from volatile organic compounds (VOCs) and solvents.
The powder coating process includes a reclaim booth, which means that virtually all the powder that falls to the floor can be collected and reused a few more times. This benefit ties in with the next on our list …
4. Fair Price
Powder coating costs the same or less than painting in terms of the material itself, and the cost only looks more attractive when you take everything else into account.
You can recycle the powder.
The coating tends to last longer and needs reapplied less often.
It protects the underlying components better, extending their life.
Combined, these factors prove powder coating is cost-effective both short- and long-term.
See our process in action, including powder coating:
How Does it Compare With Wet Paint and Plating?
We've talked up powder coating like it's the be-all, end-all of finishes. Since it's not ideal 100% of the time, let's see how it stacks up against paint and plating:
Wet Paint Vs. Powder Coating
Some parts simply cannot be heated for powder coating. By default, wet paint should earn those jobs.
Beyond that, wet paint offers an overwhelming number of colors – and it can be cheaper to have done than powder coating. It's also easier to make a thin coat with.
But powder coating offers different textures, increased durability (see the list above for point #2), and an improved environmental impact.
Remember, paint will not protect as well or last as long as powder coating. And most paints used in industrial applications contain harmful substances, which are bad for humans and the environment. Finally, if someone accidentally rams something into a fridge that's painted, it might chip. Paint lacks the hardness and durability of a nice coat of powder.
All points considered, just about any part that can be powder coated should be powder coated.
Plating Vs. Powder Coating
Plating and powder coating cost about the same, but the advantages of powder coating usually make it a better option.
For one, powder coating is far more environmentally friendly than plating. You also get a thicker coating with powder coating, so you have more durability. Plating may take multiple coats to get an even finish, something totally unnecessary with powder coating.
Plating does have a place, though. Plating can add
A unique decorative appeal
Solderability
Strength
Conductivity
Magnetism
Ability of paint to stick, if you want a secondary finish

Is Powder Coating Worth It?
A definite yes.
There are manufacturers that will handle your finishing needs as part of the design and manufacture of your custom hinges. So if you prefer a single-source manufacturing experience for your custom-made hinges, hunt down a company that also offers powder coating in-house.
If you want to learn more about the benefits of powder coating and the many available hinge colors, talk with your hinge designer or head to a powder coating material supplier's website.
Powder Coating Heavy Duty Industrial Hinges
Now that you know more about powder coating, take a minute to learn more about heavy duty industrial hinges and how they can benefit your project:
This piece was originally published September 2019 and was recently updated to reflect industry trends.