I've been excited to get started on writing blogs for our newly launched Vectis™ line of counterbalance hinges and the vectiscounterbalance.com website. With so many topics I could cover, it occurred to me that the most important feature and the driving force behind each Vectis™ counterbalance is actually quite simple – Motion Control.


Motion control pretty much includes every technology that is related to controlling the movement of objects. A simple web search of "Motion Control" will turn up thousands of hits, many offering definitions of what motion control is and equally as many, if not more, offering a vast array of gadgets to help you get the job done.


I know what you're probably thinking… "So, you're going to write about hydraulic pumps and linear actuators or maybe even electric servo motors. We get it, we already know what motion control is and that you can find servo motors and hydraulic pumps in all types of equipment in all types of environments. Why then would you write about something we're already familiar with?" And my answer is, "because at Weber Knapp Company, we're doing things a little differently!"


Not too long ago, we launched our new line of Vectis™ counterbalance hinges. The Vectis™ line can be individually designed and manufactured to meet your specific load requirements using our proprietary design your own application. But well before Vectis™ was born, Weber Knapp was designing and building counterbalance hinges for a multitude of applications. You see, designing and manufacturing counterbalance hinges is "our thing!" It's a core capability of our company, and we offer an alternative to hydraulic pumps, linear actuators, and servo motors – all of which have a greater potential to fail in the field when compared to our counterbalance hinges.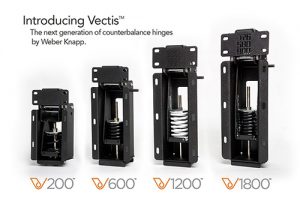 Here at Weber Knapp, we approach our design process by assuring that our customers have control over the motion of their device(s). We strive to develop a customized solution specific to each individual customer's application. These solutions can range from fingertip lid operation to reliable, heavy duty devices to mitigate safety concerns. All of this effort is to provide our customers with truly unique products that stand out in the market.


So, why write about motion control? Because motion control is what we do best around here!


Leila Bell

Business Develop Manager

Weber Knapp Company