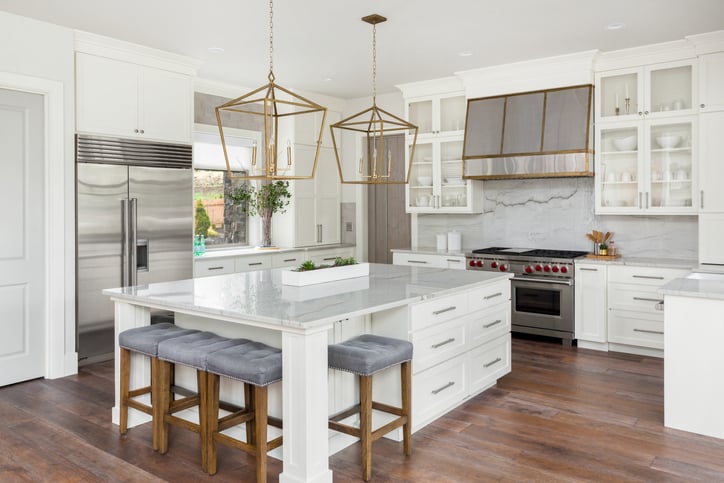 Sleek.
Spacious.
Bright.
Clean.
Functional.
Whether in a home or at a five-star restaurant, these are just a few of the motifs now dominating modern kitchen design.
Today's kitchens focus on space, entertaining, and natural light – as well as efficiency and functionality when preparing a meal. Creating spaces that bring together all these design musts takes thoughtful design down to the smallest detail.
Consider the refrigerator. A mainstay of any kitchen, a fridge is often one of the biggest components in it. Bulky, able to stand on its own, and essential, a refrigerator is as much a necessity as it can be an impediment to the contemporary kitchen.
Like other elements of a kitchen, smart design reframes how a fridge fills a space and meets utility. With an integrated concealed hinge system, a fridge becomes a less obtrusive yet more functional element of a space that complements modern kitchen design standards.
Practicality in the Kitchen: Design Has Two Schools of Thought
The Evolution of Kitchen Design
The 1950s – Viewed as a place for the family to come together, kitchen design was square with lots of open floor space. The dining table was generally included in the kitchen at that time.

The 1960s – Kitchen design centered around easy cleanup and entertaining. Thus, the kitchen and dining room were often connected, although some opted to keep eating areas within the kitchen. The open-concept layout also started becoming popular, with appliances tucked away within the periphery of a space.

*In both decades, refrigerators had bulky doors and hinges and required a significant amount of space in the kitchen in order to provide cold storage.*

The 1970s – Kitchen aesthetics broke from bright colors and accents to a more natural wood palette, with popular accent colors of avocado green and harvest gold. Kitchen design continued to center around a square design with a connection to the dining room. The refrigerator was still a significant component when it came to the design, as it required a number of concessions to be useful and fit into the space.

The 1980s – Kitchen design shifted toward a u-shape layout with better lighting and a brighter, cleaner appearance. Appliances changed to a simple color scheme of black and white, typically matching the white cupboards and walls.

The 1990s – Taking a sharp turn from tradition, the kitchen became a clutter-free space, intended to be soothing and serene. Minimalism became more popular, continuing the u-shape design while also incorporating a country style. Larger refrigerators and stoves became more popular as homeowners modeled their kitchens after those used by professionals.

The early 2000s to today –

Contemporary kitchens

now prioritize open space and ample workspace with neutral color palettes. Today's kitchen design intends to optimize the use of natural light, with large windows and straight lines to allow that light to reach as far as possible. Appliances are stainless steel and are expected to take up less space while providing more storage and features.
As times change, so do expectations for what's considered optimized form and function. The kitchen and its components are no exception.
The kitchens of today are a far cry from what was considered cutting-edge decades ago.
Seeking to maximize efficiency while still maintaining a sense of openness, modern kitchen design is dominated by two schools of thought for layout:
The Kitchen Work Triangle
Kitchen Zones
1. The Kitchen Work Triangle
Introduced in the 1940s, the Kitchen Work Triangle was an attempt to help save on construction costs. It took hold differently when designers found it also optimized the efficiency of the kitchen layout. Ultimately, this kitchen floor plan aims to reduce the distance between the stove, sink, and refrigerator, allowing for more streamlined use. Ideally, the Kitchen Work Triangle is a minimum of 13 feet and a maximum of 26 feet.
2. Kitchen Zones
Despite the efficiency of the work triangle, sometimes such a layout isn't possible (think: galley-style kitchen). The Kitchen Zone takes on design and function in a different way.
In this school of thought, the kitchen is divided into six zones, each with a specific focus:
Everyday items
Cooking
Pantry
Storage
Specialty
Under the sink
While the zone approach doesn't necessarily mean adjusting a kitchen layout, it does make for an upgraded organization of the space.
Regardless of the design approach, creating the contemporary kitchen also involves taking a close look at how its fixed elements and appliances bring cohesion. This includes considering how every door in the kitchen opens (from cupboards to the fridge door), their projected swing, and impacts on neighboring components and functionality.


The Concealed Hinge Design Solution for Kitchens
Design focused on fulfilling the Kitchen Work Triangle or Optimizing Kitchen Zones both require a refrigerator that optimizes the door swing and allows for the best use of space on either side of the appliance.
With a concealed hinge, a refrigerator becomes a standout element of a kitchen.
Rather than requiring its own area of space, a hidden hinge refrigerator is a counter-depth refrigerator, meaning that when installed, it's flush with counters and cabinetry. In essence, the major appliance blends in seamlessly – lending itself to the overall aesthetic of a high-end kitchen. In addition, without hinges protruding from its doors, it's almost impossible for the fridge to scratch or damage cabinetry or unnecessarily obstruct pathways.

Upgrading Fridge Function: Weber Knapp's Slim-Integrated Hinge Series
The Weber Knapp Slim-Integrated Series refrigerator hinge (SI.1) accounts for the need for optimal use of space.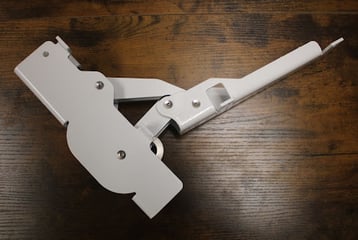 When open, a fridge door does not extend beyond the refrigerator space itself. When closed, the recessed hinge is not visible, which means it not only does not interfere with cabinets to either side but also does not take away from the overall aesthetics of the space.
The SI.1 hinge provides a smooth, silent, simple, and reliable operation. The hinge has a 300,000-cycle lifespan, which will mean a lot of meal prep and late-night snacks without wear on the hinge. It also allows the door to self-close if left open at 60 degrees or less.
The SI.1 hinge can be color matched to the refrigerator to maintain a visual theme. Weber Knapp offers white or gray, with an option for one of the many other powder coating colors available if requested. These powder coatings are environmentally friendly and provide a chip-resistant finished surface.
Concealed Hinge: Made for the Modern Kitchen
Though design trends change, consumer demand for kitchen products that optimize function and experience doesn't.
As modern kitchen design requires getting more from appliances, fixtures, and layout without going overboard, a hidden hinge refrigerator delivers on all fronts without compromise.
Incorporate the SI.1 Hinge into Your Refrigerator Design
Weber Knapp engineers can answer questions about the requirements for installing the refrigerator hinge. Book time today! You can also check out our resource guide introducing motion control and counterbalancing for product design.