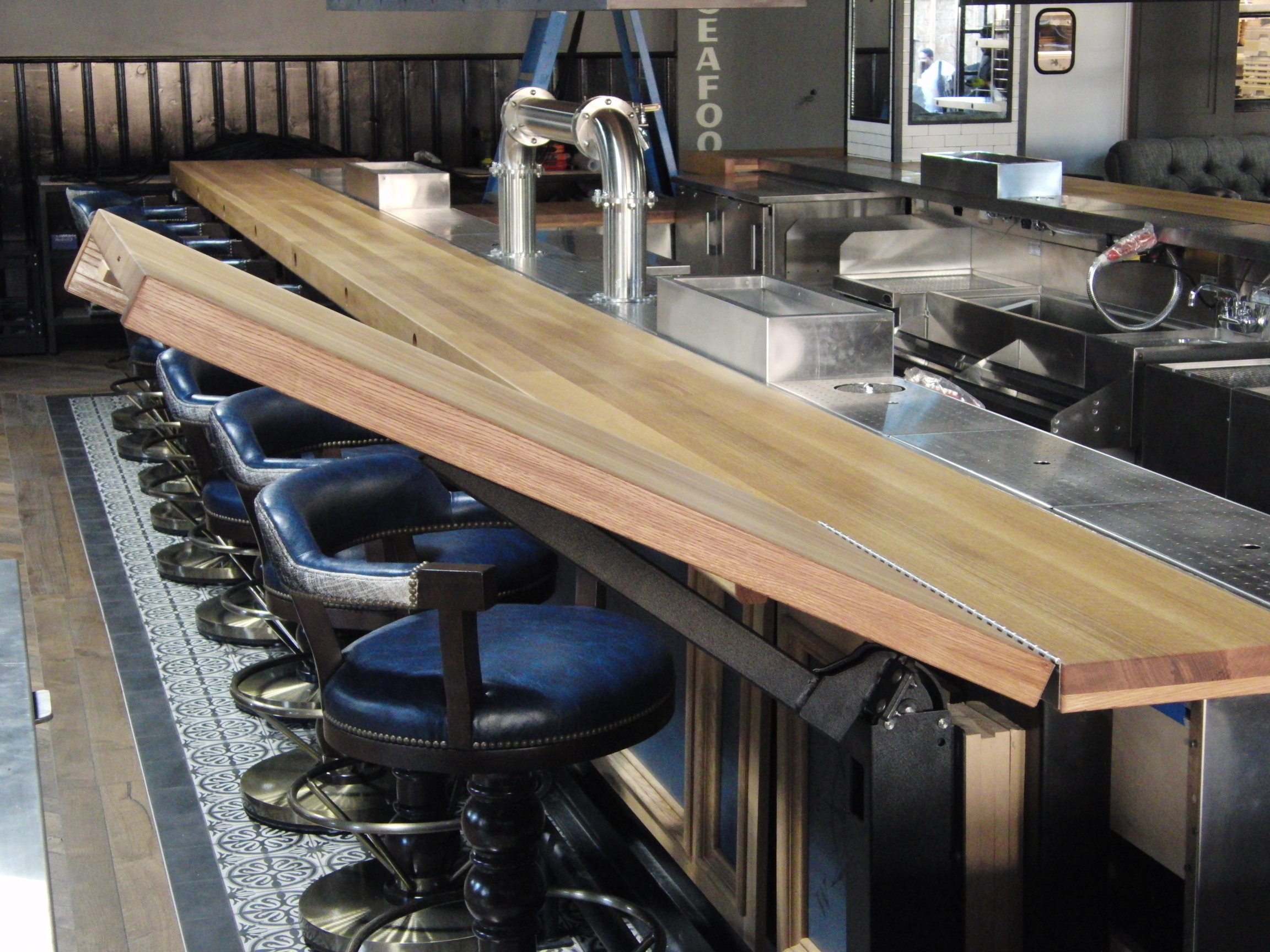 Whether you're designing a kitchen appliance, a bar countertop, or ergonomic office furniture, incorporating the right motion control mechanism lends functionality, safety, and elegance to your product.
While most people assume motion control means electric-powered, there's still a need for good old-fashioned mechanical engineering in heavy-duty applications. That doesn't mean your human-powered options are limited – mechanical hardware engineers have been busy for years reimagining the classic hinge to creatively meet the requirements of specific projects.
Improving on the Classic Hinge Design
Because every project is different, a number of heavy-duty hinge solutions exist to meet motion control demands.
Solutions vary based on a product engineer's desired torque – the amount of force required to rotate an object on an axis or pivot point – characteristics. In hinge terms, torque is the force required to open or close a door, lid, or panel.
Here we'll lay out some hard-working options and discuss application-specific projects based on hinge types, including:
Counterbalance hinges
Lift gate assistants (a subset of counterbalance hinges)
Spring-assisted hinges
Concealed hinges
Counterbalance Hinges
Using springs, weights, and levers, counterbalance hinges balance the weight of heavy panels and lids against gravity's downward forces, reducing the amount of force required to lift and move them.
These hinges give users precise control for opening and closing – including the ability to stop and stay in place – improving a piece's functionality and safety.
Depending on the motion needed, there are many applications for counterbalance hinges:
Medical centrifuges
Slide-preparation devices
Industrial equipment
Hatches for submarines and armored vehicles
Boats & barges
Grain silos
Grills
Vacuum chambers
Featured Application: Vacuum Chambers
Used in many industries and scientific research projects, vacuum chambers provide an effective way to carry out experiments or processes that require an environment free from contamination. These industrial-sized airtight enclosures are large and heavy, as are their lids.
Often they're outfitted with gas springs, which are prone to failure. Counterbalance hinge technology offers a better solution for a safer, more reliable opening and closing experience.
Lift Gate Assistants
A lift gate assistant hinge is uniquely counterbalanced to provide a user-friendly open/close feature to easily lift a heavy object and confidently interact with it knowing it won't fall down.
A subset of the counterbalance hinge variety, lift gate assistant hinges and similar style hinges are designed for hospitality -- bars, restaurants, hotels – for a number of furniture solutions, including:
Murphy beds
Countertop pass-throughs
Fold-down tables and seating for RVs or campers
Pass-through bars
Featured Application: Pass-Through Bars
Adding a hinged bar or countertop helps make use of valuable serving and food prep space while improving traffic flow. Restaurant designers have turned to a number of options to achieve the motion of lifting a bar or countertop to a vertical position, such as pistons and spring hinges.
Lift gate assistant mechanisms are designed to handle the movement of heavier objects safely and with ease, so they're perfect for allowing wait staff, for instance, to lift a large countertop without fear of it dropping back down, and to also safely and easily lower it back into place.
Spring-Assist Hinges
Spring-assist hinges harness stored energy in springs. The springs provide assistance when opening or closing doors and lids, making it much easier to open them with minimal effort. Their torque can also be adjusted based on preference.
Spring-assist hinges tend to cost less than their counterbalance cousins because they have fewer components. They can be ideal for outdoor applications, as well as use in extreme temperatures.
Some applications include:
Grills
Cabinetry
Cryogenic Freezers
Tanning Beds
Drum smokers
Featured Application: Drum Smokers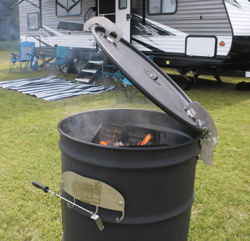 Cooking appliances, especially outdoor drum smokers, benefit greatly from spring-assisted hinges.
They allow users to keep their hands free while checking on a smoke because they open beyond 90° to allow full access to the drum's grate, which is especially important as a drum smoker is hot. Likewise, a spring-assist hinge can reliably perform in extreme heat over and over again, partly due to its simpler design.
Concealed Hinges
Concealed hinges are a great way to add style and functionality to any appliance. Unlike traditional surface-mounted hinges, concealed hinges are hidden from view when a door is closed, creating a sleek appearance.
Hidden hinge design is a common feature of interior and security doors, since they're sturdy and prevent outside access to the hinge itself. They're also used more commonly now in premium appliances, most notably in:
Freezers
Wine coolers
Cabinetry
Hidden fridges
Featured Application: Hidden Hinge Fridges
As kitchens have increasingly become hubs for family life, high-end appliance designers are turning more to concealed hinges to develop pieces that blend seamlessly with surrounding cabinetry, especially hidden hinge fridges.
While designing a heavy-duty concealed hinge sturdy enough to support a food-laden refrigerator door is a challenge, it isn't impossible, and the results are stunning. The best concealed hinges have soft-opening and self-closing features to elevate the user experience.
Choosing the Right Motion Control Option
From counterbalance hinges to lift gate assistants, spring-assisted hinges, and concealed hinges, the right motion control option makes a huge difference in any project. By understanding the advantages of different types of hardware solutions for your demands, you'll be able to choose the best one for your application.
Keep Your Project Moving
We love helping teams find innovative solutions to their motion control challenges. Ask one of our engineers for advice: