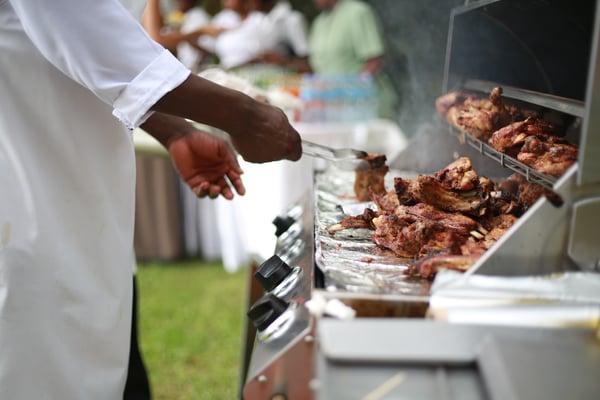 Have you ever looked at your grill design and thought, "I wish this lid wasn't so heavy and didn't slam whenever I let go?"
Motion control and counterbalance hinges solve this problem. Whether you want to mitigate the weight of a heavy BBQ smoker lid or have your customers' grill lids stay open while they flip burgers, there's a motion control solution.
Keep reading to learn more about how motion control can take your grill and smoker hinges to the next level.


Motion Control Solutions for Grills and Smoker Hinges
As you know, there is a wide range of grills and smokers on the market, which means there isn't a one-size-fits-all motion control solution.
Here's a breakdown of a few kinds of grills/smokers and where counterbalance hinges fit in:

BBQ Smokers
Using counterbalance hinges for these kinds of smokers makes a lot of sense. Some smokers can fit a whole pig roast, so having a counterbalance for that heavy lid can improve safety and ease of use.
Smokin Ugly Accessories: Spring Assist Hinges & More
Create the ultimate ugly drum smoker with
Weber Knapp's Smokin' Ugly line of accessories.

Grills
Gas grills, pellet grills, kettle grills – the list goes on. When thinking about motion control for grills, consider the end goal. Will the motion control provide:
Specific range of motion?
A soft close?
Weight mitigation?
A lid stay feature?
Improved safety?
Better ergonomics?
Many grills already have spring assist technology, but adding some friction improves the spring assist. That's where a Vectis Pivot can help. It introduces controlled, constant friction to the system to make it feel more like a counterbalance. Plus, the Vectis Pivot can withstand temperatures up to 800° F, so it's great for grills!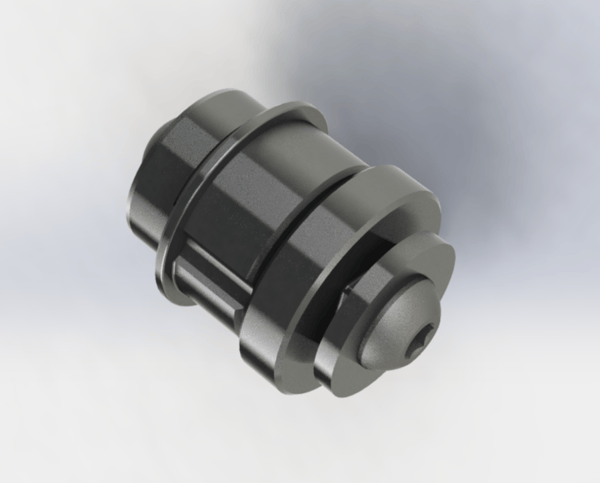 A rendering of the Vectis Pivot
Drum Smoker Lid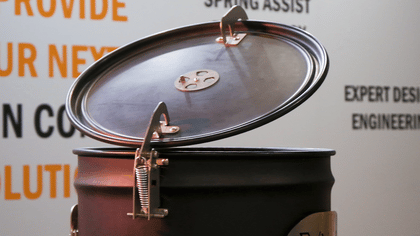 If you look at the Smokin' Ugly drum smoker lid hinge, you can see where spring assist can work well all on its own. The drum lid is light enough that a spring-assisted hinge can act as a counterbalance.
Spring-assist technology is more cost-effective than counterbalance hinges, so it's a quality solution for less expensive products. In contrast, Hestan grills use a full counterbalance because the lid is far too heavy for a spring assist to be effective.


Heat Resistance for Grill and Smoker Hinges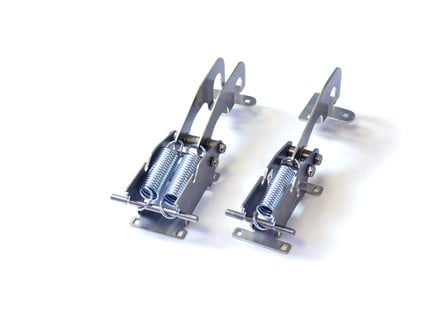 Grills and smokers produce a lot of heat; that's a no-brainer. The more heat there is, the more heat-resistant the hinges need to be.
Stainless steel for hinges inside the grill typically provides better cycle life than hinges with a powder coating. Stainless steel is versatile and comes in different compositions depending on your needs.
Sometimes the counterbalance will be near the bottom of the grill with a cable running up to the lid. Brass is an ideal material for these pivots because it can withstand heat.
Of course, stainless steel and brass are more expensive than simply coating mild steel. With some products, you may still want to consider special coatings for cost reasons.
Instead of using a machined part, you could also use a powder metal part. Powder metal is an additive manufacturing process that cuts down on machining waste and is cheaper, too.


Designing Grill and Smoker Hinges
Typically, a grill or smoker hinge design starts with a customer's price point.
High-end and top-of-mid-range grills and smokers usually opt for counterbalancing. A $250 grill just doesn't deliver enough ROI.
A company looking to add counterbalance technology to their grills or smokers should have the following information ready when talking to a hinge designer:
Lid weight

Lid center of gravity

location from the lid pivot in the closed position
Opening angle
Desired operating force range
Does the lid actuate a switch?
Does the lid have a latch?
Does the lid have a gasket?
What is the grill's desired life cycle?
What is the desired maximum temperature for the grill?
Ideally, all grills would be counterbalanced – depending on the lid's weight and how it's hinged – but the price is the essential factor.
However, there are motion control solutions for smokers and grills of all price ranges:
Counterbalances for higher-end
Spring-assist for mid-range
Vectis Pivot for budget products
Improving Grill and Smoker Hinges With Motion Control
So now you know the basics of motion control for grills and smokers. But the possibilities don't stop there. Motion control and counterbalance technology have applications in many industries, including:
To learn more about the capabilities of motion control, check out our free e-book!
(Editor's note: This article was originally published in October 2020 and was recently updated).