Our new concealed hinge solution – the Slim-Integrated Series Appliance Hinge (SI.1 Hinge) – provides high-end appliance manufacturers with valuable features including:
Flush door panel mounting
Self-closing motion control design
Soft open stop
High cycle life
High load capacity
Strength and durability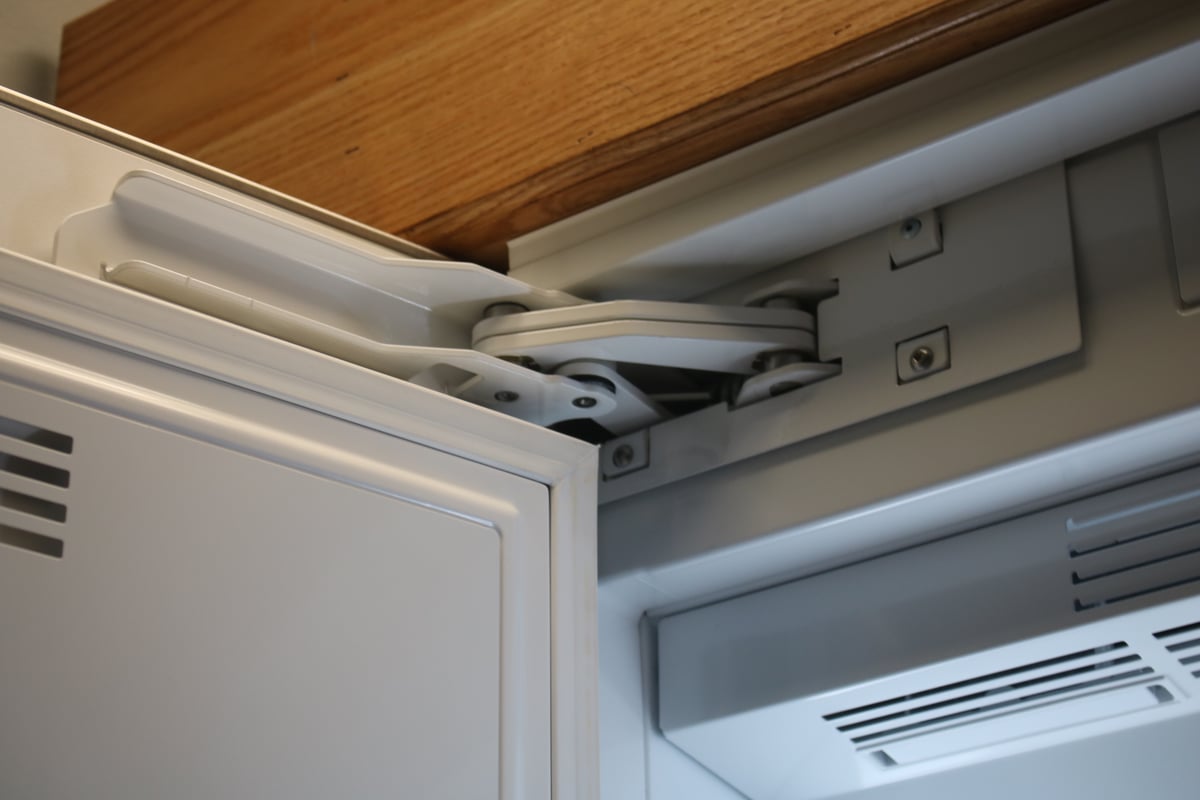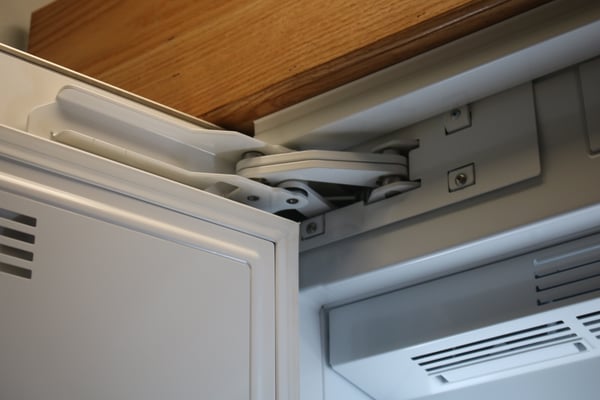 Designing for kitchen appliances is a challenge. There's a long list of needs including safety, durability, strength, and functionality. Aesthetic appeal should also factor into the design.
This is where concealed hinges open up a lot of possibilities – and they look good doing it.
Incorporating the right concealed hinge into your product design helps you create appliances that exceed customer expectations for performance and style, with sleek, modern design.
Introducing the SI.1 Series Appliance Hinge
Weber Knapp's new SI.1 Hinge provides high-end appliance manufacturers with a long-lasting, feature-packed concealed hinge solution.
Intended primarily as a hidden refrigerator door hinge, the SI.1 is a heavy-duty concealed hinge that takes your appliance design to the next level by integrating high-performance functionality with high-class form.
Designed to work with built-in, panel-ready, and integrated doors, the SI.1 Hinge offers a number of features, including:
Its slim design also allows the hinge to blend into the background of the appliance when the doors are open.
See the Slim Integrated Concealed Hinge in action:
Flush Door Panel Mounting
The motion control design of the SI.1 Hinge offers flush door panel mounting with a narrow ⅛ inch reveal.
This means the gap between the door panel and surrounding cabinetry is the smallest line possible. This helps create visual cohesion with a more appealing aesthetic.
Self-Closing Motion Control Design
Concealed hinges with self-closing motion control are a great option for kitchens. Thanks to this design, a door left slightly ajar (at 60° or less) will close itself.
Why is this important?
For starters, you don't want customers to burn up compressors from making their fridges work overtime to cool their contents AND their kitchens.
Secondly, if they have children (or absent-minded adults) in their households, finding a door open when it shouldn't be is extremely frustrating – and unsafe (think: a toddler climbing into the fridge). Having a soft-close hinge integrated into an appliance provides peace of mind on both fronts.
Soft Open Stop
Some people open doors with little regard for noise or durability. Opening any door quickly, particularly one on a regular fridge, sometimes creates surprises, and not the funny kind. The fast swing out and sudden stop of a door may send shelf contents rattling or even falling.
With a soft open stop hinge, it's a smoother movement with a lot less noise… and nothing unexpected. There's also no metal-on-metal scraping as with regular hinges, so the whole experience is less jarring.
High Cycle Life
Our SI.1 Hinge is rated for at least 300,000 cycles, which means it can withstand a lot of use without failing. This is especially important in a kitchen, where the hinges are used frequently.
It's also built to meet UL requirements (as part of a refrigerator system) when mounted to a full fridge.
High Load Capacity
The SI.1 Hinge supports a high load capacity of 160 pounds per pair.
Because these hinges support so much, you can design fridges to have larger shelves inside their door panels. This includes the weight of shelves with items loaded in them.
Considering the average refrigerator weighs 250 pounds, that should more than cover the weight-bearing needs for your appliance's concealed hinge design.



Strength and Durability
Our SI.1 Hinges support heavy door panels without bending or breaking.
They are powder coated with a chip-resistant finish that also resists moisture and humidity, which makes them a great choice for kitchens.
Maximum Specifications

Hinge Materials

Maximum Door Width = 30 inches
Maximum Door Weight = 160 pounds
Maximum

Opening Angle = 110

°

Powder-coated steel hinge arms and brackets
Stainless steel turnings
Engineered plastic spacers, bushings, and bumpers
Food-safe grease
Zinc plated hardware and spring
The SI.1 Hinge: Revolutionizing Professional Kitchen Aesthetics
The SI.1 hinge provides smooth, silent, simple, and reliable operation. Engineered to be reversible and available in multiple colors, the SI.1 Hinge is revolutionizing professional kitchen aesthetics and technology. Keep these considerations in mind while designing your kitchen appliance.
If the specifications above don't match what you are looking for, we can make similar custom designs based on your manufacturer specifications.
Learn More About Concealed Hinges
Do you want to integrate concealed hinges in your next design? Get advice from one of our motion control experts: