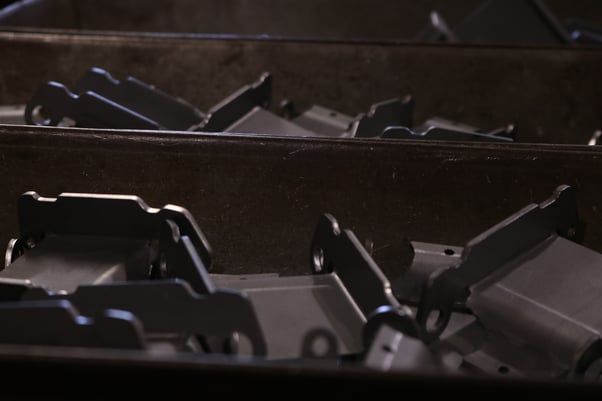 Despite the advent of electric motion controls, the relevance of mechanical motion control in today's technologically advanced world cannot be understated.
Mechanical motion control – especially with spring-assisted and counterbalance hinges – is the bedrock of many systems and devices we interact with daily, delivering consistent, reliable, and precision-engineered movement. This is particularly significant in industries where precision, safety, and reliability are paramount.
Heavy-duty industrial hinges have evolved over the course of a century, withstanding the test of time, and continue to be a fundamental aspect of many engineering applications today.
See how we've designed our Vectis industrial hinges not only to add aesthetic value to your designs but also to enhance functionality and user safety, ultimately redefining the user experience.
Vectis | The Power of Precision Engineering in Your Hands
Revolutionizing traditional hinges, Vectis Technology is the result of an extensive journey spanning over 100 years of mechanical motion control engineering research.
Our industrial hinges allow for the design of robust, durable systems that operate effectively without dependence on electrical power, offering significant advantages in certain high-stress or high-heat applications where electric controls may fail or be impractical.
The Vectis line of Spring Assist Hinges provides counterbalance- and spring-assisted engineering with multiple benefits for the user:
Safety
Flexibility
Ease of Lift
Heat resistance
Reliability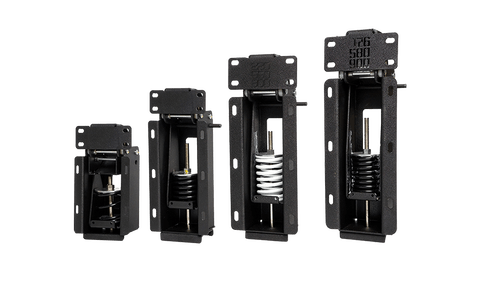 With Vectis, you're not just buying hinges; you're stepping into a world of precision counterbalance and spring-assisted technology.
These hinges are designed to suit both high-end applications requiring precision and those seeking the simple yet impactful benefits of a lightweight, soft-open/close lid. Our team of seasoned engineers is always ready to guide you to a solution uniquely tailored to your needs.
Here, customization is not an exception but the rule. Our proprietary Vectis DYO app lets you choose from four models, each fully customizable. We encourage you to experiment and innovate, enabling you to stay ahead of your competition.
1. Safety
Vectis Technology's Spring-Assisted Hinges are a testament to the expertise and dedication invested into delivering a hinge that embodies precision, safety, and ease of use.
Have you ever wondered how heavy lids on tanning beds, high-end grills, and similar applications remain safely upright despite weighing 50 lbs. or more? The answer lies in the experience and precision of our counterbalance engineering.
Our hinges are not just about delivering the 'wow' factor. We understand the importance of safety and are committed to designing products that ensure user safety while protecting your company from potential legal issues. If you have an existing design that's causing safety concerns, our team can examine it and recommend the most appropriate solution.
2. Flexibility
Our Vectis technology sets you apart from the competition by allowing your product to do more than just open and close. With it, you can tune your hinges to provide a unique user experience, including:
True counterbalancing
Spring assistance
Coast-open and coast-close lids
Soft-open and soft-close lids
Pop-up lids
3. Ease of Lift
A heavy lid does not have to make it challenging to accomplish a task. It also does not have to mean you're risking repetitive strain when you have to open that lid 10-20 times per day.
Instead, spring-assist hinges like those in the Vectis line make it a simple matter to open the lid, no matter how many times a day you are doing it.
4. Heat Resistance
The Vectis line of hinges leverages patent-pending technology to design motion control components for grills, oven doors, and other high-heat applications.
This technology allows the hinge to withstand extreme temperatures, something beyond the capabilities of traditional gas springs, offering you a better return on investment.
5. Reliability
Whether you prioritize aesthetics or corrosion resistance, Vectis is equipped to meet your needs. We employ techniques and materials including stainless steel and outdoor-grade powder coating to mitigate corrosion and oxidation issues, ensuring our hinges offer all-season, all-weather reliability.
By choosing Vectis, you are investing in a hinge that delivers both performance and durability.
Custom Industrial Hinges | The Vectis Difference
With over a century's worth of engineering expertise in mechanical motion control, our team's industrial hinge designs offer an unparalleled combination of safety, versatility, and reliability.
They're meticulously engineered to withstand high heat and harsh weather conditions, ensuring durability and a high return on investment.
With a focus on customization, we provide solutions uniquely tailored to your needs.
Talk to Our Experts Re: Your Needs
Vectis industrial hinges will elevate your product designs. Ask one of our experts today about your engineering needs: