Last month we began our series on technical considerations in order to help prepare you for your visit to the Vectis™ DYO app. We are confident that this series of blogs will help you make technical decisions in order to design the ideal counterbalance for your project. This month we're going to discuss how lid gaskets can effect springloaded counterbalance hinges and what that could mean in regard to the ultimate function of your project.


Lid gaskets often require a significant downward force to provide a good seal. If you are using a latch or some other means of providing this downward force than you can have the Vectis™ Counterbalance fully neutralize the lid weight through all or most of the travel range. Also, the Vectis™ Counterbalance could provide a small pop up force that would allow the lid to travel upwards a small distance when the latch is released.


When using only the force from the weight of the lid to compress the gasket, careful consideration needs to be taken when specifying a Vectis™ Counterbalance. The counterbalance works to neutralize the lid weight, thus limiting the available gasket compression force. To achieve the needed gasket force you will want to have the Plus Friction curve on the Vectis™ DYO graph below the Lid Torque curve at the closed 0⁰ position. You will need to know what force is required to provide full gasket compression to determine the exact position of the Plus Friction curve. Start by multiplying the required gasket compression force by the Horizontal Distance to the center of gravity (in the closed position). Subtract that number from the known lid torque at the 0⁰ closed position. The resulting value will be the required position of the Plus Friction curve at the 0⁰ position to achieve the theoretical gasket compression force.


If you are not able to gain the needed gasket compression force with our standard Vectis™ Counterbalances, we can address your needs with a Vectis™ Custom Counterbalance.


If you're having difficulty gathering all the data you need to design your own Vectis™ Counterbalance and we haven't covered the topic you'd like more information on, just give us a call, our sales and engineering staff are ready to answer your questions and walk you through the DYO app.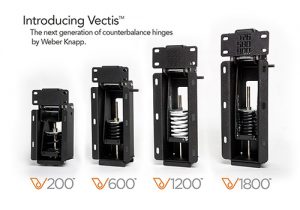 Jeremy Redlecki

Product Design Manager

and

Leila Bell

Business Develop Manager

Weber Knapp Company