A record 522,000 manufacturing jobs remained open in the United States in September 2019. So if you hear someone say, "Where are the jobs around here," they probably haven't considered the urgent need for more skilled laborers in manufacturing -- especially here in Western New York.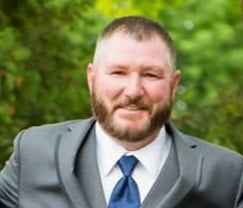 One Weber Knapp employee has taken his opportunity and run with it -- from a temp on the manufacturing floor to regional sales manager.
Mike Fralick was able to remain in the region he was raised in and work his way from the ground up by soaking up everything he could about mechanical motion control. Many customers form decades-long partnerships with Weber Knapp because, like Mike, much of the staff is highly experienced and/or cross-trained in multiple skills.
Keep reading to learn how there's opportunity to do great things in manufacturing in Western New York!


From the Marines to Motion Control Manufacturing
Mike's story starts off like many others in this region.
He graduated in 1993 from Falconer Central School, practically in the shadow of Weber Knapp. Immediately afterward, he joined the U.S. Marines, serving his country for 4 years.
"I was pretty much desperate for a job (after being discharged) because at that time, I was married and had 2 little boys," Mike says.
"I remember I was at the temp agency. There were six of us sitting there, and the other five people were called before me."
Mike's visit to the temp agency was well timed. The first five visitors were all assigned to a company that ended up going out of business. Mike was assigned to Weber Knapp.
"My mom worked at Weber Knapp, so I was pretty familiar with it," Mike says. "I got really lucky, because I could have been one of those other 5 guys, and who knows where I would have been in life?"


Getting Started
With no college degree, Mike started in October 1997 as a trucker temp (officially a "material handler"). It was the first of many, many role and title changes.
As a temp trucker, Mike was not driving a semi; he was actually hauling parts from inventory storage to the assembly line.
"I was the lowest guy on the totem pole," he says.
A month later, he earned full-time status, working the night shift at 60-65 hours a week.
That kicked off a series of promotions. Eight months in, management made Mike a line setup worker. Shortly after, he earned the lead setup spot, which he held for a year.
Biggest of all, he became a foreman in 2000, a role he stayed in for 7 years.
"Every time I got promoted to something, I wanted something more," Mike says.
Manufacturing jobs have a reputation for being repetitive and boring. But there are just as many that offer the opportunity to problem-solve and meet new people.


Opportunity to Advance
Mike ultimately wanted to settle in the sales department -- an ambitious jump from his starting point. As it happened, Weber Knapp needed a part-time customer service rep to fill in for folks who were sick or on vacation.
"When sales presented an opportunity to travel for free to all different states, I was like, 'Man, I would love to see the United States," Mike explains.
Management would bring Mike up from the floor whenever possible and train him on the sales side of the business. He also got to represent the company at trade shows.
"I shaved and bought some nice clothes and was thrown into sales," he says with a laugh.
"They didn't know what to call me, so they called me a Product Technician because I knew so much about the products."
The move worked for both sides. Mike joined the sales team as a full-time customer rep and outside salesman in 2009. Five years later, he earned a promotion to regional sales manager, where he remains today.
Now he travels frequently:
Nashville
Las Vegas
New Orleans
Houston
Canada
The work itself is rewarding too, and far from mundane. Mike gets to talk with customers and flex his engineering muscles at the same time.
"I enjoy doing what I do, and I enjoy seeing Weber Knapp hire (more) people because we're able to get a client like a Kamado Joe," he says.
Those opportunities come to Weber Knapp's front door at a steady pace because of synergy between the engineering, sales, and leadership teams..
"We've created this business development team that includes engineering and sales, and it's really worked to our advantage to utilize all their strengths," Mike says.


Serious STEM Skills
Mike and other Weber Knapp teammates are unique in that they can relate to customers on a personal level, but also get into the gritty details of motion control engineering.
"I think the most valuable part was when I was a foreman, a trucker, and a setup person -- my days back in manufacturing," Mike says.
"... It let me see the parts from a very basic point of view. And I got very familiar with the parts -- how they work, what goes wrong with them, what their good qualities are. So now that I'm in sales, people come to me all the time and say, 'Mike, what's the sales number of this part?' or, 'Mike, what part should we tell these people to buy?'
"People will call in and say, 'My parts are not working; what do I do?' I can tell them exactly what's wrong."
The true strength at Weber Knapp is the engineering expertise. It's why the company wants to continue to close the "skills gap" and find capable workers to replace employees like Mike who receive promotions. In the United States' 5-year plan to increase the STEM-skilled workforce, it noted that by 2025, nearly 3.5 million STEM jobs will need filled.
"Engineering is really our core capability," says Leila Bell, sales and marketing manager at Weber Knapp. The current average length of service in the company is 16 years.
More talent is always welcome at Weber Knapp.
"We partner with local tech schools to recruit machine operators, welders, and programmers," - Leila says. The company also takes part in STEM Wars each year, connecting with teenagers about career opportunities in manufacturing.
"The team that we have in place, not just in engineering and sales or any specific area, the head and the main people of each department in the whole company, we're all working as a well-oiled machine and working together to keep moving things forward," Mike says. "We've been increasing business and hiring people."


A Destination for Both Employees and Customers
The growth-driven focus of Weber Knapp attracts both employees looking to learn and customers looking to be innovative.
"Probably the past year is the most progress I've seen here in a long time -- going to trade shows, new catalogs, the new marketing stuff we're doing," Mike explains. "We've really moved a lot of things forward really quickly.
"We promote growth from within. We promote continuing education."
Mike is far from the only feel-good example of manufacturing success at Weber Knapp or elsewhere in Western New York. But we'll save those other stories for another time!