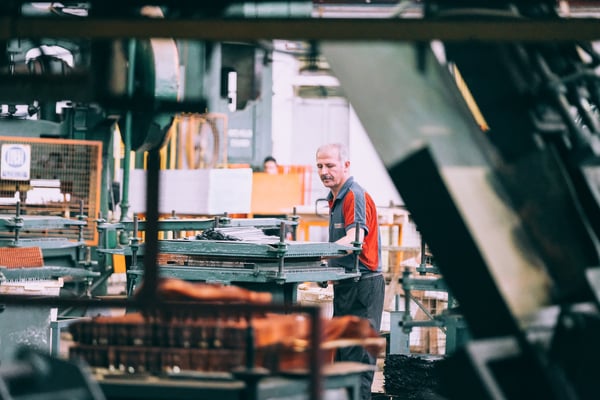 Getting the right hinge for your commercial or industrial product relies on having a trusted and reliable hinge manufacturer. So it might be a good time to talk about cellular manufacturing.
Cellular manufacturing allows companies to quickly produce components, whether they are low or high volume. The quicker the manufacturing process, the sooner you can get your product out to customers.
Keep reading to learn how hinge manufacturers use cellular manufacturing to reduce costs and lead time.


A Hinge Manufacturer Answers "What is Cellular Manufacturing?"
Cellular manufacturing involves the set-up and sequence of workstations and equipment in the production line.
Often shaped in a "U" pattern, workstations are designed to make small lots in a continuous flow sequence. Instead of relying on two or three large machines or workstations located in different plant buildings, similar machines and stations are located in close proximity.
Once the specific production process is completed in one cell, the product moves on to the next cell without having to return to the previous workstation. It should take the same amount of time to finish the work in each cell.
Cellular manufacturing offers an efficient manufacturing process because once the item leaves the cell, the workers and equipment now focus on producing the next new item.
The cellular manufacturing process is based on Kaizen line methods where lean manufacturing techniques focus on making continuous, uniform improvements on upstream or downstream processes.


Cellular Manufacturing | Advantages and Disadvantages
Cellular manufacturing is popular with manufacturers all over the world, not just for heavy duty hinge manufacturers. The advantages of cellular manufacturing can mainly be broken down into the following:
Quicker product turnaround
Lower overhead costs
Less in-process inventory
Low setup time for part variations
The great amount of flexibility that cell manufacturing offers makes it ideal for either high or low volume manufacturing.
But, every great process has a few limitations…
Disadvantages of Cellular Manufacturing
As we discussed, based on the volume or complexity of a project, more workers can be added to the cell. However, there's a saturation point where too many people can clog up the production line process, decreasing efficiency.
There has to be a balance between the number of workstations required to match the product volume without introducing waste in operational processes that increases costs.
But, this can easily be solved by adding a parallel production line, doubling the output with the same amount of time. This comes at a cost, however. Adding more cells means a lot of capital investment in equipment and manufacturing space.
Most manufacturers, including automobile and appliance industries, use cellular manufacturing techniques. Yet it may not be suitable for all industries as some processes require more time than others or are specialized.
Stainless steel refrigerator doors and high end grills with welded corners or hand brushed steels are an example of non-cell manufactured parts. The products are pulled out of the production line and sent off to craftsmen. This method can cause variable completion times and an increase in costs, so it's only popular for high-end products.


Why Hinge Manufacturers Should Use Cellular Manufacturing

Cellular manufacturing is one of the smoothest and fastest methods for making hinges. This process can accommodate both small and large orders while helping to reduce costs.
Need 100 hinges? One worker would be capable of working the line until the end product is complete. Need 1000 hinges? Additional workers can be added to match throughput, or decreased to match the order size.
At Weber Knapp, our cellular manufacturing lines are dedicated to product assembly. This allows us to quickly move inventory out the door once all the individual pieces are manufactured.
Hinge manufacturing companies can lower waste and better control inventory costs with cellular manufacturing.

The Capabilities of a Hinge Manufacturer
As you've seen from this post, there are many advantages of cellular manufacturing. Knowing more about the hinge manufacturing processes can help you understand how to get the highest quality parts while fitting a budget and a deadline.
To learn more about what hinge manufacturers are capable of, check out our new Machining page!