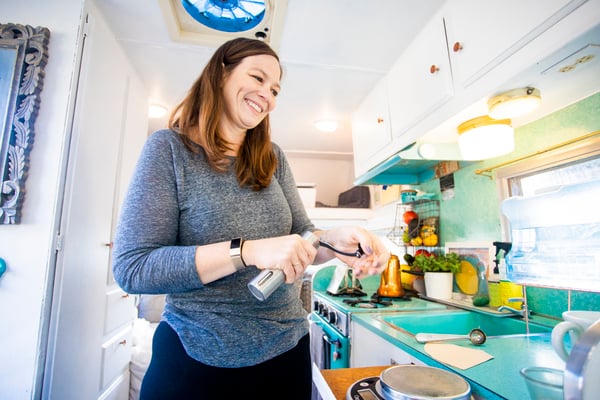 Designers and homeowners seem to be of two minds when it comes to the kitchen. While some envision a large, open-air concept with plenty of storage and countertop space, others are of a more minimalist mindset. They look for creative ways to get the most "bang for the buck" out of the smallest of spaces.
And then you have the tiny-house movement.
In tiny houses, the kitchen might be a classroom in the morning, an office communication center during the afternoon, and a family gathering place for the evening. Even if you're designing for a tiny hotel room or a regular-sized home, you can benefit from these space-saving tiny house kitchen design elements.

Tiny House Kitchen Design for Saving Space
The tiny house kitchen is a model of efficiency, whether you're designing it for the minimalist challenge or out of economic necessity. Modern-day motion control and complex hinges with mechanical spring counterbalance and spring assist technologies can help DIY homeowners and professional designers make better use of storage space in the kitchen. Here are five ideas for space-saving tiny house kitchen design:
Pull-out cabinets
Kitchen cupboard workspace
Pull-out appliance shelf
Foldaway components
Secret storage


1. Pull-Out Cabinets
Most items are clustered at the front of the traditional kitchen cabinet for ease of access, while unused items pile up in the back, out of sight. Instead of immobile shelves, one simple solution is the pull-out cabinet. This allows full access to all items and takes better advantage of cupboard space.


2. Kitchen Cupboard Workspace
Expansive counter space is a popular feature, but realistically, most food prep can be completed in a relatively small, organized space. An agile workstation can be hidden away behind cupboard doors with a concealed hinge design.
A cutting board that pulls out from the counter, a hidden garbage can, and multiple layers of shelves and racks allow the cook to have all essentials within reach. Slide-out drawers can hold knives, graters, zesters, a garlic press, and other handy cooking gadgets.


3. Pull-out Appliance Shelf
While there are many space-saving appliances for small kitchens, unsightly counter clutter is still a challenge. Pull-out appliance caddies and pull-out appliance trays keep these items hidden neatly away until the user needs them.
A mixer is a fun example of something that can be pulled out from the counter. The cook simply opens the cupboard door, pulls it out and up (aided by the spring-assisted hinge), and locks the appliance into position. The power outlet is hidden inside the cabinet, so there is no need to move the mixer to the countertop. Still within the bounds of minimalist kitchens, but with all the perks of a full-sized workspace!


4. Foldaway Components
Parts of the kitchen that are only used for short bursts of time can be folded up and stored out of the way when not in use. A foldaway table or a counterbalance-hinged countertop, for example, can open up kitchen space for other purposes.
One of the most important aspects of a space-saving kitchen layout is using vertical space. A storage bed lift-up hinge mechanism can help you hide the bed above the kitchen cabinets until it needs to be pulled down at night.


5. Hidden Storage
Sometimes, there's a lot of "dead space" in the home, and we accept it as a necessary evil -- think of stairs going up to a loft. Use a concealed hinge design to turn that space into essential storage. Pull-out drawers and cubby spaces free counters from scattered pots and pans while leaving room in your cabinets for higher-priority items.


Hidden Hinge Design, Borrowed From Another Industry
Motion control and hidden hinge design concepts can save space in other rooms, too. Economy hotels and tiny hotel rooms have nailed this concept in recent years with ideas like:
Floor-to-ceiling TV poles
TV pop-ups, monitor lifts, and monitor pop-ups
Foldaway Murphy beds
Sleeper chairs
Fold-out furniture and appliances
Fold-out furniture and appliances, coupled with advanced motion control technology, can solve the space challenge for any room in any industry.
To learn more about how counterbalance, concealed, or motion control hinges can impact your small-room design, take a look at our new hospitality resource page!
(Editor's note: This blog was originally published in June 2020 and was updated in June 2022.)