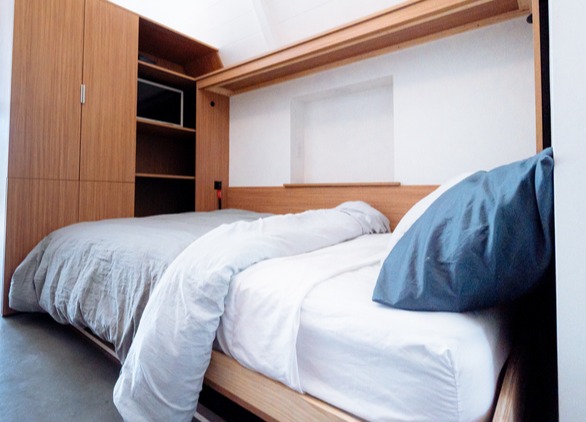 One of the goals when improving a living or commercial space design is to save space while adding functionality and flair. It's quite the challenge to balance ergonomics, functionality, convenience, and comfort while saving space.
For example, installing wall-mounted furniture systems helps maximize available space, reduce clutter, and lower costs, whether you're designing for a hotel, restaurant, or residential space. Read on to learn more about wall-mounted and space-saving furniture options for your next design.


Indoor Wall-Mounted Furniture Systems
One of the ways to save design space is by mounting all the bulky furnishings that serve a single purpose or aren't needed 24/7. This leaves more floor space where you can add storage or even another furniture piece.
With multifunctional mounted furniture, one can use the area to serve multiple functions (Ex.: bar tables that become a dance floor or musical performance area). Some of our favorite indoor floating wall furniture systems include:


Bedroom Furniture
Having a floating bed in a small hotel room or residential bedroom not only helps you create more space, but also gives the room a modern feel. Besides the bed itself, you can design other types of bedroom wall-mounted units:
Fold-down shelves
Wall-mounted folding table furniture for books, mobile phones, or laptops.


Wall-Mounted Living Room Furniture
Wall-mounted living room units are a good option if you want to maximize the floor space and improve the room's appearance. Units with a modular design are flexible, and they allow for various arrangements in segmented storage.
The most common furniture to be mounted in the living room is:
Wall-Mounted Folding Table Furniture for Hotel Rooms and Restaurants
When designing a hotel room or a restaurant, consider the furniture utility and space efficiency. Wall-mounted tables, or even folding portable furniture, make the room multifunctional and allow for easy rearranging of pieces.
Restaurant and

hotel ergonomics

are also important to consider. Easily moved furniture reduces the risk of short- and long-term injury and strain among your employees. Healthier employees means fewer days off, fewer workers' compensation claims, and reduced turnover.


Fold-Down Ironing Board
A wall-mounted, fold-down ironing board provides a firm surface to work on and saves indoor space in a house or hotel room design. Since ironing boards are only occasionally used, wall mounting saves valuable closet space.


Outdoor Wall-Mounted Furniture System
One of the things we all enjoy doing during warm weather is spending time outdoors. Having ergonomic outdoor furniture provides comfort and reduces the risk of employees or users straining themselves while setting up or tearing down.
Outdoor furniture should be fitted with motion control hinges that can withstand all weight and weather conditions of the application. Ideas for outdoor mounted furniture include:


Wall-Mounted Fold-up Picnic Table
Apart from saving space, wall-mounted picnic tables are convenient to use. High-end motion control hinges make folding or unfolding easy for employees.
Even as COVID-related fears subside, many customers expect the option to eat outside. Working with limited space as you try to offer outdoor seating in your current property? A fold-up or fold-down picnic table reduces clutter and is easy to store when not in use.


Wall-Mounted Lift Gate
If you have a confined outdoor area, you can mount lift gates at the entrance or exit. Lift gates with counterbalance lift assistance reduce the strain of opening or closing, improving mobility and reducing fatigue from repeated lifting.


Fold-Down Bench
Do you want your restaurant, residential, or hotel design to be a hot spot for outdoor parties, but your square footage is limited? Consider installing fold-down benches. Just like the fold-up picnic table, the bench should contain smooth motion control for easy stowing.


Saving Space With Wall Mounted Furniture Systems
Whether the application is indoors or outdoors, wall-mounted furniture systems maximize value without sacrificing usability. From fold-down picnic tables to benches at a country club, several industries can benefit from using this technology.
For information on foldable furniture, and the technology that takes its design to the next level, check out this "Intro to Motion Control and Counterbalancing" guide: