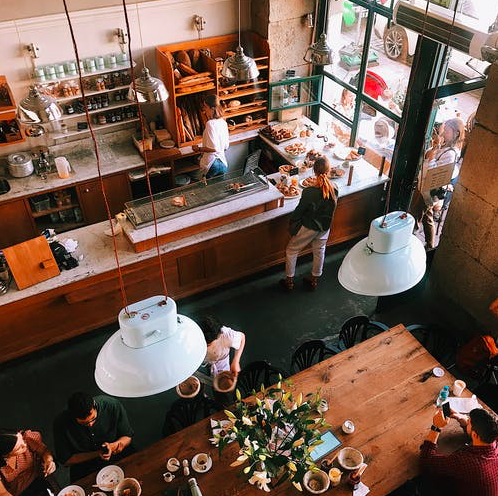 As a kid, you might have marveled at the flip-up bar countertop at your parents' favorite restaurant. But a lot has changed since then, and bar lift gates have improved significantly.
With the addition of counterbalance technology and motion control engineering, countertop pass-throughs are better than ever.
Whether the counterbalance lift assist is used in bars, restaurants, or other applications, it can improve safety and mobility.
Keep reading to learn more about bar lift gates!
Counterbalance Lift Assists in Bars and Restaurants
Counterbalance lift assists work well in bars and restaurants where space is confined and employees are always on the move. In these settings, a counterbalance hinge can be used to upgrade a bar lift gate, a flip-up bar, or a pass-through kitchen bar.
Compared to non-counterbalance lifts, a countertop lift assist offers several advantages:
Reducing strain on employees
Improving mobility throughout the bar/restaurant
Offers a unique space-saving feature
Moving quickly and easily is particularly important for kitchens or bars with limited space. Plus, the countertop pass-through can improve customer/patient safety, too. If a bar top is down, it clearly denotes where the customer is supposed to be. This application is useful for medical settings as well.


Other Potential Applications for Counterbalance Lift Assists
Of course, hospitality businesses aren't the only places that have limited space. Recreational vehicles and hospitals also must manage space constraints, and counterbalance lift assists for pivoting loads can help in these settings too.
In an RV or camper, you can incorporate counterbalance lift assists into features that fold up and down. This might come as an additional countertop in the kitchenette, or a fold-down table or bench.
The counterbalance hinge is especially helpful for benches, which are heavy for RV owners to raise without assistance. Plus, a counterbalance's mechanical springs will outlast most gas springs.
In hospitals, counterbalancing can improve the functionality of mobile privacy screening. The feature makes screening easier for staff to use, enabling hospitals to quickly configure their space according to patient demand.
Design Process for Counterbalance Lift Assist
No matter what your counterbalance lift assist will be used for, the design process at Weber Knapp is straightforward and easy.
Once you talk to our sales team, it's as simple as entering a few numbers in the computer. After that, you'll be given information like:
Part number
Price
Lead time
If your design falls outside of the three standard Lift Gate Assistant sizes, our engineering team will work closely with you to come up with a custom solution.
Once this step is done, the Lift Gate Assistant hinges are manufactured using cellular manufacturing. The rest is easy (well, easier). For mounting information, you can refer to the cut sheet for simple directions!
Get the Ball Rolling
Interested to learn more about how the Lift Gate Assistant can improve your bar, kitchen, or restaurant?
Check out our exclusive calculator so you can get started today!
Editor's note: This blog was published in November 2020 and has been updated as of May 2022.