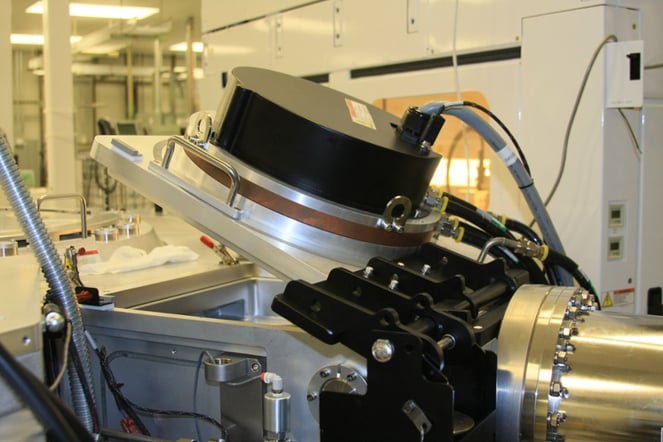 From the retractable keyboard tray you use at work, to the industrial refrigerator door in the restaurant kitchen and the bar pass-through at the diner where you got breakfast today, hinges are a part of everyday life. They also factor into the various tasks at work and the product design of new must-haves for today's society.
Pivoting loads swivel around a fulcrum. That pivot can be horizontal, such as for a lid, where gravity has a significant impact; or vertical, like a door. With a vertical pivot, the action is perpendicular to the ground and therefore not as impacted by gravity. In the case of a vertical pivot, the focus is less on counterbalance and more on spring assist for the purpose of closure.
Heavy Duty Gas Spring Hinges versus Lid Stays
Hinge installation is an important factor in product performance. Some things to consider are the size and weight of the lid and also the intended results from the product's hinge.
Gas spring hinges are ideal for lower-cycle hinge use and on a light load. These tend to be relatively quiet as well. Gas spring hinges tend to take up more space than a mechanical spring hinge, which means for those tighter areas this is not the ideal option.
Lid Stays are used in certain situations to control the lid open range. These situations include chest lids, open-front desks, and upward-opening doors. Many stays are rated to support a certain number of inch-pounds (in-lbs). The deeper and heavier the lid, the more lifting and holding power that will be required.
Generally, lid stays are an option that is chosen because no hinges are needed. However, in the case of torsion hinges, the two can work in tandem to provide a convenient method of controlling the moving lid while avoiding space issues. While this may seem beneficial, the choice to utilize counterbalance hinges can mean better safety and control.
Counterbalance Hinges Are Versatile and Effective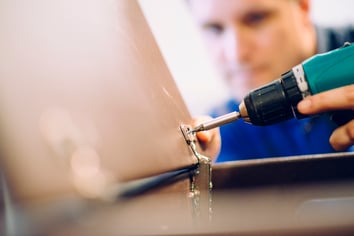 Counterbalance hinges can be used for pivoting loads. Some examples of counterbalance hinge use include kitchen appliances, freezer doors, and fold-out furniture. Murphy beds are a great example of the effective use of a counterbalance hinge.
Ergonomic office equipment also often uses a counterbalance hinge, providing easy access to the keyboard or mouse, for example, while helping reduce the risk of repetitive injury when these computer accessories are not within comfortable reach.
Regardless of their location - industrial sites or office spaces, kitchens or hotels, counterbalance hinges provide balance for the considerable weight of an object. This is done with special design specifications to keep some of the weight noticeable to provide easier use.
Things to Consider When Opting for a Heavy Lid Support Provider
As noted above, different heavy-duty lid support provides different benefits. Some are better suited for a task that is not within a tight space. In order to determine the best support provider, consider:
Where the hinge/lid stay would be located and how much room will be required to operate
What environment/temperatures the support will be exposed to on a regular basis
How heavy the load is that will be supported
The size and depth of the lid that requires support
Vectis DYO app: Help with the Calculations
The Vectis DYO app can help you design the right hinge for your product. By inputting the lid weight, the lid center of gravity to the hinge pivot axis, the horizontal distance and the vertical distance, you can start designing your hinge. From there, the next step is choosing a hinge in the Vectis line.
You can opt for the Vectis200, which offers a torque range of 90 to 200 in-lbs; a Vectis600, which offers a torque range of 160 to 600 in-lbs; a Vectis1200 (torque range 350-1200 in-lbs), and a Vectis1800 (torque range 450-1800 in-lbs).
Setting up an order means using slide bar variables to find the optimum torque curve and also adjusting the open and close feel to your desired parameters. From there, you can make sure you have the right quantity selected and move forward with your order.
While you are figuring out the above specifications, you should also keep in mind that the graph shows the Spring Torque Curve (displayed as an orange line), and that curve can be adjusted using a few of the additional parameters available. It can be set above, on, or below the black line and at different angles. This helps control the spring-based torque amounts applied at every angle.
Talk to Our Expert Weber Knapp Engineers
Contact our experienced engineers to address any unanswered questions regarding the right heavy-duty lid support provider. You can also download the resource below for more information.