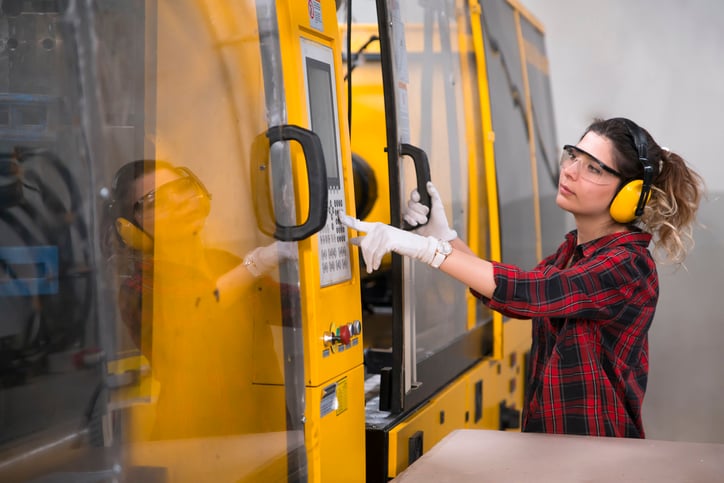 Workers deal with a lot of equipment and applications that can cause trauma to their hands. According to the U.S. Bureau of Labor Statistics, approximately 102,350 total hand injuries occurred in 2020.
Common injuries included cuts and lacerations (38,770), fractures (13,090), nerve/bone injuries (13,130), and sprains/strains/tears (7,150). Equipping workers with the right tools such as counterbalance hinges are a vital method that may prevent many hand injuries.
While some injuries may occur to workers when they are new hires with less experience at the job, workers who rush to get their tasks completed or become distracted are also among those who suffer injuries, according to the Occupational Health and Safety Magazine. This means that the best way to protect your employees is to create a safer work environment.
Redesigning equipment and appliances with lid support hinges makes it easier for workers to use machines and reduce injuries such as crushed hands, pinched fingers, and injuries due to repetitive motion.
Counterbalance Hinges Introduce Element of Safety
Counterbalance hinges help to offset heavy loads by using various types of springs and design techniques so that workers are not required to use as much lifting force for a heavy lid or door.
There are numerous industries that require workers to lift heavy doors or lids to obtain products or perform tasks. From the medical industry to hospitality, and from defense to construction, there are instances where heavy doors are necessary and workers must operate those doors daily.
They may also have some type of equipment or appliance that uses hinges to lift or lower it into a specific position. Providing position control solutions for doors and lids in these workplaces may improve workplace productivity while maintaining safety requirements.
Industrial sites
Industrial facilities may have numerous areas throughout the workplace where a worker uses a heavy lid or door with counterbalance hinges.
Centrifuges, laboratory equipment, testing equipment, commercial tools, and even display cases may have lids that are heavy and drop in place to create a tight seal as these hinges make the lids lighter and easier to control.
Professional Kitchen Environments
Professional kitchens and cafeterias at schools, offices, grocery stores, bakeries, pizzerias, and other culinary workplaces use equipment that requires counterbalance hinges. These appliances may include food prep tables, pass-through countertops, grills, and commercial appliances.
With workers constantly preparing meals and rushing them out to diners, counterbalance hinges provide greater safety during a busy workday.
Restaurants/Bars
Restaurants and bars not only rely on counterbalance and spring-assisted hinges in kitchen areas but also in the front of the house. Under-bar ice bins, food, and beverage display cases, and flip-up bar counters require hinges that make the lids and doors lighter and easier to move without them swinging down and injuring workers.
Hospitality Sector
The hospitality industry may redesign lift gates, Murphy beds, tanning beds, and other equipment with counterbalance hinges.
Since customers may also use the equipment as well as employees, these hinges increase safety while reducing liability for the business if a guest becomes injured.
Medical Facilities
In medical facilities, employees may use testing equipment, imaging equipment, and other medical devices that require a heavy door that shuts to create a vacuum seal to ensure complete closure from contaminants and particulates.
Using counterbalance hinges makes the equipment doors easier to use without needing extra workers to help lift them safely.
Looking to the Future: Counterbalance Hinge Use Remains Steady
Counterbalance hinges offer unique design capabilities based on the application. You may specify how long of a lifespan for a counterbalance lid, such as 5,000 cycles to 250,000 cycles, which may match the lifespan of the door or lid itself.
Then you can replace both the door and hinges at the same time. They are reliable to install and are adjustable after installation at any point during the hinge's lifespan, allowing you to make changes if switching to a lighter or heavier lid or when accounting for how often the appliance or equipment door is put into use.
While lid support hinges do have a potentially high cost to install based on the specific application, you may find long-term cost savings and a higher potential return on your investment. Due to the durability and reliability of the hinges, they can stand up to excessive wear and tear in high traffic situations.
The wear and tear to components are lessened when the door or lid is opened and closed consistently. In addition, you increase the safety of the environment and lower the risks of workers being out on medical leave due to workplace accidents.
Weber Knapp Engineers Can Help With Hinge Design
The design capabilities for counterbalance hinges used in commercial and industrial workspaces are vast. Each piece of equipment may have specific weight and lifting capacities to consider.
Consulting with counterbalance hinge experts like those at Weber Knapp can help you decide on the right hinge design and the necessary hinge positioning for your equipment and appliances. You can also try the resource below: