Make new connections.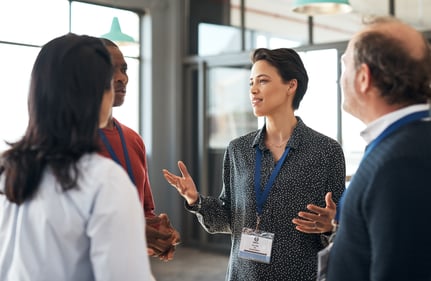 Learn from industry leaders.
Share innovative ideas.
These are a few of the reasons we're so excited about the trade shows we'll be at this fall. Across all industries, this year has been one for change and improvement. Weber Knapp's innovative ideas and patented technology have evolved in 2022 and we're eager to talk to those (in person!) in the industries we serve, such as:
Hospitality
Medical
Outdoor Equipment Manufacturing
Transportation
We hope we will get the opportunity to connect with you and discuss how our hinges can help you:
Create new products
Expand into new markets
Upgrade existing applications.
Here's where we'll be this fall:
Hospitality
The NEWH Atlanta Regional Trade Show
Are you ready to learn about the latest developments in hospitality design and furnishings? The NEWH Atlanta Regional Trade show is the perfect opportunity.
This one-day event on Sept. 29 brings together suppliers, manufacturers, and the design community for networking in a friendly environment. The show kicks off at noon with a panel discussion on design and lifestyle predictions in a post-pandemic culture. Doors close at 6 p.m.
Jody Osgood, our Regional Sales Manager will be attending. Be sure to say hi in between the panel discussion or during the cocktail reception from 5 to 6 p.m.
The Boutique Design New York And Hotel Expo
Don't miss the opportunity to attend one of the hospitality boutique and lifestyle community's leading trade fairs and conferences, The Boutique Design New York And Hotel Expo. On Nov. 13 & 14 designers, architects, purchasing agents, hoteliers, owners, developers, and manufacturers will join together to learn, discuss and connect.
Like most trade shows, there will be a mix of education, exposition, and networking events to inspire us all to push limits, expand the business and explore the future of hotel design.
Attendees will be busy with the panels, learning experience, and expositions but if you get a chance, find some time to connect with Weber Knapp Regional Sales Manager, Jody Osgood.
Medical
The Healthcare Facilities Symposium and Expo
Connect with leaders in the Healthcare industry during the Healthcare Facilities Symposium and Expo in Long Beach, CA. Sept. 27 - 29. Connect with architects, engineers, facility managers, and clinicians during keynotes, educational presentations, and networking events.
Looking to catch up with the Weber Knapp team? Randy Phillips, our Regional Sales Manager will be attending. We hope you get a chance to chat during the networking lunch in between sessions or during Happy Hour.
The Healthcare Design Conference and Expo
The Healthcare Design Conference and Expo is coming to San Antonio Oct. 8 - 11. Be a part of a networking, education, and product sourcing opportunity where industry leaders can share and uncover designs that have created a better environment for hospitals and clinics.
With more than 100 sessions, learn about the latest discoveries and strategies that will shape the future of healthcare design.
Make sure to connect with Weber Knapp's Regional Sales Manager, Mike Fralick in between sessions or at one of the networking parties and receptions.
Outdoor Equipment Manufacturing
Equip Exposition
After four decades of being the GIE+Expo, the Equip Exposition takes on a new name and stays one of the Outdoor Equipment Manufacturing industry's largest events. This event kicks off Oct. 18 with the first-ever welcome reception at Slugger Field in Louisville, KY. The Expo continues the following day with an 11 a.m. opening keynote from professional golfer David Feherty.
This interactive exposition allows you to learn valuable tips from experts and experience new developments in the industry.
If you get a chance during this action-packed event, catch up with Mike Fralick a Regional Sales Manager from the Weber Knapp team and learn more about how our innovative design and technology can make a difference.
Transportation
WorkBoat Show
With 700+ exhibitors, learning opportunities, and networking events, the WorkBoat Show in New Orleans, will be one of the industry's top conferences.
From Nov. 30 to Dec. 2, the WorkBoat Show will provide valuable days of learning on the trade show floor and evenings designed to facilitate new industry relationships with commercial vessel owners, operators, builders, vendors, suppliers, and manufacturers.
From the Weber Knapp team, our Regional Sales Manager, Randy Phillips will be attending. If you get the chance, be sure to come and say hello.
Not Able to Attend?
While we hope to connect with as many people as possible at these fall trade shows, we know some won't be able to attend. If we won't see you at these upcoming events get in touch with us virtually. We would love to discuss ways we can help create new markets, products, and solutions through innovative hinge design solutions.