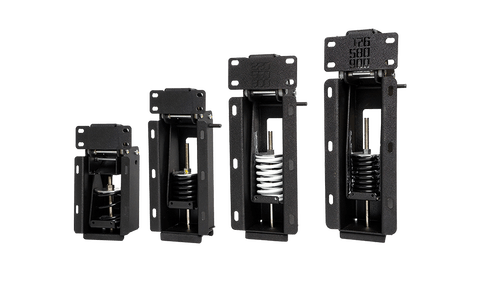 With Vectis hinges, you're not just purchasing a product; you're investing in a bespoke solution.
Meticulously designed to match your unique requirements these hinges guarantee an optimal fit that negates the need for adjustments.
The reason lies in how Vectis hinges are designed and made, which takes into consideration the weight, size, and center of gravity of your application.
Careful attention to design, installation, and use will help you get the most out of your Vectis adjustable hinge.

Adjustable Hinges | Precision-Engineered Perfection
Vectis hinges are in a league of their own when it comes to customization. They are designed with your specifications in mind, ensuring that they perfectly align with the unique requirements of your application.
But what does this mean for you in terms of adjustment?
The answer is simple: you shouldn't need to make adjustments because these hinges are crafted to provide an optimal fit right from the start.
Once the hinge is manufactured, it's shipped to you ready to install. There usually is no need to make any adjustments to the hinge, as it's calibrated to your exact specifications. This means that when you install your custom hinges, they provide the counterbalance benefits you're looking for from the get-go, and you can trust that they will remain stable and effective over time.


Tips for Getting the Most Out of Your Adjustable Hinge
While Vectis hinges come ready to install without the need for adjustment, there are a few things you can do to ensure your hinge will work out in the long term.
Make sure that the hinge is installed correctly. Follow the instructions that come with your hinge carefully.
Regularly inspect the hinge for signs of wear and tear. If you notice any problems, contact Weber Knapp immediately.
Do not overload the hinge. Ensure that the lid does not exceed the weight capacity of the hinge.


If Adjustments Are Needed
Sometimes, despite the precision engineering, you may find that your application's center of gravity is not exactly as expected. If you've already ordered your adjustable spring hinge and it's out for delivery, there's no need to worry. You have the option to make adjustments to ensure that the hinges align perfectly with your application's requirements.
However, it's important to emphasize that making these adjustments doesn't have to be done on your own. Contact Weber Knapp for professional assistance. Our team of experts is well-equipped to guide you through the adjustment process, ensuring that the industrial hinges continue to provide the counterbalance benefits you need while maintaining safety and performance.


How to Adjust Vectis Spring Hinges
If you still need to make adjustments and feel comfortable enough to make them, follow these instructions. You'll need:
Two 9/16" combination wrenches
Small ruler or similar measuring tool
Step 1: Open the lid and restrain it. This will prevent it from unexpectedly moving during adjustment.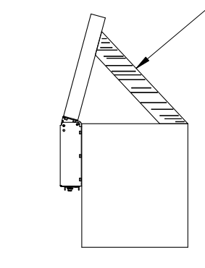 Step 2: Measure the spring setting dimension. During adjustment, do not exceed the upper or lower spring setting limits. Otherwise, damage may occur. You can find these limits in the Vectis Design email you received. Contact customer support if you require assistance.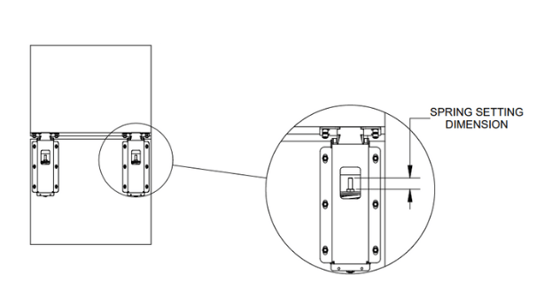 Step 3: Place one wrench over the top adjustment nut.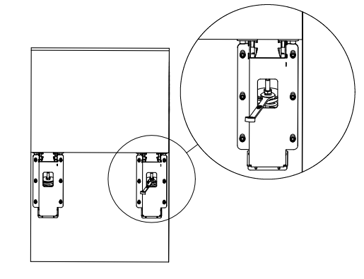 Step 4: Place the second wrench over the bottom adjustment nut.
To increase the lift force, turn the lower wrench counterclockwise. The spring setting dimension will increase.
To decrease the lift force, turn the lower wrench clockwise. The spring setting dimension will decrease.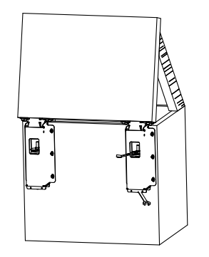 Avoiding Adjustments to Begin With | Perfecting Your Mechanical Hinge Design
To avoid the need for future adjustments, it's advisable to perfect your design before the hinge is even made. Weber Knapp understands the importance of a seamless fit, and that's why we offer models on our website. These models provide a sense of how Vectis hinges might fit into your design, helping you make informed decisions.
For designs that require non-traditional mounting, Weber Knapp can provide the center of gravity location for your application and offer guidance on incorporating weights into your design, ensuring that everything aligns flawlessly. This proactive approach minimizes the chances of requiring adjustments down the line.
Vectis DYO App: A Powerful Tool for Designing Custom Counterbalance Hinges
The Vectis DYO app is a proprietary app from Weber Knapp that allows you to design your own custom counterbalance hinge. It is a powerful tool that can be used to create hinges for a wide variety of applications, from small lids to large doors.
To use the app, simply input the three critical parameters of the load to be counterbalanced: lid weight, lid center of gravity, and horizontal and vertical distances. The app will then generate a torque curve that shows how much spring-based torque will be applied at different angles. You can then adjust the parameters to achieve the desired counterbalancing action.
The app also allows you to specify the built-in open stop angle. This is the angle at which the lid or load will come to a stop when it is opened. This can be useful for preventing the lid from overextending or slamming shut.
Once you are satisfied with the design of your hinge, you can submit it to Weber Knapp for engineering review and production.
Try the Vectis DYO app here:
Need Help? Contact Us
Weber Knapp's Vectis hinges are the epitome of customized, precision-engineered solutions for your applications. We believe in getting it right the first time to ensure your hinges fit perfectly without constant adjustments.
Need help with your Vectis hinges? Contact us today! We're happy to help you get the most out of your investment.