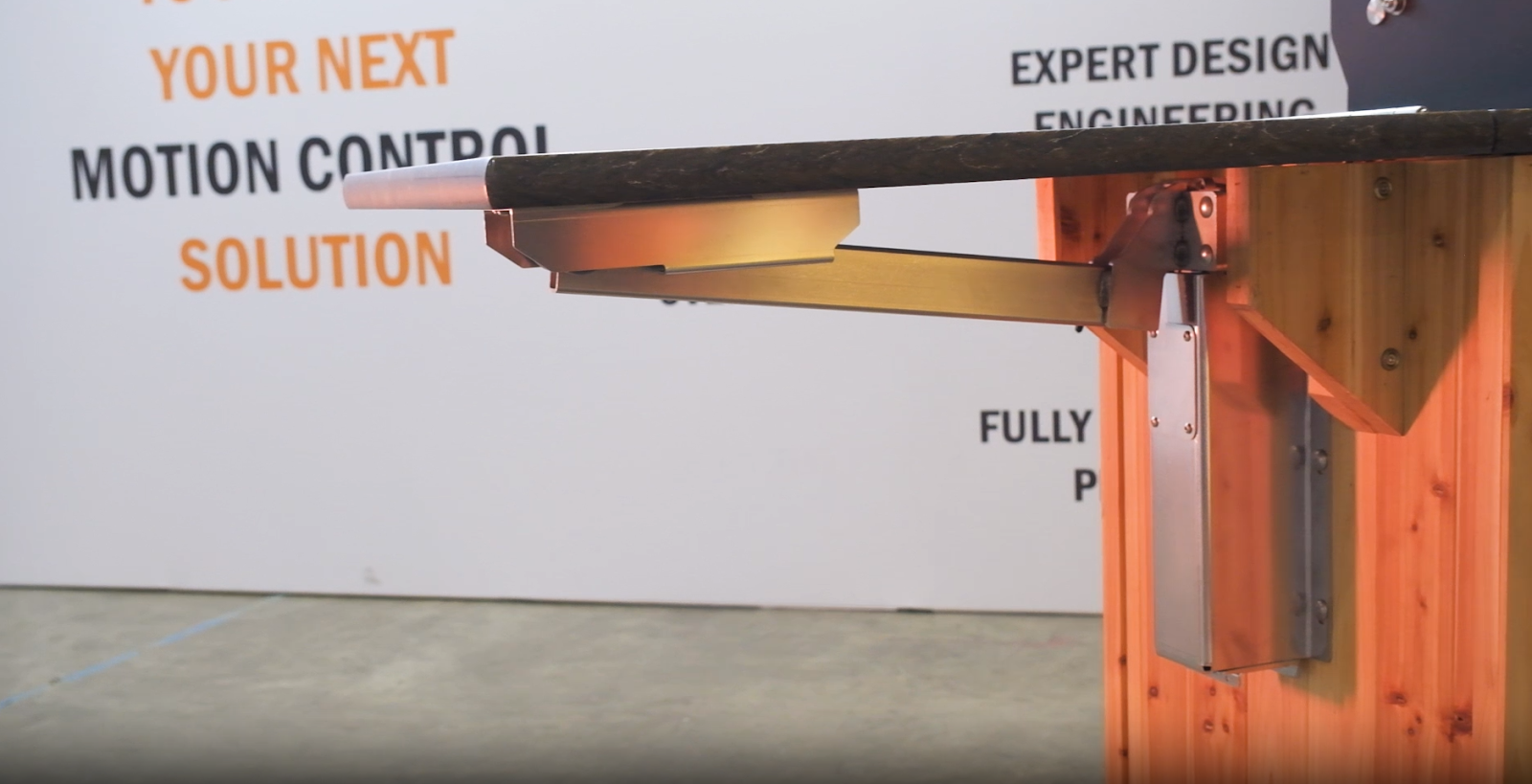 When it comes to running a smooth operation in a hospitality business, the devil is often in the details.
Mechanical motion control solutions, including lift hinges, play a vital role in enhancing your staff's productivity and safety.
Fortunately, these specialty hinges require little-to-no maintenance and care to maximize their longevity and ensure their optimal performance. We've manufactured them to exacting standards and rigorously tested their durability.
The #1 way to make your Lift Gate Assistant function as smoothly as possible is:
Make sure to order the correct size hinge for your application.
Still, whether you're a bar owner looking to maintain the pristine condition of your counterbalance hinged countertop, or a manager of a bustling restaurant kitchen, we're here to help you understand some other best practices for maintaining and caring for your Lift Gate Assistant hinges. But first, let's review why you want one of these specialty hinges:
7 Lift Assist Hinge Advantages for Your Business
A counterbalanced lift assist hinge makes it easier to open a flip-up countertop, lid, or table. But how does that translate into benefits for your business? A refresher:
More design options
Convenience
More counter space
Safety
Professional look
Speed of Service
Less strain on employees
1. More Design Options
In countertop design there is a trend toward natural materials, including:
Rustic wood
Reclaimed lumber
Quartz
Granite
Because these materials are especially heavy, you physically cannot use them in a lift up countertop unless you have a counterbalance hinge. Using counterbalancing opens up design opportunities.
2. Convenience
A heavy bar flap is no fun to lift -- which means there's a good chance some employees will keep it open permanently.
Bar countertop hinges are an easy and convenient way to assist with lift. It takes so little effort to lift these bar tops that employees are more likely to keep it down when it should be. (More on why you should be doing that in a bit …)
3. More Counter Space
We've established that you no longer have to DIY a way to leave your countertop permanently open. That means your bar top hinge can be pulled down when it needs to be, allowing for more counter space.
That also gives you more room to work in kitchen applications and other areas where you need to maximize counter space. Space savings can be a major benefit if your bar or restaurant has limited square footage.
4. Safety
A standard pass-through countertop needs to be secure when in the lifted position. It's common for a lift-up countertop to weigh 40 lbs. or more.
Unfortunately, hooks and other DIY solutions can break, be installed incorrectly, or malfunction in some other way. That can lead to the countertop falling and seriously injuring an employee, or perhaps even worse, a customer.
A countertop lift with proper counterbalance design doesn't present the same dangers. It stays where you leave it and doesn't drop.
5. Professional Look
A basic lift-up hinge can be cheap-looking, and it's quite loud when it crashes. It won't look or sound as smooth and sharp as a counterbalance hinge design.
6. Speed of Service
Think how many times bartenders and servers go through the pass-through each shift. Every time they have to lift a 50-lb. countertop, it costs them time and energy.
If they only had to lift 5 lbs. each time, they'd be able to move around much more quickly to serve your customers.
7. Less Strain on Employees
Again, think of the weight of the lid multiplied by the number of times a worker lifts it each day. A counterbalanced lid or countertop is going to cause far less strain on your employees, both short- and long-term.
Lifting of a heavy countertop over and over is hard on the neck and back, which could lead to repetitive stress injuries. (Check out how ergonomic solutions create healthy and productive work environments.)
Consider the benefits of a nice-looking countertop that keeps your employees fresh.
3 Maintenance & Care Best Practices
While Lift Gate Assistant hinges are designed with durability and longevity in mind, they can benefit from some simple maintenance and care practices. Here are three ways to make sure your hinges stay in optimal condition for as long as possible:
Don't use additional lubrication
Minor adjustments
Regular inspections
1. Don't Use Additional Lubrication
One of the great things about Lift Gate Assistant hinges is that they don't require any maintenance in terms of lubrication.
They're manufactured with long-lasting food-grade grease inside them. This means you don't need to worry about adding any extra oil or grease to the mechanism.
And because they're manufactured with the use of long-lasting food-grade grease, it's safe in any hospitality setting.
2. Minor Adjustments
Chances are high that you won't have to make any adjustments at all over the life of the hinge.
In some rare instances, over time, your hinges might need some minor adjustments to the nut on the bottom of the hinge. This ensures they continue to function at their best if there are any weight changes.
This doesn't mean there's a flaw in their design; rather, it's a part of the normal wear and tear of any mechanical device.
3. Regular Inspections
Even though Lift Gate Assistant hinges are robust and designed to last, it's a good idea to periodically inspect them.
However, it's far more likely that the counter they're installed in will wear out before the hinge does!
Follow the Instructions
While Lift Gate Assistant hinges are designed to be user-friendly and straightforward, it's important to follow the instructions closely when you're installing them.
Particularly when dealing with a dual spring system, it's crucial that both springs are adjusted equally to ensure proper functioning. Making adjustments to only one of the two springs can cause issues and could result in suboptimal performance. Again, when installed correctly, additional adjustments shouldn't be necessary.
Correct Sizing is Crucial
From the outset, ordering the correct size of the lift assist hinge for your application is critical. It ensures the optimal performance, longevity, and most importantly, safety in the mechanical motion control of your lift gate.
Maximizing Your Lift Assist Hinge's ROI
It all starts at the beginning – the key to maximizing the life and functionality of your Lift Gate Assistant lies in ordering the correct hinge from the get-go.
From there, regular inspection and correct adjustments when necessary will keep your hinge moving smoothly. With these simple care and maintenance steps, your hinges will serve you efficiently for years.
Let's Get Calculating
Use our interactive tool to get started designing your Lift Gate Assistant hinge today!