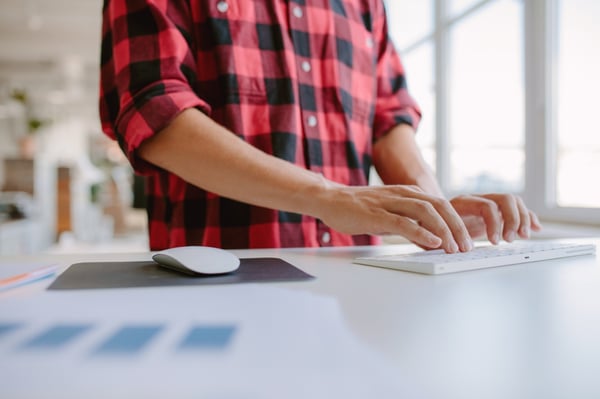 The results are in on ergonomic height adjustable desks – they're better for employees and better for businesses.
They're better for employees because they increase movement and reduce neck and back pain, thereby increasing productivity and job satisfaction. That makes them great for business.
If you already know the benefits of increasing office ergonomics, particularly with height adjustable desks, how do you maximize your investment in them?
There are many ways to improve the experience of desk workers beyond allowing them to stand while working. Following recommended usage guidelines and using height adjustable desk accessories can optimize ergonomic office products and practices for optimum comfort and health.


5 Standing Desk Best Practices
Best practices for office ergonomics always includes height adjustable equipment. To get the best return on investment, do the following:


Stay within BIFMA-recommended height ranges
Purchase for functionality
Look for versatility
Always accessorize
Budget for alternatives
1. Stay within BIFMA-Recommended Height Ranges
The Business + Institutional Furniture Manufacturers Association (BIFMA) conducts rigorous quality tests on furniture intended for businesses and gives its seal of approval through BIFMA-certified furniture.
The recommendation for standing desks is that they're adjustable from a minimum height of 22 inches to a maximum height of 46.5 inches, according to Work While Walking. This range accommodates 90% of the United States' population based on the 2010 census -- from the 5th percentile of women to the 95th percentile of men.
In Europe, the standard is 3 inches higher than the American standard.


2. Purchase for Functionality
All a desk needs to be height-adjustable is a sit-stand desk mechanism, which can be either manually operated or electrical. Since each organization has specific needs for those using the desks, verify that the ones you purchase have the right functionality.
For example, some desks have a lift-up table mechanism that moves quickly, which means you can change heights fast. Others have much slower mechanisms (which arguably are a bit safer). For employees who want to be able to adjust the desk quickly, a faster motor is naturally better.
Another functionality concern is weight capacity. Desks need to be strong enough to handle the load on them, lifting and lowering repeatedly without long-term damage. If your desks need to hold multiple computers, don't skimp on strength.


3. Look for Versatility
Some desks are more feature-rich than others. Many of today's desks are "smarter" than the old days. Most notably, they can achieve a preset height at the push of a button.
This is a nice feature for a workspace that several people use each day. If an employee comes in and wants a desk height of 50", they can quickly jump into the system, find the setting, and watch the desk adjust automatically.


4. Always Accessorize
Accessorize? More like necess-orize.
There are at least three types of accessories you absolutely should consider investing in if you want to keep employees off the injured list.


Ergonomic Keyboard Trays
Always think about depth and space when considering office ergonomic accessories.
There are keyboard trays designed specifically for sit-to-stand desks. The most obvious benefit is they can slide out of the way to leave room on the desk, but there are other benefits. They can swivel, move up and down, and adjust in just about any way imaginable to achieve ideal ergonomics for the user.
Many height adjustable tables have crossbars that make up the frame. There are unique keyboard trays out there that are short enough to fit an 8 inch track or an 11 inch track, depending on your needs. This allows the user to fully hide the keyboard tray under the table instead of it sticking out.


Monitor Arms
Ergonomic monitor arms allow you to adjust the height and orientation of monitors to the user's eyes, neck, and back in great shape.
An ergonomic monitor arm can hold one or more monitors, depending on the design. These products are fairly uniform; the only other notable difference is whether they're mounted by clamp or grommet hole.


CPU Holders or Trolleys
A CPU holder attaches to the desk to keep the computer tower out of the way, while a trolley sits on wheels on the floor and can be moved from area to area as necessary. So, which do you want? Consider the following:
The computer's size
How much security you want -- do you want the computer locked in the holder/trolley?
Is mobility important to the user?
If you prefer stationary CPU stands, make sure the ones you choose have access to the back of the holder. Once you push the computer in, you don't want to have to climb under your desk to get to the back of the computer. Always choose a CPU holder with a swivel feature so you have access to the cords.
Computer trolleys are usually a little cheaper because they have fewer parts. Despite that, they're mobile and allow easy access to the back of the computer. In the end, both are a cost-effective option. They're certainly better than paying $2,000 for a new desk.
5. Budget for Alternatives
Speaking of budget …
Higher quality and more bells and whistles will obviously result in a more expensive desk. But the fundamental benefits of a sit-stand desk can be obtained on a budget, if you're adamant about not spending to replace all the desks in your office.
There are many devices, like ergonomic monitor lifts and monitor arms, that are great for desks whether they're sit-stand or traditional. The ergonomic accessories include a lift-up hinge mechanism that sits on top of the desk. At your command, the mechanism lifts the monitor up or down to achieve a similar effect to a standing desk.


Create an Ergonomic Culture
Sit-stand desks and other ergonomic office accessories are a big investment, both in money and philosophy. Optimizing the foundation -- the desk itself -- will help build a culture of safety and comfort that has real monetary value.
Planning for and providing a culture stressing the importance of ergonomics may also help retain employees.
Looking for More Ergonomic Equipment Advice?
To learn more about accessorizing for an awesome ergonomic desk setup, download our Manager's Equipment Guide:
This piece was originally published January 2020 and was recently updated to reflect industry trends.