4 Reasons Why Office Ergonomics is Important
A healthier staff
More productive workers
Fewer workplace injuries/fewer workers' compensation claims
Boosted employee satisfaction and morale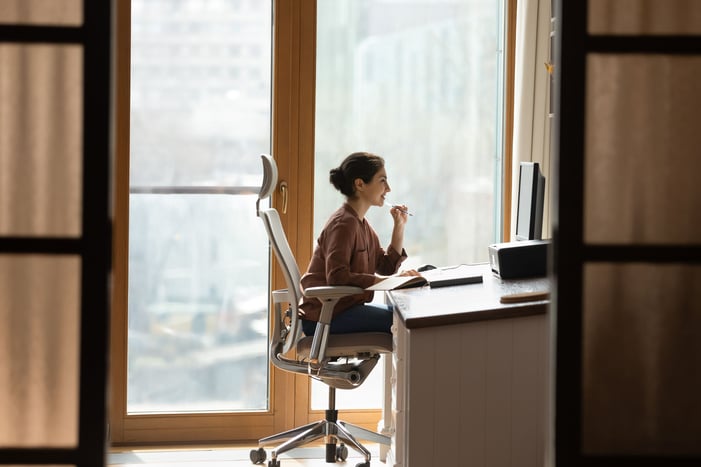 The Great Resignation has forever changed the workplace. It doesn't matter if you're hiring for an office environment, a healthcare setting, or a manufacturing floor, many employers are facing labor shortages. In fact, more than 40 percent of the workforce is weighing employment options.
Keeping employees happy and healthy may be more important than ever. Using office equipment that fails to address ergonomic concerns may lead to employee injury and give employees more reasons to seek other employment.
When your employees consider the pros and cons of working for your company, don't let office ergonomics end up in the con column.

(Resource: Need help choosing ergonomic equipment. Download the free Ergonomic Equipment Integration Checklist)

4 Reasons Why Office Ergonomics is Important
Employees want to work for companies that value them. Investing in ergonomics is a way for you to show employees they are valued and appreciated. It also shows that a company cares for employee well-being.
While investing in ergonomic furniture might feel like a hit to your bottom line, investing in your employees results in:
A healthier staff
More productive workers
Fewer workplace injuries/fewer workers' compensation claims
Boosted employee satisfaction and morale

1. Healthier Employees
It may not seem dangerous, but spending too much time sitting behind a desk can seriously impact one's health. Sedentary lifestyles have been referred to as "the new smoking." A sedentary work environment can lead to musculoskeletal disorders, which cause:
Backaches
Shoulder pain
Neck pain
Hand/wrist discomfort
Ergonomics is about fitting the environment to the employee. There is no "one-size-fits-all" solution. Adjustable office ergonomic equipment allows employees to create an environment that meets their needs and reduces the strains and pains that lead to long-term injury.

2. More Productive Workers
Companies expecting employees to produce their best work need to give employees the tools they need to succeed. Ergonomic office equipment, combined with good ergonomic teaching, keeps employees from being distracted by unnecessary discomfort and pain. No one likes constantly trying to find a comfortable way to sit in the office chair or taking breaks to relieve wrist pain from typing. Less distraction means more time for quality work.
Employees feel valued and supported when they have the tools they need to succeed. Employees are more apt to work harder when they feel supported. Plus, companies that offer ergonomics are seen as more caring.

3. Fewer Workplace Injuries/Workers' Compensation Claims
More than half of the U.S. emergency room visits in 2021 were from a workplace injury, according to the U.S. Bureau of Labor. That same report showed about 47,000 work injuries treated in the ER were musculoskeletal disorders, also known as ergonomic injuries. More than 215,000 cases of musculoskeletal disorders were not treated through the ER, including carpal tunnel syndrome, sciatica, and neck strain.
About $1 out of every $3 in workers' compensation costs are attributed to ergonomic injuries. Buying quality ergonomic office equipment decreases these costs dramatically.

4. Boosted Employee Satisfaction & Morale
Employee morale is contagious. Unhappy employees can sink that mood, spreading discontent until you have a few key staffers refreshing their resumes on LinkedIn.
Happy workers work happily and share their enthusiasm with coworkers, which builds a good office mood. An office with a pleasant company culture makes employees feel more excited to be at work and entices them to put more effort into their work.
Ergonomics allows employees to enjoy a better work environment and effectively do their work.
What to Look for When Purchasing Ergonomic Office Equipment
When looking for new ergonomic office equipment, consider the following:
BIFMA compliant products
Reputable dealers
Warranties
Quality
Innovation
Manufacturer's location

BIFMA Compliant Products
With so many options available for office furniture, how do you know which options provide both safety and comfort? Look for furniture that is compliant with the combined standards of the American National Standards Institute and the Business and Institutional Furniture Manufacturer's Association (ANSI/BIFMA). BIFMA is a not-for-profit trade association representing business and institutional furniture manufacturers.
Looking only for BIFMA-compliant furniture narrows your search to products that meet high safety and durability standards.

Reputable Dealers
It's easy to go the cheap route when buying office furniture, at least initially. However, there is a big difference between buying from a basement bargain outlet and a reputable dealer. Reputable dealers will work with you to get the best products for your budget. They won't sell you cheaply made goods or try to upsell you on expensive furniture you don't need.

Warranties
Buying new office equipment is a big expense. Ensure your warranty covers your purchase, especially if it breaks long before its expected lifespan. You don't want to spend thousands on new office chairs, only to spend more if they break in two months. The manufacturer should guarantee their product works as advertised and fairly compensate you should problems arise.

Quality
Spending $10 for a keyboard tray may seem like a great deal. However, replacing it every two months because it was cheaply built will quickly erase any monetary savings. You may not need the $400 version, but a reasonable spend will likely yield a good-quality product.
Look for products that last. After all, you don't want to replace all of your office furniture every year. Plus, high-performing office equipment keeps your employees happy and more efficient. Investing in quality products shows you care about your employees.

Innovation
Does your office furniture solve problems? Look for innovative solutions. How about monitor lifts that move monitors exactly where needed? Or maybe you need CPU trolleys that allow for computer use while an employee travels throughout the office. Some of the smallest innovations can boost productivity.

Manufacturer's Location
Is your manufacturer domestic or international? There are pros and cons to both, but we see more benefits in working with onshore motion control manufacturers, including:
Improved reliability and ethical practices
Better lead times and consistency
Better communication
Cost-effectiveness
Reputation
Quality

Office Ergonomics Training Matters
Simply providing good office ergonomics isn't enough. If employees don't know how to use the furniture properly, they can still face the same problems they would with any furniture. In order to take advantage of what ergonomics has to offer, be sure to train your employees on how to use the equipment. The training will protect your employees and prevent your business from lawsuits or workers comp claims.


Create an Attractive Work Environment With Good Office Ergonomics
Healthy employees are the backbone of your business. Good office ergonomics keep your employees healthy, happy, and productive. Don't give your employees basic office furniture that doesn't fit them. Show you support your employees by giving them equipment that supports their bodies. It will go a long way to improving employee satisfaction and, ultimately, your bottom line.
Interested in improving your workplace's ergonomics but not sure where to get started? Download our free manager's equipment guide below: