Heavy-duty gas spring hinges may be currently installed on your product. However, now the hinge is malfunctioning because the strength of the gas spring has weakened over the lifespan of your product.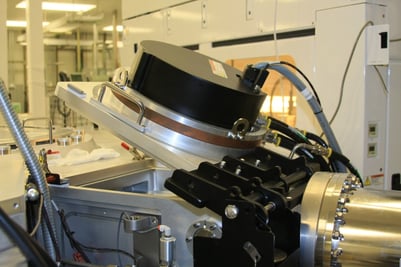 Mechanical motion control hinges with wire springs, on the other hand, have a long life span, whereas the lifespan of hinges with gas springs is dependent on numerous factors.
Where mechanical hinges excel, such as in extreme-temperature applications, gas spring hinges can falter and sometimes fail, not only causing damage to whatever it was affixed to, but also presenting the opportunity for grave injury to the operator, or anyone near.


Benefits of Transitioning from Heavy-Duty Gas Spring Hinges to Mechanical Motion Control
Mechanical motion control can offer some benefits that heavy-duty gas spring hinges can't; for example, in the food industry, the installation of a mechanical spring hinge means less danger of leaking and contamination (an inherent risk with heavy-duty gas spring hinges because of the oil used within the tube for the hinge).
In comparison, mechanical spring hinges also provide a more reliable motion over the full range and also do not have any contaminants to leak in case of some defect.
---
Learn More About Mechanical Spring Benefits
If you are looking for more resources on the differences between mechanical and gas spring hinges, consider these blogs:
---
6 Details to Tell Your Supplier About the Hinge You Need
Now that you have opted for the switch from a heavy-duty gas spring hinge to a mechanical spring hinge, your custom hinge manufacturer will need to know some specifications.
These include:
Weight of the lid and center of gravity:

Note on weight: There are ways to find the center of gravity yourself, but it can get tricky. Use this

resource

to send your lid design to our talented team of engineers.

Desired materials
Environmental factors (heat, cold, water, salt, sand, etc.)
Level of corrosion resistance required
Available space for the hinge
Life cycle requirements
While considering the switch from gas spring hinges to motion control hinges, this is also a great time to consider any other frustrations that were a factor with a heavy-duty gas spring hinge in place. For example, if you've dealt with issues mid-life cycle with the heavy-duty gas spring hinge, there is good news. The installation of counterbalance or spring assist hinges means flexibility in the field. Counterbalance and spring assist hinges can be adjusted at any point during their life cycle.


Consult the Experts
Weber Knapp engineering teams have experience designing hinges that meet expectations for any project. With the right information and the project scope, a new and more reliable hinge can be installed efficiently.
Want to learn more about our industrial hinges? Download the free guide below, or contact us with any questions.