The Vectis™ team traveled to Atlanta, GA to attend the 2017 Hearth, Patio, & Barbecue Associations HPBExpo – North America's largest indoor-outdoor living showcase.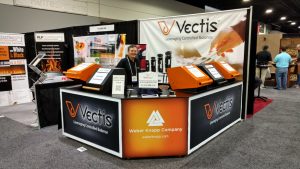 Talk about an exciting show! With our booth set up and our line of Vectis™ and Vectis™ Custom Counterbalance Hinges on display we set out to promote what our product could do to enhance BBQ Grills of all shapes and sizes. Our display included several Counterbalanced grill lid samples in order to give visitors the ability to actually feel the difference between a counterbalanced lid verses a lid with a standard hinge. This provided visitors with the unique opportunity to experience for themselves the difference a Vectis™ Custom Counterbalance can make for their product. If you were there, I bet you remember those orange lids! And, if you stopped by, I bet you also remember what a difference a Vectis™ Counterbalance Hinge makes to the "feel" and motion of a heavy lid. But, if you need to refresh your memory, check out the HPBExpo video on the Tutorials page of our website or click the link below see a Vectis™ Custom Hinge in action:

HPBExpo Video


With over 350 of the leading hearth, patio and barbecue manufacturers and suppliers exhibiting and demonstrating their latest products, we were afforded the opportunity to meet some fantastic people, make some new friends, as well as catch up with old friends like Hestan Commercial™ - which is exactly what you would expect from such an amazing trade show! And speaking of amazing, the HPBExpo truly knows how to show off the indoor-outdoor lifestyle with their unique outdoor burn gallery. I hope you were as lucky as we were to sample some of the amazing food being served up because, if you didn't try the Kamado Joe™ Pork Bombs, you missed out on some mouthwatering smoked pork goodness!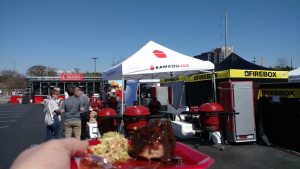 So, to sum it all up, What a Show! We hope to see you all again in 2020! If you stopped by to visit and have more questions, we would be happy to provide you with the answers you need. If you didn't get a chance to come and visit, but would like to talk about what Vectis™ can do for your project, visit our website, try the DYO app, or give us a call! We love talking about all things Counterbalance!