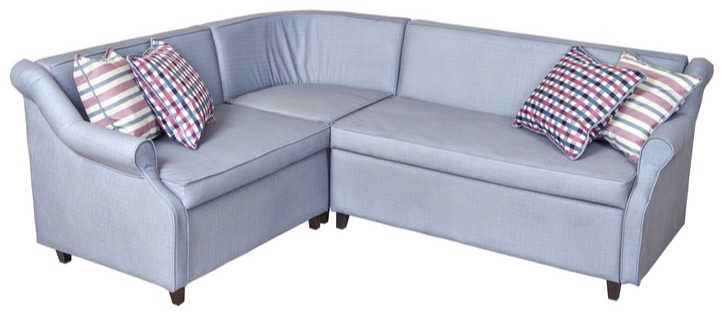 Maximizing comfort and value in an interior space is both fun and challenging for home and hospitality designers. It's the #1 priority for tiny homes and studio apartments, but also a worthwhile endeavor for those designing in larger spaces.
That's why multipurpose and fold-out furniture is quickly gaining traction in the home and hospitality markets.
Fold-out and multipurpose furniture either serve multiple functions, allow for easy storage, or both.
One popular example is a pull-down bed with a desk attached. Most people only use their bed at night -- in areas where space is precious, being able to adjust it for use as a desk adds space and functionality.
That's exactly what a multipurpose bed design does — fold into a wall, double as a desk or sofa, or transform into some other functional piece. Modern motion control solutions have taken the original, traditional sofa bed -- you know, that uncomfortable couch that folds out to become an even more uncomfortable bed -- and upped the value and comfort levels tremendously. This space-saving fever has spread beyond the bed to other furniture pieces, such as picnic tables.
With the right motion control solution, the limit of your working space won't matter. Just take a look at all the benefits of multipurpose furniture in a variety of settings:


Fold-Out Furniture & Multipurpose Bed Designs -- Must or Bust?
Whether you're working in a small space or a large space, multipurpose furniture has a place. Here's a look at some of the benefits to incorporating this type of furniture your design:
Saving space
Practicality
Convenience
Flexibility
The "cool" factor


1. Saving Space
Why does multipurpose furniture for small spaces make sense? Simple: You can subtract (or add!) more stuff.
Whether you're working with a tiny house, playing around with hotel room design ideas, or revamping a one-bedroom or studio apartment, multipurpose furniture is an easy solution if space is scarce. From a pull-down bed with a desk to a convertible sofa to folding tables, there are options for just about any limited-space situation.
Even if you're working with a large space, such as a hotel room suite, you may want to consider motion-controlled furniture. The ability to fold a bed into a wall or have a desk pop up and down frees you to add more innovative touches and elements to the room.


2. Practicality
Fold-out furniture isn't just for show. It adds practicality to any space.
A vertical Murphy bed with desk, for example, allows a traveling hotel guest to work on his laptop and sip coffee without leaving bed. There are also beds with built-in bookcases underneath, bed/couch combinations, and other innovations that add practicality to hotel and home spaces.
The more you can squeeze out a piece of furniture, the more value it provides the user.


3. Ease of Use
When you're brainstorming hospitality design ideas, or even residential products, convenience is king. You want your guests to easily be able to use and access any features. Multipurpose furniture offers that ease of use today's customers crave.
With the right counterbalance or motion control hinge design, any hospitality furniture design should be easy to use. All the user needs to do is click and pull a few things into place, and enjoy the comfort.
Fold-out furniture is also convenient for a homeowner who occasionally needs to accommodate extra guests. For instance, rather than rolling or carrying in a cot or bed to a guest room, a quick pull on a level can spring a bed out of the wall. The same can be said for desks, bookcases, and other furniture accessories.


4. The Future Is Flexible
Why stop at two functions? You can add onto multipurpose furniture with ergonomic accessories that further improve flexibility and function:
Swivel tables
Pop-up monitors
Pop-up TVs
Cup holders
Ergonomic attachments add even more value to the furniture. Buyers and guests have high expectations for "user experience" these days -- these little perks can bring a smile to a hotel guest's face and make your room memorable.


5. Luxury and the 'Cool' Factor
Let's face it -- it's easy to be wowed by a room that unfolds like a Transformer.
Using motion control design in a living or sleeping space gives off two vibes: luxury and coolness. It gives your design a little added "something" that separates it from the ordinary.
Remember, customers want "experiences" to make their day memorable!


Motion Control Solutions That Let You Get Trendy
Watching it in action, it's easy to see why multipurpose furniture is so trendy today. Tomorrow's looking pretty good, too!
Where could this type of furniture fit in your setting? Check out our new hospitality page for a better look at how you can optimize a hospitality design with motion control: