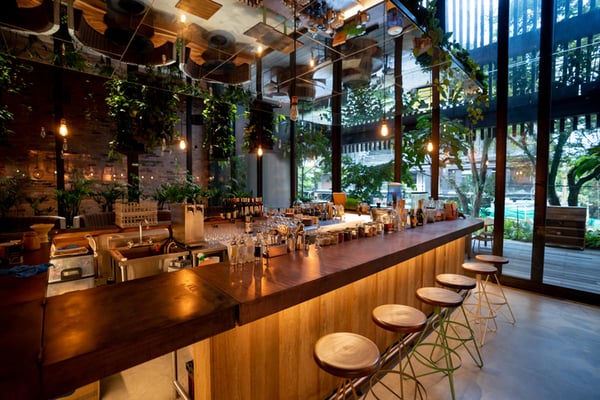 Industries That Benefit From Custom Hinge Solutions
While most industries could benefit from custom hinge solutions, these seven are prime candidates: (click to jump to the section)
Product improvement and differentiation should be a priority for anyone involved with an ongoing project.
One of the best ways to do that? Do something the other guys don't have the know-how or big-picture vision to do.
Motion control through complex hinge solutions are one way to do that for products in a variety of industries. Just about anyone who makes products with components they want to move smoothly can benefit from a better hinge.
Do your product's doors or lids:
Weigh too much?
Slam down when released?
Get in the way?
A better-engineered custom hinge solution may be your answer. Safety and damage prevention are oddly overlooked in too many door and lid hinge designs. Mechanical supports that aren't controlled can injure customers and damage themselves and nearby furnishings.
So what are you waiting for -- a lawsuit? A competitor to outsmart your design? Often, the signs you need to evaluate your product design for a better hinge solution are right in front of you.


Spring-Loaded Hinge Solutions Explanation
Spring-loaded motion control hinges are becoming increasingly popular in high-quality products. They can provide:
Protection to users and nearby objects from swinging or slamming covers
Ease of operation
Better ergonomics, so operators are less likely to develop problems like repetitive motion injury
The feats spring-loaded hinges can perform:
Lid lift assistance: By responding to one force with another, counterbalance hinges make a heavy item seem much lighter and easier to move.


Customization (damping, etc.): While a counterbalance hinge itself doesn't provide damping, it can be combined with a secondary component to offer features like damping. So, as a door or lid moves faster, the mechanism increases its resistance, resulting in a smooth, soft close. Note that damping may not be possible in high-heat applications.


Positioning: Spring-loaded hinges are able to position a component easily and safely in a variety of ways. These include detent, where an operator can feel when a component is in the desired position; free stop, where lids can be repositioned in small increments along their range of motion; and lock, when you need lots of force to ensure a component stays in place.
Now, on to the many ways to take advantage of advanced hinge design...


A Better Life Awaits These 7 Industries With Custom Hinge Solutions
The range of industries taking an increasing interest in motion control hinges includes, but isn't limited to, these seven. Even if your application doesn't fit in these categories, you might find some useful inspiration.
Industries we see as prime candidates for custom hinge solutions include:
Food service manufacturing
Hospitality
Ergonomic furniture manufacturing
Automobile & boat manufacturing
Industrial
Medical
Ceramics manufacturing


1. Food Service Manufacturing
Workers in commercial kitchens and outdoor cookeries appreciate the advantages of smart spring-loaded design for items such as:
Appliance hinges

Food-preparation table hinges
The problem with professional kitchens designed to feed a lot of people is that the fixtures and equipment are often large and heavy. Naturally, doors, lids, and other components are also large and heavy.
Not only do these components require considerable effort to open and close, they also sustain damage if they swing too far or slam shut. Spring-loaded motion control hinges can offer the best lid lift assistance around, whether you want a coast close or a smooth opening.
The success of heavy-duty commercial hinges has spread to high-end consumer products such as:
French door ovens

Refrigerators

Grills
Smart manufacturers see the long-term value in quality and product differentiation as well as adding a new, complex hinge solution.


2. Hospitality

While hospitality might seem like a similar industry to food service, it's quite different, and the motion control applications are too!
Consider hotel furniture, specifically for small rooms (something many hotels are gravitating toward). Fold-down beds maximize space and add a custom feel to the room that will leave a lasting impression on visitors.
But beds aren't the only piece of furniture that motion control can improve. Think about:
TV and monitor mounts

Collapsible desks

Pull-out counters

Hidden storage


3. Ergonomic Furniture Manufacturing
Think about furniture for work, schools, and training centers. Every day, a different person may be using that equipment.
Ergonomic furniture that's easy to reconfigure has clear advantages over static designs. For example, an ergonomic keyboard that adjusts easily to different heights and weights is scientifically proven to improve:
Muscular-skeletal health

Productivity

Happiness/satisfaction
Other ergonomic accessories can improve overall wellness, too. Think of furniture like:
Height-adjustable desks

Computer holders


4. Automobile & Boat Manufacturing
Boats have hatches that cover the engine. These hatches can be heavy and would be easier to handle with the capabilities of motion control marine hinges.
The same holds true for armored vehicles for military, police, or EMS personnel. An easy-to-lift, heavy-duty hatch hinge could be a life-saver in an emergency.
On the consumer side, RVs and campers would benefit from motion control hinges on fold-out beds and seating with storage underneath.


5. Industrial
Then there are the manufacturing plants themselves.
Better hinges for:
Equipment lids
Machine guards
Hatches
Among many other applications, motion control hinges would make industrial processes safer and less taxing for workers.
In many industrial hinge applications, it's being asked to support 100+ lbs. A lighter lid is a safer lid. Counterbalances can offer that lightness in a safer way than gas springs can, especially in extreme conditions.


6. Medical
As you might have noticed, no industry seems to get away from the possibilities of motion control. The medical industry greatly benefits from motion control applications, particularly when it comes to patient and employee comfort.
Motion control (and ergonomics) helped to create equipment and medical devices such as:
Blood draw tablets
Computers carts on wheels (COWs)
Over-the-bed tables
Bed lift mechanisms
It doesn't stop there. Motion control in the medical field isn't just for people; veterinary clinics can use motion control to improve animal experiences as well.


7. Ceramics Manufacturing
Mass-producing ceramics requires large kilns, and the lids on these kilns can weigh 50 lbs. or more.
Sounds like a situation that would benefit from the lift-assistance and positioning capabilities of spring-loaded hinges. If you need dampening too, an experienced hinge manufacturer should be able to customize one into the design.


Where Will Motion Control Take Your Design?
Above we listed just a few of the industries that make a perfect match with motion control hinge solutions. There are many others.
For example, motion control hinges improve the operations of science lab equipment, such as centrifuges and slide preparation devices. In construction, counterbalance hinges make the movable components of high-end toolboxes easy and safe to handle.
Custom mechanical hinge design has come a long way in the past few years. Product design engineers, purchasing agents, and even marketing teams are taking note of how these devices can improve their own processes, reduce the risk of a broken hinge, and lead to higher customer satisfaction.
Want more information on motion control and counterbalancing hinges? Check out our free resource below or contact us today with any questions
(Editor's Note: This post was originally published in 2019 and was recently updated to reflect current and up-to-date information)