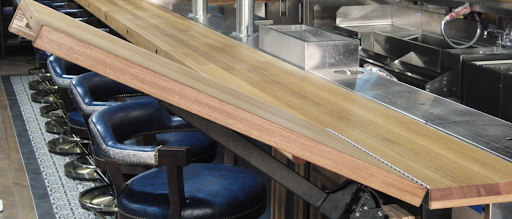 You're designing a new bar – or maybe upgrading your current establishment. You want to be bold and original. You want your customers to appreciate your place's style as much as they're enjoying their drinks.
Whether you're going for a sleek, modern aesthetic or nostalgic with a retro, traditional vibe, incorporating motion control solutions improves your new bar and restaurant design plans.
Specifically, a flip up countertop with motion control technology for your bar creates a wow factor your customers (and staff) won't forget.
Why You Need a Flip Up Countertop
First off, maybe you're still not convinced you need a lift hinged countertop in your establishment.
We've written extensively about lift assists and their:
As a refresher, counterbalance technology and motion control engineering make new countertop pass-throughs better than their predecessors.
These custom-engineered solutions make light work of lifting a heavy bar or countertop.
Hinged countertops improve safety, traffic flow, customer service, and aesthetics. Whether you're looking to retrofit or completely overhaul your space, incorporating hinged countertops into your design could help take your business operations up a notch.
They also never fall down, eliminating the need for awkward latches to keep your customers and staff safe.
From the vault – Check out this demonstration comparing a counterbalance lift gate assistant hinge against a traditional hinge and one poor coconut:
In a (coco)nutshell, the advantages of a Weber Knapp Lift Gate Assistant include:
No dangerous dropping or slamming gates
Smooth, consistent counterbalancing during the entire opening and closing range
Minimum useful life of 100,000 cycles
Designed to meet ADA requirements
Field-adjustable
Sturdy steel construction finished in durable powder coat
Made in the USA
Plan for Your Lift Gate Assistant Hinge
You can easily incorporate a lift gate assistant into your new build or retrofit it for an existing space.
Specifications we'll need to know to help you complete your project with a Lift Gate Assistant from Weber Knapp:
Countertop/lid material
Countertop/lid dimensions
Countertop/lid weight
Countertop/Lid Material
The weight of your countertop/lid is going to depend on what it's made of. Here's a handy chart on typical countertop material weights and thicknesses:
| | | |
| --- | --- | --- |
| Material | Thickness | Lbs./Sq. Ft. |
| Formica | ¾" | 10-11 |
| Granite | ¾" | 13 |
| Granite | 1 ¼" | 18-20 |
| Laminate with kraft interior | ⅝" | 4 |
| Marble | 1 ¼" | 12-13 |
| Quartz | 1 ¼" | 18 |
| Wood | Usually 1 ¾" | Lighter than stone, but depends on wood species |
Countertop/Lid Dimensions
To be able to properly determine which lift gate assistant hinge you'll need, measure your countertop's thickness, width, and length.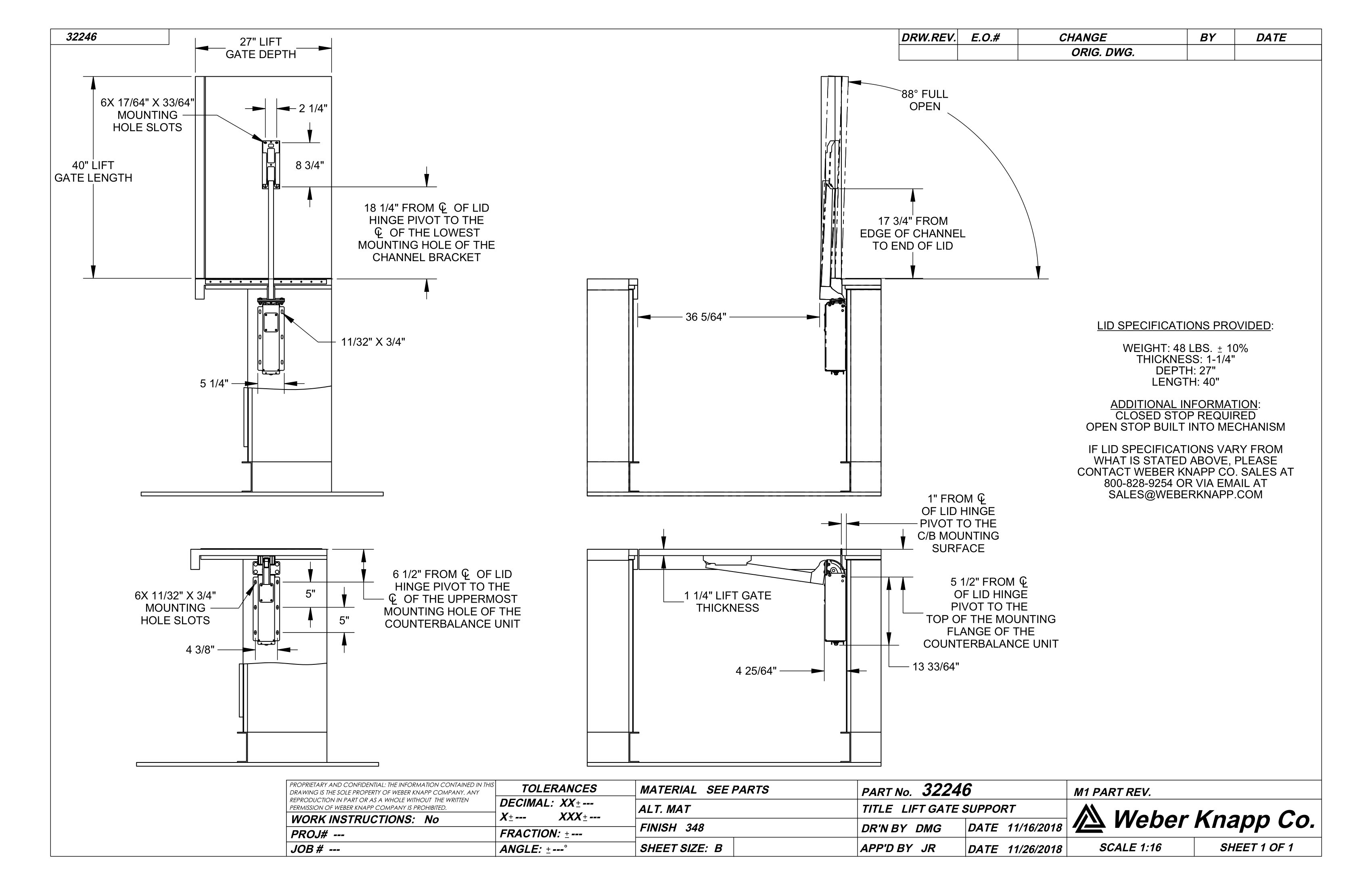 If you're not seeing your estimates on this page, head here for more precise measurements.
Countertop/Lid Weight
Now that you have some ideas on the pounds/square foot of your countertop or lid, and you have approximate dimensions, you can calculate its weight:
Length x Width = Square Feet
Square Feet x Pounds(per square foot) = Countertop Weight
Ready to get into the specifics and find your custom hinge? Check out our Lift Gate Assistant Lid Calculator!
How Much Does a Lift Gate Assist Hinge Cost?
So how much will your new lift gate assist bartop hinge cost? You guessed it – that depends.
Cost is based on your bar, countertop, or lid's weight, its length, and your desired torque.
Counterbalance mechanical-engineered motion control solutions are more expensive than traditional hinges. They're also more expensive than gas-spring hinges.
But what you get in return for a higher up-front price is:
Superior weight mitigation
Industrial-strength durability
Reliable safety
Field adjustability
See what's possible with a Lift Gate Assistant in your next hospitality design:
Motion Control and the Wow Factor
A lift hinged countertop is a great way to add value, safety, space, and a wow factor to your bar or restaurant.
Not only does it create an impressive visual effect, but the motion control engineering ensures that heavy lids won't fall down on customers or staff, making it much safer than traditional hinges.
With its field adjustability, industrial-strength durability, and superior weight mitigation capabilities, investing in a Weber Knapp Lift Gate Assistant will bring you long-term returns for years to come.
So if you're looking for ways to upgrade your existing establishment or designing something entirely new – consider incorporating a Lift Gate Assistant into your plans.
Raise Your Standards: Learn More On Motion Control
With the Weber Knapp Lift Gate Assistant, you can raise the standard at your bar or restaurant with dependable, safe, efficient, and stunning motion control solutions. Download our free Intro to Motion Control and Counterbalancing to learn more about making your next design stand out: