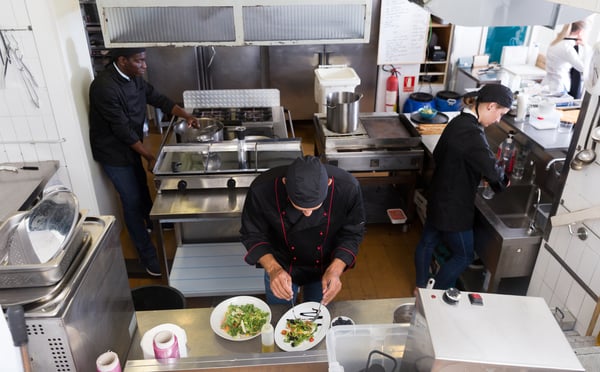 If there's one thing that commercial and restaurant kitchen appliances need to be, it's durable. Ovens, grills, sinks, freezers, and microwaves all have to stand up to constant, repeated use.
But, don't discount the smaller components, either. While the hinges on appliance doors may seem minor, they keep the kitchen running smoothly.
Let's take a closer look at restaurant swinging doors and kitchen door design and which types of hinges help improve the overall working environment.
Restaurant Traffic Door Design -- Making the Most of Your Hinge
Whether you're working with a very small restaurant kitchen design or a large, commercial kitchen, determining what kind of hinges you need is the first step.
If your kitchen is tight on space, it's important to have close-fitting hinges on appliances, as well as self-closing mechanisms to keep available space clear for everyone working in the kitchen.
But, your kitchen appliance hinges also need to hold up under never-ending use, so they'll need to be durable.
Here are a few characteristics to keep in mind when thinking about swinging door design:
Life cycle
Weight tests
Easy replacement
Safety
Aesthetics


Life Cycle
Restaurants and commercial kitchens take a beating. Just imagine half a dozen people cooking different meals, opening and closing the refrigerator and oven for various dishes. Restaurant kitchen appliances see a lot more use than home appliances do in a day.
You want a hinge that's not going to break after a few days of using it. Estimate how many cycles you need your hinges to withstand -- a single cycle consists of an open and a close. A common refrigerator might be rated at 100,000 cycles, but a restaurant refrigerator might need far more than that.
That being said, having durable hinges made from quality materials goes a long way toward improving efficiency and safety in a restaurant or commercial kitchen.
Weight Tests
Not all appliance hinges are created equal. For example, a refrigerator or a freezer hinge has to withstand far more weight than an oven hinge has to.
Residential refrigerators need to pass a poundage test before they even roll off the shop floor. It needs to hold and operate under the weight of everything stored in the refrigerator door safely. Commercial refrigerators need to pass similar, yet more rigorous tests.
Oven hinges, too, have specific requirements. Imagine baking bread or cookies all day -- the hinge has to withstand constant high temperatures.
Ask your hinge manufacturer about what kind of tests the hinges have undergone, including:
Weight tests
Sag tests
Hot/cold temperature tests
Find appliance hinges that are guaranteed to stand up to constant use without breaking, sagging, or being compromised by varying temperatures.
Ease of Replacement
Hinges, like most components, won't last forever, no matter how well we take care of them.
And when they do, you'll want to be able to replace or repair them easily. Designing the hinge to be easily replaced can save you a lot of time down the line when you have to make repairs.
For instance, is your oven hinge hidden under panels, coils, and a seal? That'll be time-consuming and difficult to replace, which means more appliance downtime.
Think about ease of access not only for the hinge itself but for other adjacent components, too. Is the hinge in the way of replacing an even more integral part of the appliance?
Safety
Safety goes hand in hand with appliance hinge testing, but there are other considerations for safety, too.
Large commercial kitchens have a lot of people moving in and out, and a handful of people in a very small kitchen can make it pretty crowded.
Cover or seal the appliance hinges if possible, or design them to be out of the way of heavy traffic. You don't want a busy employee to get snagged on a hinge and hurt themselves.
Plus, seals help regulate temperature -- whether keeping the fridge cold or the oven hot. But you don't want the seal to be so tight that opening the fridge is difficult. Typically, a hinge and seal together should only need about 7-14 lbs. of force to open.
Another consideration is soft-closing hinges. Most refrigerator doors will swing closed on their own, but an oven door might not. All it takes is one forgetful baker and then someone might get burned. Motion control hinges are the way to go for improving safety.
Don't just settle for a low price, make sure the hinges you choose work effectively and maximize workplace safety.
Check out Weber Knapp's food prep table soft-close hinge:
Aesthetics
While aesthetics is an important consideration for residential appliances, it's not that big of a deal for restaurant or commercial kitchens. Customers won't venture back to where the magic happens, so the biggest factor for commercial appliance hinges is price and functionality.
But, if your restaurant has any client-facing appliances -- a to-go dessert freezer, for example -- it is worth considering the aesthetics of your hinges.
Hidden hinge design is popular and saves space, too. If you're looking for a high-class look and feel, motion control and counterbalance hinges are the way to go.
Ensuring Smooth Traffic through the Commercial Kitchen
When it comes to restaurant and commercial kitchen door design, there are a number of important considerations. From life cycle tests to weight tests, safety, and aesthetics, the hinges you choose can make or break your kitchen's performance.
Investing in quality materials that have passed rigorous testing will ensure that your appliances stand up under constant use and keep employees safe from harm. With careful consideration for each factor listed above, you'll be able to find the perfect swinging doors for your restaurant or commercial kitchen.
There you have it, the key considerations for commercial and restaurant kitchen door design. All applications vary, so having a hinge manufacturer that has experience in designing quality hinges can really be a plus.
A Hinge Manufacturer You Can Trust
Want to learn more about hinges for the kitchen? Take a look at our resource page for everything Outdoor & Professional Kitchen related!