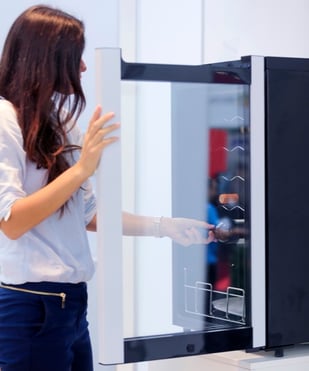 When it comes to high-end kitchen appliance design, great performance is as important on the outside as it is on the inside.
Serious designers of both commercial and residential appliances for the modern kitchen want features that "feel" luxurious. Many of today's top-end appliances include counterbalancing, soft-close motion control, and other features for the ultimate in safety and convenience.
A well-made hinge mechanism separates your appliance design from the crowd by delivering all of the above and more.
What Makes Great Appliance Door Hinge Design?
The standard appliance door hinge has been around for a long time. It does its job by keeping appliance doors level and allowing them to swing out and in. Yawn.
Modern technology has significantly improved this design with motion control and soft-open and soft-close solutions. Motion control is made possible by using spring-loaded hinge solutions and counterbalancing.
Use motion control hinges to prevent excessive swinging of (often scalding-hot) doors and keep (often heavy) lids from slamming and injuring the user. They can also lighten the load the user has to lift, push or pull – even the heaviest lids and doors can require 5 lbs. or less of force to lift. We love that feature for flip-up kitchen countertops!
Benefits of motion control hinges include:
Easier lid lifting:

Counterbalancing can make heavy lids

easy to lift and move.
Damping: As an opening or closing door or lid increases in speed, an added mechanism can increase the resistance so that it closes softly and smoothly.
Positioning: You can use

spring-loaded hinges

to customize door and lid positioning.
Options for positioning include:
Detent: An operator can feel when the door or lid reaches the desired angle or multiple angles.
Free stop: Reposition doors or lids in small increments along their range of motion.
Lock: Keeps a door or lid in place with sufficient force.


Want to learn how motion control and counterbalance can improve your product?
Download our free resource:
Examples of Motion Control Hinges in High-End Kitchens
Motion control has been the source of soft-closing mechanisms for cabinet doors and drawers for many years now. Now, what about the rest of the kitchen?
Here's a hinge design guide of where you can easily integrate motion control hinges into the kitchen:
Wine coolers
Dishwashers
Refrigerators
Ovens
Soft close cabinets and drawers
Bars and countertops
TV monitor lifts
Wine Coolers
A soft-close feature on wine storage fridges makes it easier to avoid disturbing valuable bottles of wine. Instead of a potentially disruptive slamming door, a soft close hinge mechanism ensures a gentle seal every time.

Dishwashers
There are higher-end dishwasher hinges available now that feature motion-control hinge designs. Among their features are soft-close motion control to avoid slamming and rattling glassware, both when the door is propped open and when the door is closed.



Refrigerator Hinges:
Refrigerators keep rising in price as they add features, yet it hasn't stopped people from buying them.
While not as exciting as integrated Wi-Fi, soft-close refrigerator hinges ensure that the fridge door never slams shut. Use motion control to dictate exactly where the door will open and how quickly it will get there.


Ovens
French door ovens and side-swing wall ovens use motion control to protect both the appliance and the user. You can also improve your pull-out oven design by adding the following:
Soft-close hinge mechanisms
Soft-open hinge mechanisms
A mid-motion stop
As you know, all oven hinges must withstand high temperatures. Mechanical spring hinges are the best design choice because they don't rupture in high heat like gas cylinders.
Your hinge manufacturer should be able to help you design an oven door system that opens predictably and safely.


Soft-Close Cabinets and Drawers
Soft-close cabinets and drawers are a popular choice for modern kitchens. Designed with special hinges that make them close softly and gently, both are prevented from slamming shut. Through motion control, the soft close cabinet hinges slow down the closing of the door or drawer, making it easy to close without making noise or causing damage to the door or frame.


Bars & Countertops
Large, heavy bars and countertops can be hinged to allow access in and out of a kitchen area. While common in bars and restaurants, many lack the right kitchen countertop hinge to ensure safety and longevity.
Rather than making a waiter resort to DIY-ing a way to keep the flap up during a busy night, install a flip-up countertop hinge that will easily open and close. This way, staff won't have to lift a 75-lb. granite countertop 50 times a night, and there's no risk of their makeshift solution failing.

TV Monitor Lifts
Excessive? Maybe. But hey, why not?
Those familiar with ergonomic office design may be aware of monitor lifts and TV lifts. These products, also gaining popularity in high-end hotels, let consumers watch TV while cooking or eating. After watching, users can slide the TV back down into the counter and get that space back for cooking or holding dishes.


The Motion Control You Can't See
Taking things a step further, advances in motion control technolgoy can upgrade how many appliances complement a kitchen's aesthetic.
Take a refrigerator for instance. With a hidden hinge, the appliance is able to blend in seamlessly with cabinetry around it or when recessed into a wall. Expertly designed and strategically installed out of sight, a hidden hinge still provides the same level of functionality and performance as other heavy-duty or custom hinges.
And concealed hinges aren't just for refrigerators – they can be integrated into many staples of the kitchen, including:
Ovens
Cabinets
Dishwashers
Wine coolers
Beverage bins


Need a high-performance hinge that blends into the background?
The SI.1 Hinge allows appliances set between two cabinets to easily match their look and create a seamless kitchen design. Learn more:

Hinge Design Form + Function
The best high-end kitchen designs are a combination of form and function.
The appeal of motion control is that it can do both. The smooth feeling it lends to a door or lid gives off a luxurious vibe. And its ability to move heavy loads in any way you want makes your kitchen safer and more convenient.
To learn more about how motion control and counterbalancing improve kitchen design, check out our resource page:
Editor's Note: This article was originally posted in January 2020 and was recently updated to reflect changes in insight and resources.