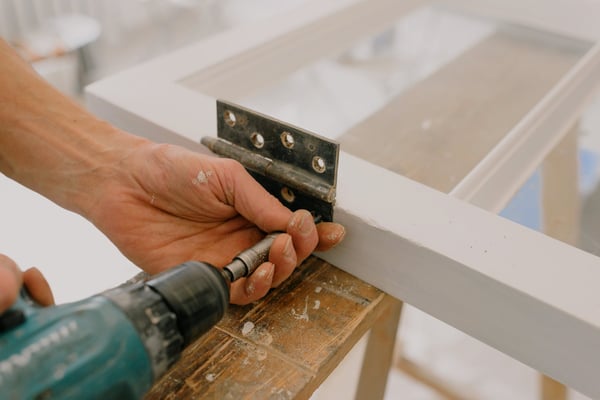 Engineers and designers often ponder over what type of hinges to use on their products.
"Should we go with standard hinges or invest in heavy-duty industrial hinges?"
An important question, indeed.
In most situations, a standard hinge is a cost-effective motion control solution that will perform sufficiently. However, sometimes the rigor of application requires a hinge that goes above and beyond standard performances.
If you're looking for that next level of efficiency and safety, upgrading to a heavy-duty industrial hinge solution is the way to go.


5 Reasons to Upgrade to Heavy-Duty Industrial Hinges
From a cost perspective, the difference is simple: heavy-duty hinges come at a higher price point than standard, hardware store hinges.
But as a premium motion control solution,
But what are you getting for that extra cost? Five important things:
Increased weight limits: Load-bearing capacity can be increased dramatically with heavy-duty hinges to better balance the weight of heavy lids or doors.
Durability: Industrial, agricultural, and marine applications need the added durability of heavy-duty industrial hinges to withstand constant use and environmental factors.
Reliability: Heavy-duty hinges react better to unexpected pressure and are less likely to experience failure, unlike gas springs.
Added safety features: Lids that slam down when released or mechanical supports that aren't properly controlled can injure people and damage nearby equipment.
Longer cycle life: A heavy-duty hinge provides uniform load stress, which reduces wear and tear over time.


Time To Change: Finding the Right Heavy-Duty Industrial Hinge
Industrial heavy-duty hinges are levels above standard hinges in value and safety. So how do you know when it's time to upgrade to heavy-duty hinges?
First and foremost, is your current hinge just not working? If lids won't lift, hatches are slamming, or you're constantly replacing hinges, a heavy-duty hinge is calling your name.
Another reason to consider the switch is if you're concerned about safety requirements. Most industries do everything possible to prevent accidents or lawsuits, but sometimes OSHA and other workplace safety watchdogs might specify heavy-duty hinges out of standard safety concerns.
The wrong hinge at the wrong place and the wrong time can be catastrophic. Think about unreliable hinges on submarine hatches, or even gas springs used for medical applications. If a standard gas spring starts leaking in a sterile environment, that poses a grave safety concern just like a malfunctioning submarine hinge.
One of the final considerations for why it might be time to upgrade your hinge solution is simple; do you want to give your customers the extra features of a counterbalance or spring assist hinge? If you're manufacturing high-end grills or industrial laboratory equipment, the soft-close features of a more advanced hinge would be really convenient for your customers.


Types of Heavy-Duty Industrial Hinges
Although the type of hinge you'll need for your application might vary, two of the most common heavy-duty industrial hinges are:
Counterbalance hinge: These mechanical hinges balance the weight of the lid against gravity's downward forces. A counterbalance hinge is also used for pivoting loads. Because there are so many design elements, the price of the counterbalance will be higher than a standard hinge. Counterbalance hinges make 70lb lids feel like they weigh less than 5!
Spring-assist hinge: A spring-assist hinge is self-closing. Although more cost-effective than the counterbalance, they are still more technical because of the spring, again increasing price over the standard hinge. These hinges are great for lighter lids and less strenuous applications. They're perfect for drum smokers!
If you're on the fence about adding better hinges, think about how they make the end product more saleable. Adding more features end users want, such as a soft close or a lid stay, improves product appeal and consumer safety.
Looking to Design Your Own Counterbalance Hinge?
Our The Vectis® DYO App lets you do just that! Get started:
Out With The Old, In With The New
Not every application can include a heavy-duty hinge into their design from day one -- but that doesn't mean that you can't after the fact.
If you're looking to improve your product after you've already manufactured them with a standard hinge, retrofitting your products isn't hard! There's a whole process for including better hinges in a design that already exists.
But, whether you're starting from the drawing board or planning a retrofit, the benefits of industrial heavy-duty hinges are undeniable.
Are you interested in switching to a better hinge solution? Want to know more about counterbalances and motion control?
Check out our free guide! And if you have questions, don't hesitate to reach out!