Thanks to counterbalance hinges, which make moving pieces easier by using a countering torque, several space-saving measures can be integrated to enhance your outdoor furniture including:
Hide-away picnic tables
Fold-down benches and chairs
Pass-through bars and counters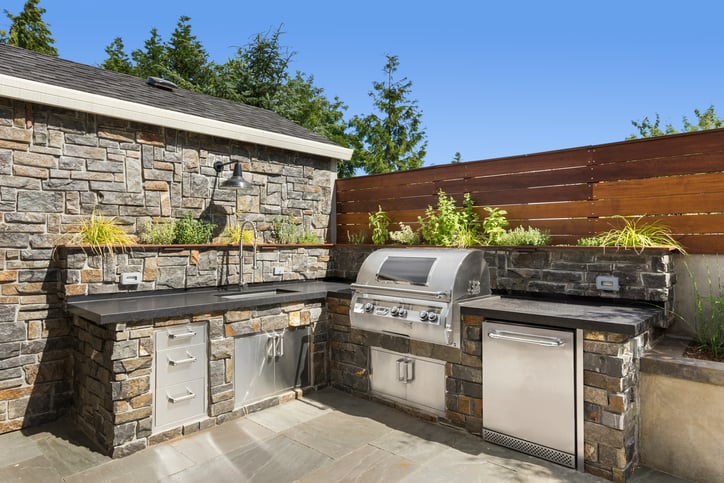 While outdoor dining spaces for cookouts and entertaining aren't new, upgrades to outdoor equipment and accessories are optimizing their form and function. If you have a small backyard, or you own a business with a small outdoor space, having bulky, heavy furniture can make using and enjoying your outdoor space difficult.
Thanks to counterbalance hinges, which take the hard work out of moving heavy pieces by using a countering torque, several space-saving measures are easily integrated into your outdoor furniture.
This enhancement helps you and your guests focus on the dining experience.


Counterbalance Hinges: Taking Outdoor Dining to the Next Level
How do you balance needing durable, weather-resistant, heavy pieces for your outdoor dining space with a desire to maximize space, efficiency, and function?
That's simple.
Integrate hide-away seating and counters with counterbalance hinges. In outdoor kitchen design, the addition of motion control helps level up your entertaining capacity in new and exciting ways.
How do counterbalance hinges work?
Using springs to store energy when the hinge is closed, they channel that energy upon opening to support a piece's weight and lessen the force necessary to operate it.
With Weber Knapp's

state-of-the-art Vectis™ Technology

,

even a heavy wooden table can be lifted with just one finger

. These hinges are designed to withstand not just high heat and extreme friction, they're also tested to withstand extreme weather conditions.
What outdoor furniture is best suited for counterbalance hinges? Consider:
1. Hide-away Picnic Tables
Traditional picnic tables are cumbersome.
They're heavy, hard to move, and typically need a slab to sit on (otherwise sink into your lawn while killing the grass underneath). They're also large, taking up a lot of precious real estate in a small outdoor space.
Hide-away picnic tables, on the other hand, are a great option for easy seating that stows away when it's not in use. With counterbalance hinges, even a heavy wooden table can be lifted with just one finger. That same picnic table is also easily mounted on a fence, exterior wall, or any other solid structure to reclaim lawn space. Your grass – and your back – will thank you.
Watch our team demonstrate how easy it is to use a picnic table fitted with counterbalance hinges to pull the table down, safely and comfortably sit, then push it up to store away:
2. Fold-Down Benches & Chairs
If you're looking for outdoor seating options that are less complicated than a picnic table, but sturdier than lawn chairs, fold-down benches and chairs with integrated counterbalance hinges could be the answer.
They're a convenient, space-saving option that also eliminates the clutter of storing lawn chairs off-season. Installed anywhere there's a wall or bar and a need for seating, fold-down benches and chairs provide seating in a small outdoor space when needed, and later fold neatly away. Durable, weather-resistant counterbalance hinges ensure the benches and chairs won't accidentally collapse. They also withstand the elements.
3. Pass-through Bars & Counters
Does your dream outdoor kitchen have a bar or countertop you can't live without, but its placement jams up your traffic/workfow?
Adding a lift gate assist with counterbalance hinges to create a pass-through bar or counter opens up the space while making that heavy outdoor countertop feel nearly weightless. You can enjoy both the counter space and the flexibility to lift it out of the way for freedom of movement.
Whether your purpose is personal or commercial, integrated safety features in a lift gate assist ensure the countertop won't fall on a kid, family member, customer or employee. They're also soft-close, so they never slam.


Opening New Possibilities for Your Outdoor Space
Whether your outdoor kitchen and dining space is personal or professional, counterbalance hinges make your small space more efficient, easier to use, and more enjoyable.
Counterbalance hinges upgrade ease of use and improve the flexibility of kitchen accessories and products, taking your outdoor kitchen to the next level with motion control.