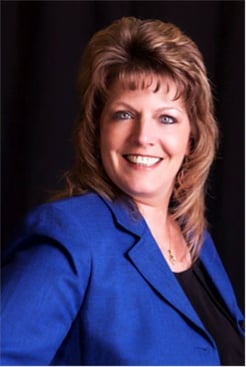 Yes, Weber Knapp specializes in motion control engineering and counterbalance hinge design, but we're also experts in education and opportunity.
How, you ask? Well, at Weber Knapp, the culture is centered around learning new skills and cross-training as a way to improve the versatility of its employees. For those who are interested and eager, there are always opportunities for growth.
Most team members at Weber Knapp have worked in multiple departments and have many skills, whether it's with material handling, machining, or customer service and sales. Take Mike Fralick, for example, who was a temp on the manufacturing floor in 1997 and is now a regional sales manager.
Read on for another inspiring story of constant upward motion, featuring Rhonda Johnson, the president of Weber Knapp.
Starting out at Weber Knapp
Weber Knapp is always running, from sun-up to sun-up. Rhonda Johnson came to learn this in her first position as an assembler during the second shift.
Rhonda started at Weber Knapp in 1991 after hopping around from job to job, but she only planned to make Weber Knapp a stepping stone.
"Weber Knapp had such a great reputation in the city, and in the county," Rhonda says. "Everyone knew someone who worked at Weber Knapp, and it seemed like a really good place to work temporarily."
Little did Rhonda know she'd end up sticking with Weber Knapp for almost 30 years and counting.

Moving up the Chain
Weber Knapp was very diverse and exciting, and Rhonda soon found herself moving up in the company and learning more while she was at it.
Over the course of her time at Weber Knapp, Rhonda worked in a variety of positions. After working on the factory floor and learning a lot about machine setup and assembly, Rhonda scored a job as a Materials Coordinator in 1995. It was her first salaried position.
At that point, she decided that she had a future with Weber Knapp, and that Weber Knapp would be able to help her along the way.
"Weber Knapp really promotes education -- math, engineering, and business," Rhonda says. In 1997, she began working toward her associate degree in business from Jamestown Community College.
From there, the rest is history. Rhonda continued to work hard and educate herself, earning her associate, bachelor's and master's degrees in business. After spending time as plant manager at the Allen Street facility and as the VP of Operations, Rhonda made it to the president's desk, where she's been since 2017.
More Than A Hinge Manufacturer
Promoting higher education has been a core tenet of Weber Knapp's culture for a long time. Allowing employees to learn and grow in the workplace allows them to grow as people too.
The tuition reimbursement program at Weber Knapp allows employees to attain their goals without breaking the bank. Everyone is eligible for the program, and there are usually a handful of employees taking advantage of the opportunity every semester.
"The only thing that limits a person at Weber Knapp is their own self-induced reservations," Rhonda notes, "We believe in the 'home-grown employee'."

Motion Control Engineering Meets Constant Improvement
The dedication to education and forward motion at Weber Knapp not only affects the employees, but the customers, too.
Encouraging employees to cross-train increases innovation and expertise, which leads to new ideas and creative motion control solutions.
Through continuing education, Weber Knapp is aiming to be the most efficient, most innovative hinge manufacturer in the USA.
Rhonda and Mike have shared their stories of success with Weber Knapp, but they're not the only ones. Keep an eye out for more employee spotlights!