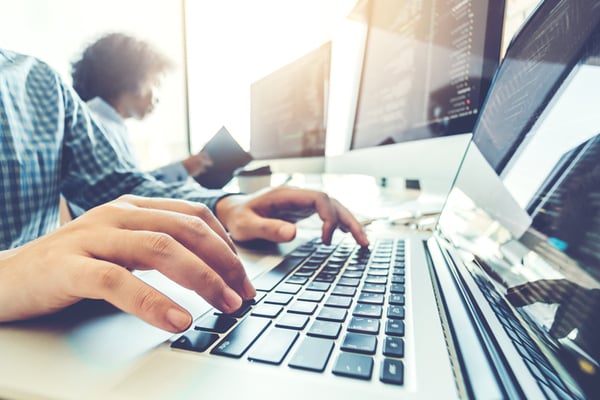 Ergonomics isn't just about what kind of ergonomic office products you're using; ergonomics is about making life easier and relaxing your customers' or employees' bodies to be more comfortable. Whether at work, home, or a medical facility, you can always apply ergonomics.
That's why at Weber Knapp, we put our ergonomic thinking caps on and went to our computers to redesign our website. We all spend a lot of time on the internet these days, so why shouldn't our online spaces be as ergonomic as our physical ones?
Here are the resources and products available on our brand-new Ergonomics page:
Our New Ergonomic Office Solutions Page
A big part of ergonomics is easing strain on the human body, whether that's typing on a negative tilt keyboard or having an adjustable monitor arm.
So, we had ease in mind when we designed our ergonomics website, and it shows! Some of the new improvements include
Larger images for better viewing
Detailed and precise product descriptions
Separate sections for different categories of ergonomics (i.e. medical ergonomics)
Downloadable product catalog
We've also integrated a live chat function so visitors can easily ask questions. If visitors have specific questions about projects, ergonomic solutions, or motion control, they can always ask an engineer with our simple email form.
In Other News…
Weber Knapp is in the process of becoming SCS Indoor Advantage Gold standard certified. This certification measures your office workspace for indoor air standards, ensuring your furnishings pass the emissions test. The SCS certification also measures other things, like the paint and carpet of your building, testing for emissions that may be harmful for your air quality.
At Weber Knapp, we follow ANSI/BIFMA safety standards when crafting our ergonomic office solutions, so you can pass the SCS Indoor Advantage test too!
Simple, That's Our Ergonomic Goal
We want to help you find the best ergonomic office solutions possible for your employees, students, or patients. If you're looking for ergonomic keyboard trays, ergonomic monitor arms or virtually anything else in between, it's easier than ever to hone in on what you specifically need.
Soon, we'll be redesigning our EZ Office site too, so keep an eye out for that too!