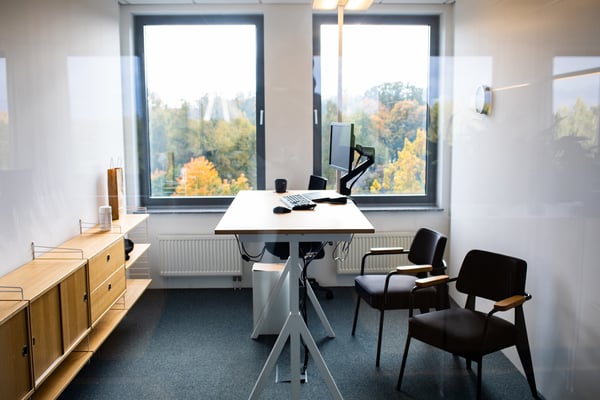 COVID-19 caused many companies to seriously rethink the entire concept of office design. Many reopened offices have more individual space and require employees to spend more time within defined areas.
This new focus may leave office executives or supervisors wondering about ergonomic solutions to maintain and increase work productivity. After all, limiting staff interaction can hamper productivity through slower and less effective communication. Plus, there are workers still stuck at home with less-than-ideal equipment.
Some office managers turn to ergonomic height-adjustable desks to allow more flexibility of movement. Others spend a great deal of time figuring out the best position for a keyboard.
In the end, you should prioritize ergonomic office accessories and products to fit individual comfort and safety needs. Monitor arms are no different.
Instead of piling up books to eye level, or moving the monitor by hand, an ergonomic monitor arm allows users to adjust its height and orientation to the perfect position that keeps their eyes, neck, and back in better alignment.
But, how do you know what kind of ergonomic monitor arm is the right fit?


What Is the Computer Monitor Lift Mechanism?
There are two basic types of adjustable arm monitor mechanisms.
A pneumatic monitor arm can be moved and will stay where it is, but may be more expensive. Air or gas pressure controls the movement.
The more cost-effective manual monitor arm is raised and lowered manually using a knob or lever, and is then locked into the new position.
Finding the right monitor arm can be a challenge, especially if user needs are very specific. Here are a few factors to consider when looking at ergonomic monitor arms:
How are they attached?
Adjustability
Cable management


How Is an Adjustable Monitor Mount Arm Attached?
The monitor arm is attached to the desk in either one of two ways.
The pole and monitor can be clamp-mounted to the work surface. Clamps can be easily adjusted to account for desk thickness.
Or, the pole and monitor are bolted into a grommet hole in the desk. If you prefer a monitor arm for a grommet setup, make sure the pole has the same diameter as the grommet.


The Best Monitor Arm is Adjustable
Different shapes, sizes, and ages will have different experiences with ergonomic office equipment. Look at how many adjustments the user will make on a daily basis, and consider the weight of the monitor itself.
Some people will go months without ever moving their monitor, and other people will make it a daily practice to readjust it to their liking. Once co-workers are back to sharing desks, their equipment may need an adjustment several times a day.
Users may also prefer a landscape or portrait orientation for their monitor, depending on their industry. People who often work with very long documents might need a portrait monitor; most of the rest of us prefer landscape orientation.
Ask yourself if the monitor arm you're looking at can offer these types of adjustments.


Monitor Arms and Cable Management
Cable management is an important consideration for a monitor arm because there needs to be room for power cables and HDMI. Some monitor arms offer integrated cable management, and it's as easy as clipping them into the pole for easy access.
Other monitor arms, like grommet-secured ones, might run the cords down through the desk. Consider how easy it will be to plug and unplug cables, because moving monitors from work to home and back again has become a common practice since COVID hit.


Best Positions for a Computer Monitor
Once you have settled on the best ergonomic monitor arm, you can advise employees on the best position for their computer monitor. In general, the user's eyes should not be looking down at the monitor. They should at least be level with the bottom of the screen.
To further reduce eye strain, the monitor should be at least an arm's length away from the eyes. The user should also be viewing the screen face-on, and not from the side. Adjust dual monitors based on how much each screen will be the user's primary focus.


Who Needs an Ergonomic Monitor Arm?
Anyone who spends a chunk of time at a desk each day can benefit from an ergonomic monitor arm. Modern-day kinematic motion designs help produce a height adjustable monitor arm that will enable the user to sit, stand, or move comfortably while staying productive
Want to learn more about ergonomic office solutions to increase productivity and comfort? Check out our new ergonomics page!