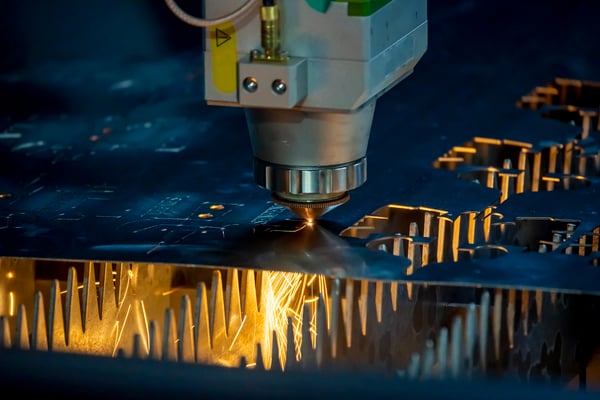 Using laser cutting machines to produce detailed metal parts has been a common practice since the early 1970s. In today's manufacturing scene, laser cutters are used extensively because now we can give the machines CAD design features and crank out the finished product in minutes.
However, not all laser cutting machines are created equal. The most common types of lasers are CO2 lasers or microjet lasers, but fiber lasers are becoming more popular.
But why are CNC fiber laser cutting machines better than conventional lasers? Here are some considerations on how fiber lasers can improve manufacturing and metal part production.


Why Use a CNC Fiber Laser Cutting Machine?
A fiber laser cutter offers more versatility and ease-of-use than other laser cutting machines, so it's ideal for many machining purposes.
Some of the benefits of a fiber laser cutting machine include:
The ability to cut reflective material
A spot size 100x smaller than that of a CO2 laser
Extremely focused and flexible
Cleaner edges and faster cutting speeds
Easier to use for producing detailed cuttings
But how does a fiber laser cutting machine work, you ask? How different is it from a CO2 laser or a microjet laser cutter?


How a Fiber Laser Cutting Machine Works
A fiber laser operates a bit differently than other lasers used in metal cutting, but it also offers more precision and a higher-quality finished product.
A CO2 laser utilizes a beam passed through a gas mixture or manipulated by radio frequency energy. Power source, gas flow, and erosion are all common issues that affect the efficiency of a CO2 laser. Microjet lasers have similar problems, but instead of a gas mixture, they use a condensed stream of water to guide the laser.
The glass fiber transfers the light energy to the lenses where it is focused. This replaces the mirrors used in a CO2 laser. The distance between mirrors changes as the laser cutting head moves. This causes variation in cut quality depending on the laser cutting head location. Also, the mirrors can become misaligned or dirty. resulting in poor cut quality.
These issues don't exist on a fiber laser. Instead of using a gas or water, the fiber laser uses a solid gain medium, which eliminates the problem of gas flow and erosion.


What CNC Fiber Laser Cutting Can Do for You
If you're looking for a way to cut a complex design, chances are you want to use CNC fiber laser cutters. Using a laser cutter allows you to craft quality metal products out of a variety of materials, as seen below.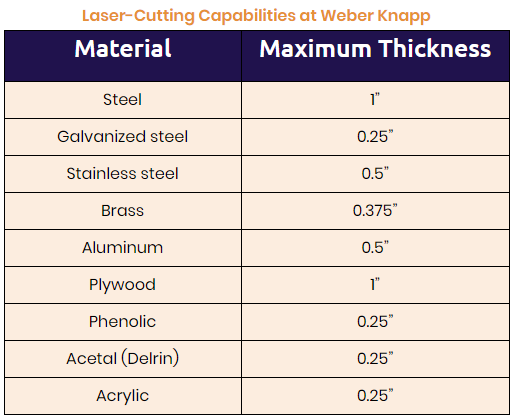 Outsourcing CNC Laser Cutting Services
CNC technology continues to evolve, and metal manufacturers have to constantly evaluate new machines to keep up. For example, at Weber Knapp, we have two CNC laser cutting machines:
Prima LGf 4kW - fiber laser CNC cutting machine
Prima Laser Platino - CO2 laser CNC machine
Outsourcing your CNC cutting needs allows you to decrease overhead and expensive equipment purchases while also getting a battle-tested engineering team.
Depending on the manufacturer, you may be able to bundle several machining capabilities include a single-source solution, including:
Progressive die stamping
MIG robotic welding
CNC routing
If you have any questions whether CNC machining services are right for you, check out our ask-an-engineer feature. Our engineers are always happy to help!