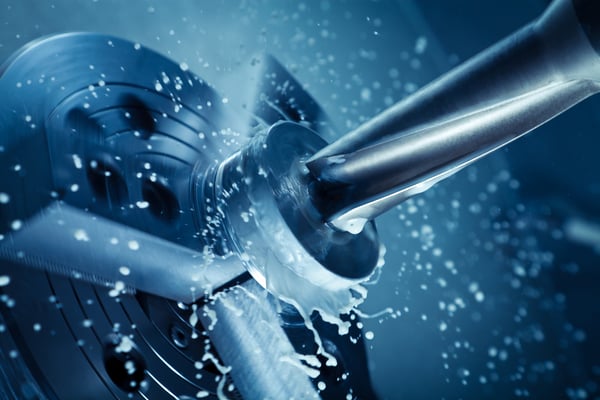 What can you make with a CNC turning machine? Fittings, rings, door knobs, spinning tops, gears -- you name it!
The idea of the lathe -- a more simple form of the CNC turning machine -- has been around for centuries, dating back as far as ancient Egypt. But, the modern turning machine has really changed the game, making turned part manufacturing easier and faster than with a two-axis lathe.


Why Use a CNC Turning Machine?
You might be manufacturing products at a high velocity, but can't seem to keep up with the turned components you need to complete your process. CNC turning services offer:
Increased production time and efficiency
Cost-effectiveness
Safer operations environment
By using CNC turning equipment or automatic lathe, you can smooth out that bottleneck in production and get more out of your time.
We've talked about the benefits of CNC turning -- but do you know how it actually works?


How a CNC Turning Machine Works
Turning is far more simple than CNC laser cutting or hydraulic press braking, but that doesn't mean it still doesn't produce quality parts!
The CNC lathe machine parts and components are rather simple, and its operations can be boiled down to a few key pieces. The collet and the spindle are what control the speed and rotation of the workpiece. The manufacturer can program these to meet specific parameters.
Then there's the cutting edge, which is a small insert usually made of cemented carbide, polycrystalline diamond, or cubic boron nitride. The cutting edge can be adjusted to take more or less material off of the workpiece.
In the old days, all of these components required careful, manual measurement. Now, with automatic lathes and CNC turret lathes, these measurements and processes can be controlled remotely, significantly decreasing production time.


What CNC Turning Can Do for You
With CNC turning, you can have a quick part turnaround (no pun intended) as well as a quality manufactured piece. CNC turning machines are capable of making bar stock into close-to-finished products, with a large portfolio of materials to choose from.
12L14 steel
1215 steel
C1018 steel
303 stainless steel
416 stainless steel
Acetal (Delrin)
Nylon 66
360 brass
C932/SAE660 bronze


Outsourcing CNC Turning Services
CNC turning requires complex and expensive technology, so depending on your manufacturing needs, it might be best to outsource your turned components. A supplier that specializes in using these machines may churn out a more effective product.
Just as important as the operator's skill is the equipment itself. For example, at Weber Knapp we have the following machines:
2 Citizen L20 Series (7-axis) Swiss-type lathes
2 Citizen A20 Series (7-axis) Swiss-type lathes
1 Tsugami BO326-II (8-axis) Swiss-type lathe
1 Okuma 762-SB (2-axis) turret lathe
Outsourcing your turning needs means you can quickly transform barstock into your turned component without ever flipping on a lathe. You can decrease capital expenditures and keep up with your manufacturing processes.
Depending on the manufacturer, you may be able to bundle several machining capabilities include a single-source solution, including:
Progressive die stamping
CNC laser cutting
MIG or TIG robotic welding
CNC routing
If you have any questions whether CNC machining services are right for you, check out our ask-an-engineer feature. Our experts are always happy to help!