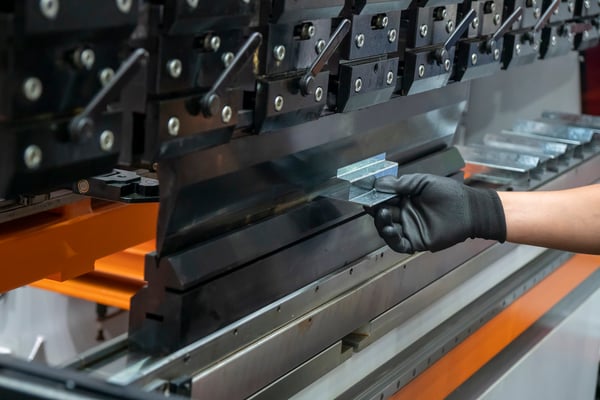 A mechanical motion control hinge manufacturer typically keeps a wide variety of capabilities in-house, but CNC press brake services are particularly important.
CNC press brakes manipulate sheet metal and plate metal to meet the exacting demands of hinge design, or any other complex metal folding project.
This type of mechanical bending is accomplished by clamping the workpiece between a punch and die, and then exerting sufficient pressure to achieve the desired shape. CNC, or computer numeric controlled, press brakes bring a high degree of precision to this process, and have improved manufacturing processes in general.
Read on to learn more about what CNC press braking services can do to improve manufacturing processes.


Why Use CNC Press Brake Services?
Sometimes, compiling all the necessary pieces to assemble a project can be daunting, whether you make the components in-house or outsource them. CNC press brake services are perhaps the easiest of the manufacturing processes to use. It offers:
A fast turnaround
Great freedom in part specification
Low waste compared to machining
Modern-day CNC technology allows users to accurately bend sheet metal in a variety of ways. Overall, it's the most efficient and cost-effective method for sheet metal bending.


How Does a CNC Hydraulic Press Brake Machine Work?
The hydraulic bending machine is fairly simple to operate. A work area lies underneath the ramming force, and this is where the workpiece is inserted.
From there, it's as simple as operating a few controls, usually foot pedals to free up the operator's hands. Synchronized hydraulic cylinders located on the C-frames position the upper beam to control the ramming forces. Pistons control movement of the ram, and CNCs ensure that the exact amount of pressure needed is applied.
After the initial setup, the fabrication can be completed as quickly as the operator is able to switch out the workpieces. A high degree of automation gives the manufacturer control over the entire process.


What Can a CNC Press Brake Machine Do for You?
Whether your manufacturing components are large or small, a single-source manufacturer should be able to use CNC press brake services to adapt to your needs with precision and consistency.
Various machines handle different materials or thicknesses. Between a few machines, a manufacturer should be able to work with thicknesses from 0.035" to 0.250", while maintaining a ram repeatability rate of +/- 0.0002 inch.
For reference, at Weber Knapp, we keep these on hand:.
175-ton press with 120" bed
90-ton press with 96" bed
40-ton press with 40" bed
A large inventory of on-hand die sets facilitates the ability to meet a wide variety of part bending requirements.
CNC press brake services should be able to form parts from a variety of materials, including at least:
1008 steel
1010 steel
4130 annealed steel
304 annealed stainless steel
6061 aluminum
5052 aluminum


Outsourcing CNC Press Brake Services
Because mechanical bending is probably only one part of the manufacturing process, you may need to outsource CNC press brake services to a company that can bundle several machining needs into a single-source solution.
To obtain the best in advanced solutions for kinematic motion, look for a company that can also provide
CNC routing
Progressive die stamping
Robotic welding
And don't forget engineering and design support! Ideas and designs are just as valuable as a quality part manufacturer.
Want to learn more about what manufacturing capabilities a motion control engineering partner should have? Check out our free guide!