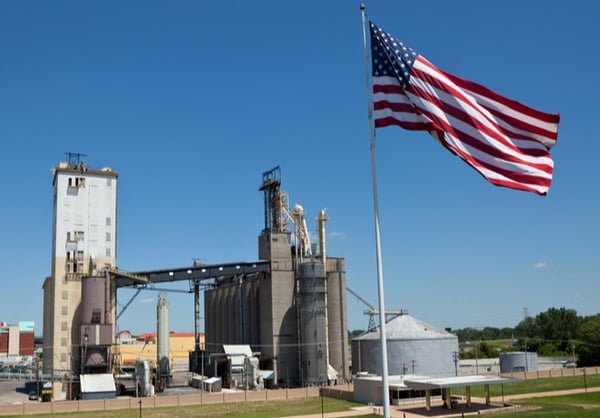 A custom hinge manufacturer should have your success as top priority, not its own success. We find it's much, much easier to find a healthy supplier relationship when it's based in the United States.
Today, hinge manufacturers in USA-based headquarters dedicate employee time to counteracting attempts to compromise computer systems and scouring material lists to make sure the sources are ethical and safe. Entering a relationship with a manufacturer that plays fast and loose with rules and regulations can be disastrous for your IP.
But safety and security are just two of many reasons that buying American is not only patriotic, but also highly practical ...


Why Stick With Hinge Manufacturers in the USA?
The downfalls of offshoring your manufacturing fall into five broad categories:
Reliability and ethical practices
Communication
Cost-effectiveness
Reputation
Quality


1. Reliability, Safety, & Ethical Practices
We've already covered the need to have strong security safeguards in place to prevent cyberattacks. However, being a trustworthy custom hinge manufacturer goes well beyond that.


Intellectual Property
Trade secrets are respected and kept confidential in the U.S. Working with an ethical company that understands the value of your ideas and follows strict, mutual non-disclosure agreements will keep your intellectual property safe.


Conflict minerals
Broadly speaking, conflict minerals, including but not limited to tantalum, tin, tungsten, and gold and their derivatives, are used to finance conflict in the Democratic Republic of Congo and nearby nations. Use of these minerals in products is legally and ethically wrong.
However, some manufacturers outside the United States ignore the rules to boost sales. It's important to be sure a manufacturer is certified as compliant with conflict mineral rules.


Hazardous Chemicals
The level of hazardous chemicals in products is also a concern. For example, the U.S. Environmental Protection Agency has established that composite wood products must comply with formaldehyde emission standards. Outside the land of the free, these standards don't necessarily apply.


2. Communication Barriers
Time zones and language can be significant barriers to effective communication. Such communication is, of course, essential to success in any business.
Trying to do business with a company that's half a world away can be aggravating for both sides. Holding a conference call with a company in Asia, Australia, or even Eastern Europe means someone is going to be up in the middle of the night.
Not even the almighty internet can avoid time. Few businesspeople are checking their email or text messages at 3:00 a.m. Unfortunately, that doesn't change the need for an immediate answer to a potential crisis. Sometimes, you can't wait 12 hours for a response.
3. Cost-Effectiveness
Overseas shipping is an ordeal. To make buying from overseas cost-effective, you have to make high-volume orders.
This kind of high-volume buying is hardly in line with just-in-time manufacturing philosophies. It demands a lot of factory space, and can result in wasted inventory. As you can see, the lower prices you achieve by buying from overseas can lose their luster quickly.
And then there are the tariffs. The ongoing trade war with China means just about anything you buy from that country will cost more.
4. Reputation
Branding your product as "Made in the USA" still carries weight. It's considered a declaration of quality.
(It's a shame that many customers also equate "USA-made" with "high-cost." This assumption is sometimes true but isn't always fair.)
To label a product "Made in the USA" or "Made in America," you have to meet pretty strict standards. A certain minimum percentage of the parts in your product must be American-made.
"Made in America" is particularly important to companies that work with the U.S. government and have GSA (General Services Administration) Advantage accounts. These companies are on a list of suppliers who are qualified to work with the government. They, in turn, need suppliers who meet GSA standards.


5. Quality
In the end, quality is what should matter most. When you purchase a product made in the United States, from USA-made parts that comply with American safety and ethical standards, it's a good thing. We're willing to bet the product will last longer and function more reliably in most cases.


Join the Reshoring Movement
These truths apply to most American companies, not just industrial hinge and counterbalance manufacturers. It's important to find out whether your industrial hinge manufacturer has your back by asking questions about:
Cybersecurity
Ethical practices
Safety
Shipping and packaging
Raw material sourcing
Failing to address any of these links in your supply chain can negatively affect not only your business, but your customer's too.