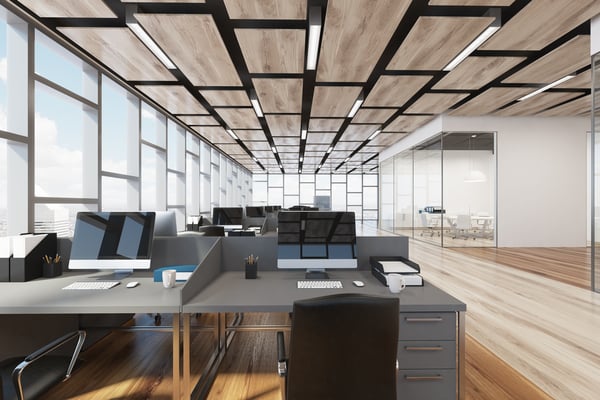 Furnishing your office is a big decision. There are a lot of factors to consider, like your team's comfort and health, an appealing aesthetic, cost, and durability.
Some office furniture claims to be the "best" or "most ergonomic," only to fall short of the promises. Your employees spend a lot of time working tirelessly in your office. However, you can't leave their comfort and health up to chance.
With GSA office furniture, you can be sure that you're getting a quality, American-made product that will match employee comfort with value.


What Does GSA Mean?
Another acronym in the alphabet soup of shorthand for federal government agencies, the Government Services Administration (GSA) was founded by Harry S. Truman in 1949. Responsible for the administration of federal offices and procurement of supplies, the GSA fills a valuable support role in:
Procurement and acquisition
Real estate
Maintenance
Technology
While most people assume the GSA is essentially the government's building manager, its role is actually much deeper.
Beyond managing federal properties, the administration develops synergistic strategies throughout multiple government agencies to save taxpayers money. As a result, only 1% of its budget is appropriated by Congress, the rest entirely being generated by internal products and services.


Why Does GSA-Approved Office Furniture Matter?
Consider a new medical device that you'll be treated with – say, a blood pressure monitor.
Before the device is even allowed in the same room as a patient, it undergoes some of the most stringent evaluations to meet government medical equipment regulations. It's certification as meeting FDA approvals lets you and your medical caregivers feel confident about using the monitor and the data it provides.
In a sense, GSA approval is the same, just for a different product.
Like the FDA assessing medical devices of all types, the GSA only approves office furniture that meets stringent requirements. The for:
Ergonomics
Safety
American-made products
Using GSA-approved ensures that you are purchasing American products that reinvest into the economy. For governmental offices, this means that their tax-funded expenditures return to the American taxpayer.
GSA office supplies meet a rigorous GSA compliance checklist, guaranteeing ergonomic office products that ensure your personnel can work comfortably. They take the guesswork out of trusting the claims of an ergonomic furniture manufacturer or ergonomic equipment supplier, as the GSA has already verified the product's quality.
Essentially, you can rest easy when you invest in GSA-approved office furniture – the government has done the hard work of making sure it's a good product.
Further Reading: GSA approval for office equipment isn't the only certification to look for in furniture that's comfortable and designed for good ergonomics. Check out our article on ANSI- and BIFMA-compliant office furniture.


Adding GSA Contract Furniture to Your Office
So what GSA furniture is available for your office?
That's easy, and it's not just limited to GSA chairs and GSA desks. Pretty much every type of office furnishing has a GSA-approved version. Browse any GSA furniture catalog for office products and you'll find furnishings such as:
Bookshelves
Tables
Partitions
What Does GSA Approval Mean for the Manufacturer?
For a manufacturer, getting GSA approval for office products means a variety of things.
Aside from meeting the safety and ergonomic standards of the GSA, manufacturers seeking GSA approval also need to manufacture their products in America using American components.
There's an exception for Trade Agreement Act (TAA) compliance, in which specific trade partners of the U.S. may meet the criteria for GSA approval when working with U.S. components or selling components for manufacturing in the U.S.
Finally, it means the manufacturer is a reliable and consistent supplier, able to meet the demanding needs of the GSA.


The GSA and the Buy American Initiative
GSA furniture does more than keep your employees comfortable or protect your investment in quality products. It also provides a shot in the arm to the domestic economy.
On Jan. 25, 2021, President Joe Biden signed an executive order creating a "Buy American" initiative to spur federal agencies to buy American-made products.
Supporting American-made products is an important step to reinvesting in the country.
Though the GSA is a seldom-mentioned agency, the service it provides is absolutely essential. With 9.1 million Americans employed by the federal government, and more employed by local and state institutions, the GSA provides a necessary step in:
Logistics
Procurement
Regulation
GSA-approved office furniture is just one benefit provided by this agency. It also aids those 9.1 million employees in having a healthy, productive work life.


GSA Office Furniture | Best-in-Class Ergonomics
Ergonomics, sourcing sustainability, durability, and cost are all important considerations when buying new office furniture. Your staff spends too much of their lives in the office to sacrifice proper ergonomics. Buying GSA- or TAA-approved office furniture ensures you're getting the best of the best.
To learn more about the essential ergonomic accessories for any office space, check out our free guide!

(Editor's note: This article was originally published in January 2021 and was recently updated.)