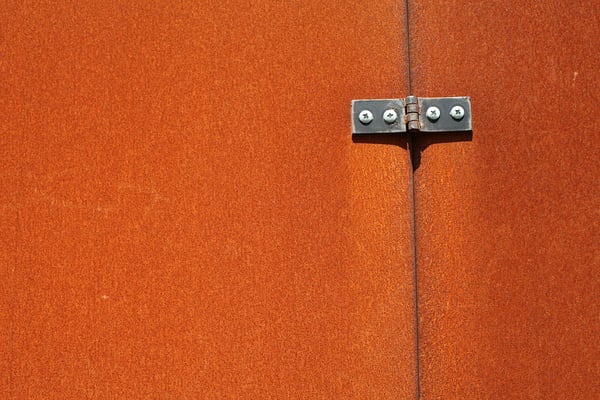 Today's hinges make life much easier and more comfortable. We have progressed so far from just a plain, 'ol door hinge to advanced solutions for kinematic motion, mechanical spring counterbalance, and spring assist technologies.
These aren't the $3 variety from Home Depot any Average Joe can install for DIY projects. These are mechanical hinge designs built to last in applications like tanning beds and commercial refrigerators.
Let's look these different types of heavy-duty hinges, and what kind of hinges work best in various applications.


6 Types of Heavy-Duty Hinges
There are a ton of cost, performance, and application-specific options on the market for industrial- and commercial-grade hinges. In this post, we'll talk about:
Counterbalance hinges

Spring-assisted hinges

Gate lift assist

Concealed hinges

Pivot hinges with spring assist

Adjustable hinges




1. Counterbalance Hinges
If your customers have problems opening or closing a heavy lid, they'll appreciate the benefits of counterbalance hinges. These hinge mechanism designs balance the weight of a lid against gravity's downward forces, reducing strain and improving functionality.
Counterbalance hinges give users precise control for effortless opening and closing, or even acting as a heavy-duty lid stay. Typical uses for counterbalance hinges include:
Medical centrifuges

Slide-preparation devices

Industrial equipment

Hatches for submarines and armored vehicles

Boats & barges

Grain silos
2. Spring-Assist Hinges
There are various types of spring hinges out there; what they have in common is use of a spring mechanism to open or close lids with less force required on the user's part. These are common in applications such as:
Drum smokers and light lid applications

Large industrial toolboxes
A spring-loaded hinge is used to automatically open or close a door. The spring loaded continuous hinge (or piano hinge) is a longer hinge.
Spring-loaded piano hinge applications include instrument panels, lockers, or security doors, and are also reliably used to meet the rigorous needs of the aerospace industry.
Commercial spring hinges are cheaper than full counterbalances, so they're often used for products that are trying to stay within a certain price range without sacrificing functionality.


3. Gate Lift Assist

A lift gate assistant is uniquely counterbalanced to provide a user-friendly open/close feature to easily lift a countertop pass-through with one finger. And users can rest assured that the gate won't fall back down.
These ergonomic and space-saving gems are great for:
Not sure how much support your commercial gate hinge needs? Use our new lift assist calculator!
4. Industrial Concealed Hinges
When your focus is appearances or security, hiding your heavy-duty industrial hinge may be necessary. While an exposed hinge is fully visible on the outside, a concealed hinge lays flush.
Hidden hinge design is a common feature of interior and security doors, as well as high-end appliances (think commercial refrigerators, plus different types of kitchen hinges).
Compact, spring-loaded concealed hinges have a smaller profile, making them appropriate for just about any face frame application.


5. Pivot Hinges with Spring Assist
Pivot hinges allow an item to pivot from a single point, and are usually seen in high-use items or heavy-duty lid support because they can carry more weight. This also makes them perfect for Murphy bed designs in the hospitality industry, as well as standard cabinet hinges in home applications.


6. Adjustable Hinges
This is one of the more interesting (and fun) types of hinges for lids.
Adjustable hinges provide the ability to make small changes to the angle or height of heavy lid or door hinge designs without removing the hinge. Simple pivot hinges for some cryogenic freezers have adjustments built into them. Custom offset hinges provide motion control, to move the pivot point and allow more clearance.


There's No One Heavy-Duty Hinge to Rule Them All
As nice as it'd be to have one mechanical motion control solution that works wonders with every application, that's not possible. However, there are certainly hinge styles for every job -- it just takes a bit of design expertise and a dash of creativity!
Partnering with an innovative hinge manufacturer will not only improve your product's functionality, but also its safety.
To learn more about custom hinge design for every application, check out our free e-book about motion control and counterbalancing strategies:

(Editor's note: This article was originally published in December 2020 and was recently updated.)