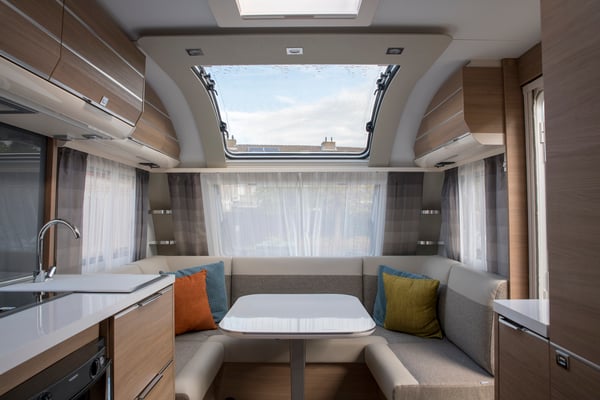 You might as well just call RVs "tiny houses on wheels." After all, while they present a luxury camping solution, it goes without saying that space is at a premium.
Yes, you want to be comfortable -- but the RV environment also has to be practical. You may have to flex your creative muscles to come up with RV space-saving solutions -- and that's where counterbalances and motion control can help.
In this post, we'll cover a variety of RV design ideas so you can have the amenities that you want without overcrowding the living space.


Space-Saving RV Design Ideas
Some RVs are built like small houses and don't require additional space. Others, not so much.
Whether you're trying to maximize your space or want to design a custom camper or RV to meet your needs, there are five crucial elements to consider.
Fold-out furniture
Pull-out counters
Pop-up monitors
Swivel seating
Outdoor amenities


Fold-Out Furniture
When RV space-saving furniture is a necessity, fold-out furniture is an ideal solution. Having the ability to fold up your Murphy bed when you wake up instantly increases your square footage.
Opt for furniture that can transform into other necessities. Take, for example:
The kitchen table that folds into seating
Benches with hidden storage beneath
Fold-down desks are another great accessory if you plan on getting some work done in your RV.


Pull-Out Counters
Just as you can fold-out furniture, you can arrange for pull-out counters with counterbalance hinges. These offer a great way to make space for cooking, eating, or even working.
Pull-out counters don't just belong in the kitchen. The bathroom is also a great place for adjustable counters, and when users are done brushing their teeth or shaving, they can easily lower the counter for more space.


Pop-Up Monitors
Whether it's a television set or a computer screen, anything that can pop up or out of another piece of furniture or counter is a plus..
When not in use, your screens can be tucked safely away to avoid damage during travel and to create more space.


Driver/Passenger Swivel Seating
The driver and passenger's seat of the RV doesn't strictly have to be for driving purposes.
In fact, one idea to save space and offer more seating in the living portion of the RV is to install swivel seats. This way, when the RV isn't in motion, the seats can spin around and serve as accents in the living portion of the vehicle. Your buyers will have no trouble having friends over now that they have more seating!
While many companies make swivel seats and reclining locks, the Knapp lock secures the seat into any reclining position instead of using pre-set rails. The Knapp lock is similar to the seat locks used in airplane seating -- and it's safe and comfortable!


Take Certain Amenities Outside
RV interior design ideas are great, but what RVs offer that other living spaces don't is the opportunity to take your necessities outside.
One feature to consider is fold-out seating, like a table or a bench -- similar to how some tiny homes have fold-out porches.
Another amenity you can take outside is the shower. Having an exterior shower kit installed on the side of your RV is simple, and so is privacy! Pop-up panels for cowboy showers are easy to use and feel just like taking a shower indoors.


Ergonomics of RV Design
While space-saving is the basis of most RV designs, you don't want to skimp on comfort or ergonomics.
Being on the road for long periods can be stressful and uncomfortable, so it's important to have an ergonomic place to relax after a day on the move.
Integrate ergonomics into your RV by combining adjustable furniture and motion control solutions. When looking at adjustable furniture, think about:
Can it move up and down to fit different heights?
Does it recline but also keep posture in mind?
Is it comfortable?
Ergonomics isn't just about the furniture; it's also about posture and ease-of-access. Stretching and changing position frequently can decrease the risk of stiff joints or other medical consequences.
When incorporating storage solutions in your RV, consider keeping them lower to the ground or floor to avoid neck and back strain. The last thing you want is someone to drop a cooler on their head and blame you.


Tiny Living Design Solutions With Counterbalance Engineering
The best way to integrate space-saving counterbalance solutions into your RV, camper, or tiny home on wheels is to think outside the box. What ordinary furniture can you make extraordinary?
Learn more about counterbalance and motion control engineering with our free e-book!