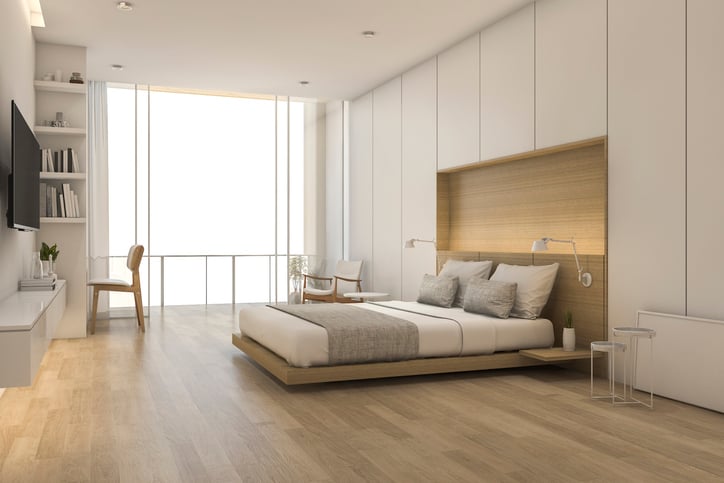 Ask any hotel guest what one of the most important design considerations is for the room they stay in, and there's a good chance they'll say "cleanliness."
This response comes as no surprise. Thanks to a global pandemic, clean and sanitized spaces matter more to the general public than ever. For hotel guestrooms and common areas, meeting this need means having casegoods and other furnishings that are easily cleaned and maintained.
Prior to the pandemic, however, there was another dominant hotel design trend guests valued for their lodgings: minimalism.
A design aesthetic marked by simplicity, defined lines, and muted color selection, minimalism is about creating a level of je ne sais quoi with very few but meaningful choices.
Spaces that leverage the tenants of minimalism without compromise are designed with careful consideration and a keen eye for matching design and function. Motion control solutions for hospitality casegoods help bridge this gap while also bringing the feel of luxury to a space or entire facility.


Examining Minimalism as a Hotel Design Trend for Luxury
In hotel design for both guestrooms and common areas, minimalism isn't about doing the least amount of decorating possible, nor does it involve reducing amenities to the bare minimum.
Rather, minimalism is about eliminating clutter and creating a sense of order without sacrificing function. In other words, this design motif maximizes every object's purpose and aesthetic in a space.
For the hospitality designer or architect, a minimalist approach to outfitting a space meets another element of modern hotels – rooms and facilities are getting smaller. A trend that started taking hold during the last decade, express and boutique hotels are dominating the hospitality sector. With less space to work with, design choices carry more weight.
Ultimately, a minimalist take on hotel design lends itself to creating a sense of luxury. The gaudy furnishings and lavish amenities that defined upscale hotels in the past easily overwhelm a space. Now, items that are sleek and modern represent luxury.
Through minimalism, design decisions matter more, regardless of whether they're for aesthetic or function. What ends up furnishing a hotel room must be impactful and meet the overall design vision.
When Motion Control Solutions Meet Minimalism & Luxury
Motion control solutions lend themselves to integrating minimalism in upscale hospitality design.
Allowing hotel designers and architects to provide the same level of amenities while still reducing their perceived presence, minimalism goes hand-in-hand with luxury as it boasts:
A sleek, modern aesthetic
Multifunctionality without being clunky
An improved sense of space
1. A Sleek, Modern Aesthetic
Key tenets of minimalism in interior design are purpose (intention), timelessness, and simplicity.
Because minimalism focuses on only using what's necessary and getting the most out of it, hotel interior design takes more careful consideration and chooses furnishings that aren't overbearing.
Minimalism in hotel interior design is like the difference between the PC you used in the late 1990s to the laptop you have now. The computer of 30 years ago was manufactured to make sure you knew it was there – everything about it took up space and stood out. Today's laptops are made to be as minimally invasive as possible and ready to meet the demands of tomorrow.
For a hotel interior design, a modern aesthetic through minimalism shouldn't leave space looking like something overtly out of Star Trek. Instead, modern design is clean and purposeful.
In a guestroom, modern design elements with motion control and hinges add that extra wow factor to a space. Isn't it cool to have a wall-mounted TV panel that hides the television when not in use? Or what about the desk with a keyboard tray that's adjustable to your height and put away with no struggle?
Inside an on-site bar or even at the breakfast area, a counterbalance-hinged countertop upgrades appearances. With staff able to easily navigate to the other side of a counter, guests won't see a visually interrupted surface nor watch staff struggle to pass through. Rather, they'll see a part of a countertop works effortlessly with staff.
Hinges can also play a part in conveying luxury in hotel design. Working with a hinge manufacturer, exposed hinges – on items such as cabinetry – can be custom designed to look sophisticated with metal choice or shape.


2. Multifunctionality Without Being Clunky
In the not-too-distant past, furniture and casegoods that served more than one purpose often took up plenty of floor space and truly looked like two items made one (think the TV cabinet-microwave stand-kitchenette combo).
That's not the case anymore. With integrated motion control solutions, such as hidden hinges, it's easier to design hospitality FF&E (fixtures, furniture, and equipment) that's multifunctional without looking like a poorly executed mashup.
Take a headboard, for instance. Traditionally a wall-mounted furnishing that separated a bed from the wall, headboards are now doing more. Through clever design coupled with the appropriate motion control technology, next-generation headboards are outfitted with a variety of features, such as:
Pull-out desks
Storage bins
Hidden drawers
LCD screens
When these "extra" amenities are not in use, they're easily concealed to blend in with the headboard seamlessly.


3. An Improved Sense of Space
With hotel rooms – and hotels for that matter – getting smaller, available space comes at a premium. Nothing makes a small space look and feel even smaller than walls, large pieces of furniture, or an overabundance of decorations.
Through motion control engineering, a host of guestroom standards that took up valuable real estate no longer make a space feel cramped and crowded.
For instance, a murphy bed gives space back to a room until a place to lay down for the night is needed. Desks and tables manufactured with hinges to be quickly collapsed provide more room.
In a sense, guestroom FF&E outfitted with space-saving hinge technology helps make the space a blank canvas of sorts for the guest to only use what they need when they need it. What's more, achieving an open, bright ambiance in a space flooded with natural light is more achievable with furnishings that can be collapsed or stored away.


Meeting Hotel Design Trends With Motion Control Solutions
Though it's impossible to predict exactly what guests will value next in hotel design, minimalism does have an element of timelessness.
With carefully integrated motion control solutions – or even a few cleverly designed hinges – a minimalist approach to hotel design doesn't mean making guests give up familiar amenities. Rather, minimalism and motion control solutions work together to provide guests with everything they need in new, creative, and luxurious ways.
Add Our Innovative Motion Control Solutions to Your Hotel Design
Download our free guide: