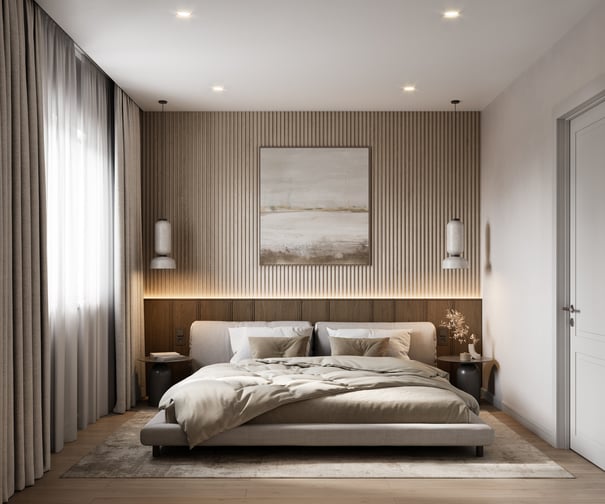 While hospitality design trends come and go (and then tend to come back again), the latest wave of hotel interior design seems to be leaning more traditional and toward creating a warm, welcoming ambiance.
The futuristic, stark minimalism aesthetic appears to be receding. In its place designers are diving into patterns, textures, and layered lighting.
They're embracing stylish comfort – hygge – to bolster guest experiences.
What better way is there to make guests feel comfortable than to incorporate ergonomic design?
Ergonomics is all about providing comfort, support, and ease of use for tools, equipment, and furniture.
Here, we'll examine some of the latest hotel interior design trends and how ergonomic custom-made hotel furniture adds to a welcoming guest experience.
Comfort & Style │Ergonomics & Hotel Interior Design
The pandemic has been declared over (kind of). While many people have expressed interest in resuming their pre-COVID travel habits, they've gotten used to the comforts of home.
The latest hospitality industry design trends speak to that desire for individually tailored experiences:
Keeping guest comfort front of mind in your designs means recognizing that every body is built differently and experiences comfort differently.
The best custom-made hotel furniture designs blend form and function to delight guests and make them want to return. That's where ergonomics comes in.
Ergonomics 101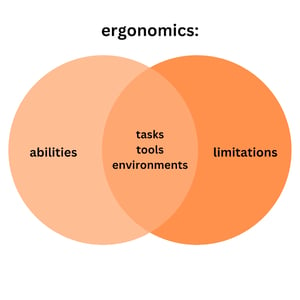 Let's review: Ergonomics is a field of science that focuses on improving products to optimize user comfort, safety, and efficiency.
Essentially, ergonomics addresses the physical abilities and limitations of the human body in relation to our tasks, tools, and environments.
The more ergonomically-accommodating their surroundings are, the more comfortable – and happy – your guests will be.
Want a more in-depth look at ergonomics? Download this guide:
Traveling With Multiple Generations
People are traveling in groups again! It's a great trend to see making a resurgence, but it poses a special set of challenges for hospitality furnishings providers.
Multi-generational travel means people of different ages and abilities will be staying away from their homes, and they'll all want individualized experiences.
Designing with innovative ergonomic solutions as a priority helps guests tailor their surroundings to their individual needs. This really gets to the heart of ergonomic design – furniture and equipment should fit people, not the other way around.
You want your spaces and their furnishings to be:
Accessible
Easy to use
Safe
See how harnessing the power of mechanical motion control brings your ergonomic designs to the next level:
Bleisure is on the Rise
Remember when the concierge would ask, "Are you traveling for business or pleasure?" Today's answer increasingly is, "Bleisure."
Thanks to the remote/work-from-home revolution, more travelers are bringing work with them on the road. Not because they're workaholics, but because they can accomplish their business from practically anywhere. For instance, they can work during the day from their hotel room, and then go touring local flavors in the evening.
Providing ergonomically-optimized furniture and equipment for bleisure travelers goes a long way toward making their stay as comfortable as possible. Consider:
Weber Knapp's History of Ergonomic Innovation
Our journey into ergonomics began four decades ago in the early 1980s. At that time we manufactured one of the first office furniture adjustable keyboard arms. That one keyboard arm was just the beginning for us and has opened up an entirely new world of innovative opportunities for our engineering team throughout the past 40 years.
Sustainability | Green is Good!
Green is good. One of the latest trends in hospitality design is embracing sustainability:
Repurposing/upcycling – It's important to guests that you show the value in creatively breathing new life into existing pieces and spaces. This doesn't mean all trash is now treasure – water-damaged MDF furniture is never going to trend.
You could, however, add a Lift Gate Assistant Hinge to an existing countertop, surprising your guests with ergonomic-friendly space-saving utility.
Energy efficiency – Two often overlooked key ergonomic considerations are lighting and temperature.
Designing to take advantage of natural light promotes energy efficiency, and reduces eye strain.
Similarly, maintaining a consistent, mild temperature in your buildings is better both for the planet and guests.
Incorporating nature – Whether you're bringing the outside in via potted plants or indoor gardens, or curating outdoor experiences with outdoor dining and entertainment areas, designing with ergonomics will help your spaces flourish.
Getting creative with mechanical motion controls can open up a lot of possibilities for incorporating flip-up or -down counters, benches, and tables.
Furnishing for longevity – Good pieces cost money. Guests are trending toward appreciating your investment in higher-quality, longer-lasting pieces of furniture because it's better for the environment.
These preferences may also be a reflection of ongoing supply chain issues.
Inexpensive goods sourced from overseas are no longer so readily available.
Hometels | A Home Away From Home
If you can't stay home, stay at a hometel.
This trend brings together all the rest – multi-generational travel, bleisure, and sustainability – into one big desire to feel right at home no matter where you are, and no matter who you're with.
Good design goes beyond looks – it's functional. Great design goes even further – it's emotional.
More guests today are seeking travel experiences that align with their beliefs and core values.
They want natural lighting, plants, recycling bins, customizable multi-purpose furniture, private suites with all the amenities, and common rooms capable of hosting all manner of travelers.
Addressing all these desires may seem impossible. One surefire way to make a good impression, though, is to provide them with as many ergonomically optimized spaces as possible outfitted with custom-made hotel furniture solutions.
Ergonomics for Everyone
While you're designing for guest experiences, remember the people who take care of the guests.
Ergonomic solutions are equally important for staff. Maintaining healthy and productive work environments for them helps everyone feel more comfortable.
Features in your staff's work environment that could be causing physical strain include:
Heavy lids
Heavy doors
Heavy hinged countertops
Integrating counterbalance hinges with weight mitigation and motion control allows users to safely operate equipment with heavy lids or doors by decreasing the amount of force needed to lift or open them.
Mindful mechanical motion control system integration also reduces the risk of repetitive motion injuries.
Hotel Interior Design Trends For Guest Satisfaction
Hotel interior design trends for 2023 are all about embracing comfort, nature, and sustainability.
There's no better way to dive into these trends than to look to custom-made hotel furniture that's ergonomic and made to provide guests with ultimate comfort.
Ergonomic Solutions for Your Hotel Interior Design
Want to learn more about incorporating ergonomics and mechanical motion controls in your designs? Download our free Intro to Motion Control:
(This article was originally published in August 2021 and was recently updated.)