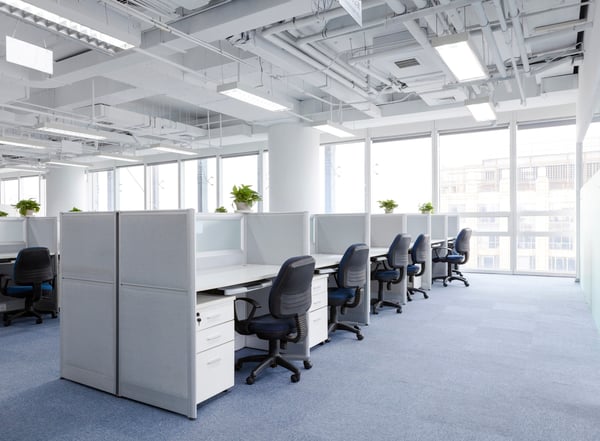 You wouldn't want to work in a building that's not fire-safe, would you? Leaving your toaster strudel in the microwave too long becomes a big hazard.
So, if you want your workplace to be as safe as possible, why consider furniture that's not ANSI/BIFMA-certified?
ANSI/BIFMA furniture is constructed to meet today's workplace safety and durability standards without sacrificing comfort.
Let's jump in, and learn more about why ANSI/BIFMA-certified furniture is so important.


What Is BIFMA-Certified Furniture?
ANSI/BIFMA-certified furniture meets the expectations of the American National Standards Institute and the Business and Institutional Furniture Manufacturer's Association. BIFMA operates under the supervision of ANSI, which sets standards for many manufacturing industries.
The whole premise of the ANSI/BIFMA standard is to hold furniture manufacturers accountable for the safety and quality of their products.
Right now, furniture can't truly be "certified" by ANSI or BIFMA. Instead, manufacturers currently issue certificates of compliance that state their products meet the two organizations' standards. There's no third party verifying these claims right now, but the way certifications are issued is changing. More about that soon!
Even though ANSI/BIFMA-certified furniture is technically self-certified by manufacturers, the credential is still important. Pieces that comply with the organizations' standards are specifically designed for safety, meeting standards for fire and evacuation procedures.


Why Is ANSI/BIFMA Certification Important for Furniture?
Certain commercial furniture buyers are required to purchase ANSI/BIFMA-certified furniture. For example, government bidders usually need to purchase BIFMA-certified pieces, and many architects require BIFMA-certified items for large office buildings.
Even when BIFMA certification isn't required, purchasing certified pieces comes with several advantages. Certified pieces:
Meet rigorous safety standards
Reduce workplace injuries and worker compensation claims
Promote a functional and comfortable work environment
Improve employee productivity
Are manufactured to a high quality
Pieces frequently also have a 5-year or longer warranty because they're made to such high standards.
In contrast, purchasing non-certified furniture can come with several potential drawbacks. Pieces that don't meet these standards may not stand up to a heavy load or might fail after a relatively small number of cycles. In certain situations, premature failure can create safety concerns and liability risks.


What Tests Are Conducted for ANSI/BIFMA-Certified Furniture?
The tests that are conducted for ANSI/BIFMA-certified furniture vary depending on the piece. A good rule of thumb is this: The more moving parts that are involved, the more testing is required.
Some of the products that undergo ANSI/BIFMA testing include:
Ergonomic chairs
Desks and tables
Blood draw tablets
To give you an idea of the type of testing required for these products, here's what goes into certifying a keyboard tray.
Keyboard Trays
A well-made keyboard tray has a few areas that need tested to ensure safety.
If the tray tilts, swivels, or is height adjustable, all features must run through 2,500 cycles without failure.
The tray must undergo a load test. The amount varies depending on the size of the tray. For example, if it's under 36", the test uses a distributed load of 66 lbs. The product must hold this load for 1 hour without a loss of function at the end of the test.
A larger load test is conducted, with 100 lbs. for 15 minutes. The tray must exhibit no sudden change in position or catastrophic failure.
Load tests are meant to simulate users pushing themselves up from their desks or sitting on the keyboard mechanism. You don't want a tray that's going to collapse as soon as you apply some weight, which is why ANSI/BIFMA-certified keyboard mechanisms are safer.


How Is ANSI/BIFMA Furniture Certification Changing?
As we mentioned, furniture manufacturers are able to self-certify products. However, starting in March 2021, manufacturers will have to get their products tested by an ISO 17025-accredited laboratory.
The main reason for the change is to preserve the reputation of the BIFMA certification. As it stands, anyone can say they meet BIFMA standards. Under the new regulations, products will be strictly tested, and in the end they'll receive a specific BIFMA logo as a seal of approval (provided they pass the tests).
So, how do manufacturers shift from in-house testing to needing accredited testing? Now, manufacturers have to decide between sending products to an ISO 17025 laboratory or building their own laboratory.
It's expensive to build your own laboratory -- the certification alone costs thousands of dollars. However, it's not always feasible to send products to a third party for testing. It really depends on the volume and how many different products need testing.
Large OEMs have much more ability to build their own laboratory and delegate personnel to focus strictly on testing. Smaller companies face a more difficult choice, and deciding between an in-house lab or using a third party laboratory comes down to what's more cost effective.


Stay Safe and Choose ANSI/BIFMA-Certified Furniture
If you need high-quality furniture for a commercial or educational space, purchase ANSI/BIFMA-certified furniture. You'll know the pieces are built to be safe and durable, and they'll perform well for a long time.
To learn more about the best ergonomic furniture for your office, check out our free ebook!